Brought to you by TENA and TheCo.
I'm looking forward to a fun-packed summer. Think camping, BBQ's, the beach and a few road trips. I can't wait! I hope to get in lots of family time and maybe a little relaxation, too. That's not too much to ask, right?
While I'm enjoying the summer sunshine, I want to be prepared. To me, that means staying cool and comfortable all season long. Feel sweaty and wet can easily ruin someone's day. The good news is that there are simple things you can do to enjoy the summer and feel your best.
Today, I'm sure my favorite things for staying cool and comfortable no matter what summer snags are thrown your way!
1. TENA. I'd be lost without my TENA Intimates Ultra Thin Light Pads and they are number one on this list for great reasons. I began experiencing urgency and bladder leakage after the birth of my second daughter. It typically happens when I sneeze a little too forcefully or laugh too hard.
It was my physiotherapist who first recommended TENA products to me. I never leave home without a couple in my purse just in case. They help me stay fresh, comfortable and confident. Check out TENA.ca to find out more about TENA Products.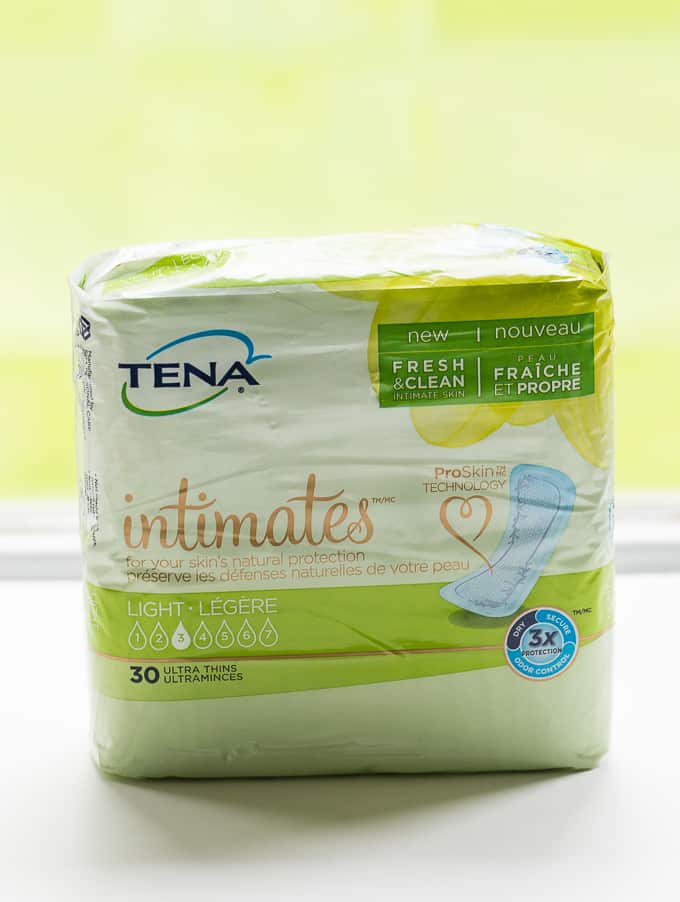 Urinary incontinence is more common than you think! I was chatting with a few girlfriends over coffee recently and the topic came up in conversation. Most of us have dealt with it in some way. It was nice to be able to relate to others who understand. We talked about triggers and what we do to manage.
Watch this expert video on the subject and learn more about this common topic and the solutions available.

Tena EN Long Ver. from The Co. on Vimeo.
2. Bug Spray. My husband calls me a "mosquito magnet" because I seem to attract them. If we are outside on the patio barbecuing, I'll be constantly swatting them away while he relaxes. It bugs me (pardon the pun!). A quick spritz of bug spray helps to keep them at bay and protects my skin from itchy bites.
3. Breathable Clothes. Choose clothes made of breathable material like cotton or linen. You don't want your outfit to stick to you in the summer heat. I also like to wear lighter colours since I find that darker ones seem to attract the heat.
4. Hat. I can hear my mom's voice telling me to cover my head in the sun. It protects your face from the hot sun and gives you a bit of comfortable shade. A hat can also be a stylish fashion accessory!
5. Water Bottle. I don't leave home without it. Staying hydrated is key in the heat of summer. I fill mine up with ice and water so it stays cold all day long.
6. Lightweight Scarf. Use one to wrap around your shoulder to protect them from the sun or tie up your hair to keep your neck from getting sticky and wet. I have a bunch that I mix and match depending on the colours I'm wearing that day.
7. Air Conditioning. Last year, we installed central air in our home and it's been pure bliss! I love relaxing in the coolness and sleep so much better at night. If you don't have central air, try a window air conditioner. We used one for years until we got our unit installed.
Whatever happens this summer, I'm ready and will make the most of it. With these tools in my arsenal, I can handle it.
What are your favourite things for staying cool and comfortable in the heat of summer?
Disclosure: This post is sponsored by TENA. All opinions expressed are my own.