It's the most wonderful time of the year. For parents. Kids are going back to school and life will resume some semblance of a normal routine. There is one snag in the celebrations though and that's back to school shopping. Wait until the last minute and you'll save, but you won't have the selection you, or your kids, are looking for and when your six year old daughter is forced to take a superhero lunchbox to school, instead of the princess one she was hoping for, you're going to have a battle brewing that isn't worth it and isn't necessary.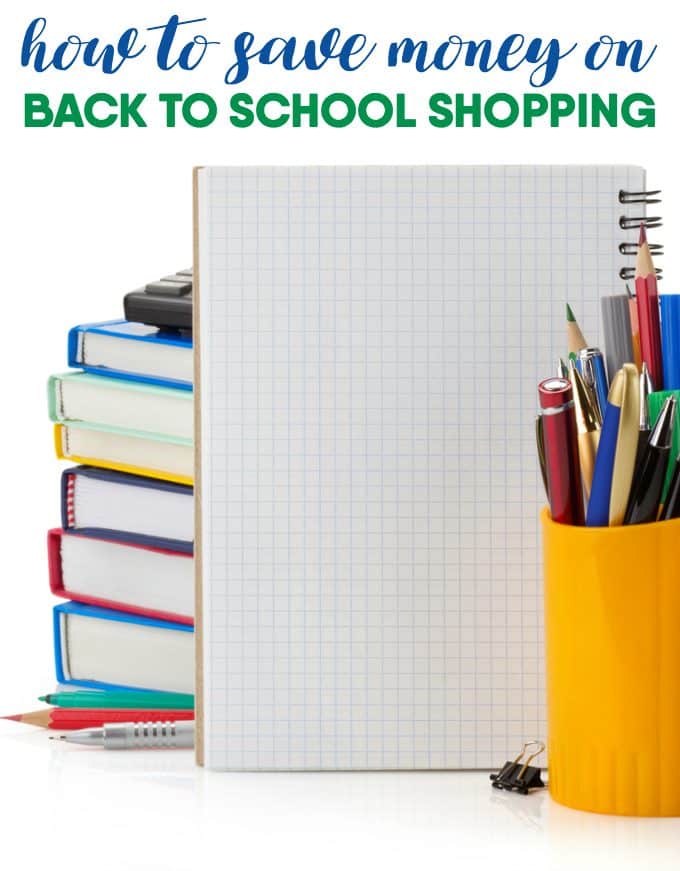 © back to school image via Shutterstock
Budget! Budget! Budget! And Inventory!
Back to school supplies like paper and pens are just a part of the expenses you can expect. New clothes, new shoes, new backpack or lunchbox, to say nothing of new electronics, if that's a thing for your kids. It all adds up quickly.
So what you need to do first and foremost is inventory what you already have. You might be surprised: maybe that backpack is still in great condition and will be fine for your second child. Or maybe the jeans your daughter wore last spring when they were too big now fit her just fine and you can cross that off the list.
Once you've done that, make a comprehensive list of what they will need and set a budget based on what you can afford. And create the list in order of priority, so that you, and your kids, can be clear on what comes first. Shoes over iPod, for example.
And don't forget the extra-curriculars and things that come up at the beginning of the year for which you might be sending out a bunch of cheques: pizza lunches and fees for band or the new track and field uniform that your child needs. You might not have a handle on all of the specifics right now for these expenses, but best to guesstimate or put in a little contingency fund in the budget rather than have to manage a budgetary blowout!
Stick to the Budget
This might seem like an obvious point but next to Christmas, back to school is the time of year that you are most likely to blow past your budget limit without a backward glance in the rearview mirror. This is where the prioritizing comes in handy, so that you can figure out what needs to be purchased versus what is nice to have.
If your kids absolutely want something special for back to school, like the designer jeans that they saw at the store last week, offer to pay for 'regular' jeans and have them pay for the upgrade. There's no time like the present to start learning about the value of all the stuff they want.
Visit the Second Hand Store
Particularly with younger kids, the consignment kids store is the ideal place to get ready for back to school. After all, with all the painting and drawing and colouring they're going to do, there is inevitably going to be some wear and tear on clothes. You'll feel less annoyed about that if you didn't pay full price for the items!
Kids outgrow things so quickly that a good consignment store will have a lot of choices of high quality, little used items and you can buy more for the same price as what you'd pay at a regular retailer.
Spread out Your Shopping
Even if you don't have the list from the school yet, there are some things that you KNOW your kids are going to need, come September. Things like indoor shoes and rubber boots, pencil cases and glue sticks. So rather than waiting until August 30th to buy everything, consider spreading out your purchases a little, to spread out the pain too.
And don't forget about online specials. Stores often have great back to school deals online—with specials that aren't even available in store—and by the time you've bought all the paper and pens, you'll have qualified for free shipping as well!
Look for Deals on the Expensive Stuff, Don't Sweat the Tiny Things
Computers, cell phones, quality backpacks. If you're in the market for things like this for back to school, it's worth spending the time finding the best possible deal. Don't go crazy couponing for the package of 80 pencils or the 500 pack of lined binder paper. Those can always be found relatively cheaply. Computers? Not so much.
Budget your money, budget your time and back to school will be a breeze.
Do you have any back to school shopping tips that have saved you money?