I always start my cleaning in the kitchen. It's the room we use the most and the one that becomes the messiest and most cluttered quickest. Once the kitchen is clean and organized, my house instantly feels and looks better. However, I notice that it's also so easy for the mess and clutter to get out of control. Today, I have a few tips to share on how to cut clutter in the kitchen. It will be easier for you to keep neat and tidy once you purge and reorganize!
Start decluttering your kitchen by surveying the area. What needs to be taken care of first? I like to tackle the paper clutter first. If I don't, and it gets pushed to the end of my cleaning day, I might just change my mind and save it for "later". Which, we all know, "later" is really for binge watching Netflix… not cleaning.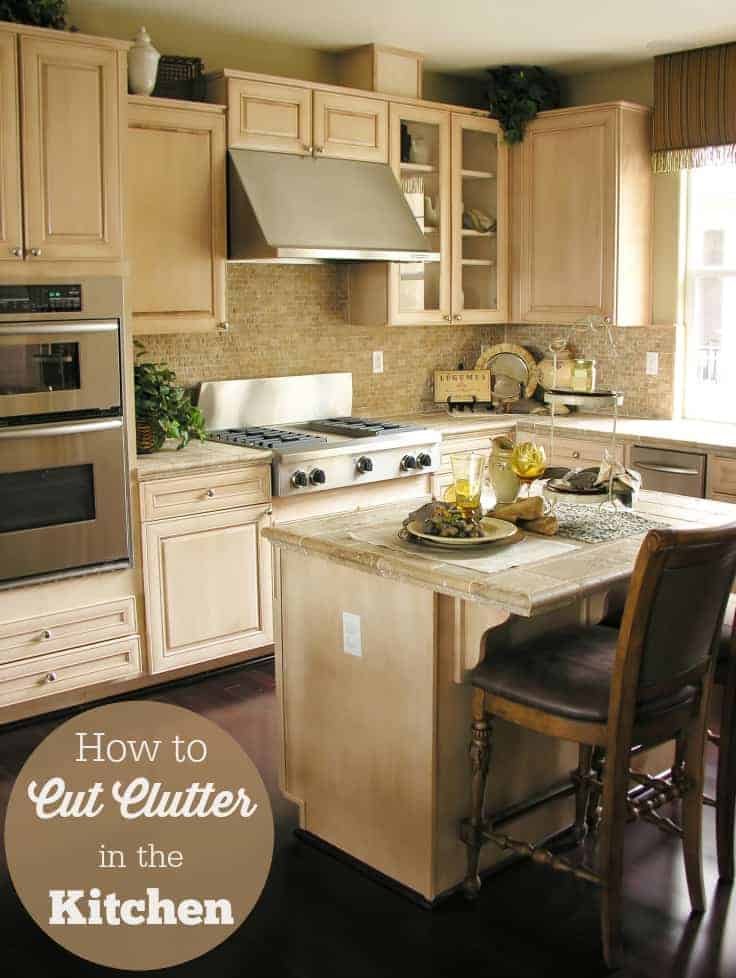 Cut Clutter in the Kitchen
Ready to rock and roll? Start a timer! Whether it's for 15 minutes or an hour, set a timer and keep cleaning until it goes off.
Tackle papers by creating piles. Mail/pay, shred, file. Those are the piles I use, but obviously you can switch those up to work for your needs.
If you have a lot of school papers from the kids, start a binder with sheet protectors to keep them all together – then move them to the attic or another storage area for long-term keeping.
If you have a lot of mail, start a mail station either in the kitchen or somewhere else – and make sure the mail lands in the "inbox" as soon as it comes in the house. If it's junk, throw it away immediately. If you can, just touch each piece of mail once! This will save you tons of time.
Appliances that you don't use daily – or at least almost daily – do not need to be out on the counters. So, think about your toaster, your coffee maker, your blender… do you use them daily? If not, tuck them away in the pantry or in a cabinet.
One thing that has saved my sanity when it comes to kitchen clutter is a kitchen command center.
Now that you've cleaned the countertops off, it's time to move towards the cabinets – above and below the countertops.
When you open your cabinets, what do you see?
Food – some people store food in the cabinets. Make sure it's all good. Obviously, get rid of the stuff that is expired.
Spices — get rid of the ones you haven't used all year. Organize the ones you have.
Cups — how many cups do you really need?
Plates/bowls — same with cups… how many do you need? Donate the rest.
Random pieces of appliances like food processors — make sure you have ALL of the pieces. If not, ditch it.
Tupperware containers — match them up with lids. If they don't have lids, they serve no purpose. Trash!
For those cabinets that have tons of odds and ends, use pretend pull out drawers and label everything to keep it organized.
Use drawer dividers to group things together such as tea bags, spice packets, or Kool-Aid packs.
Put a cork board on the inside of your cabinets. Attach a few hooks and voilá! You've got yourself some organization.
Get under the sink and get rid of any products you no longer use. This under sink rod is a great way to hang spray bottles.
By now, your timer has probably gone off. You've managed to tackle at least a majority of the kitchen clutter, and you're so proud of what you've done that you'll be excited to finish the rest tomorrow! Okay, so maybe it doesn't work that way, but if all else fails, scour Pinterest for kitchen organization tips. Warning… don't take too much time doing so. I know how easy it is to get lost pinning things for an hour! Okay, a few hours. Shhhh…
When was the last time you tackled any kitchen organization projects?