Cleaning your house doesn't have to take all day. If you want to clean your house in under an hour, assuming you don't own a huge mansion, it is possible!
You might want to ditch a few expectations if you are going to clean your entire house in under an hour because it probably won't be spotless like it is after a deep clean. However, if you spend an hour every few days to get caught up, it will only take about half that time to maintain moving forward.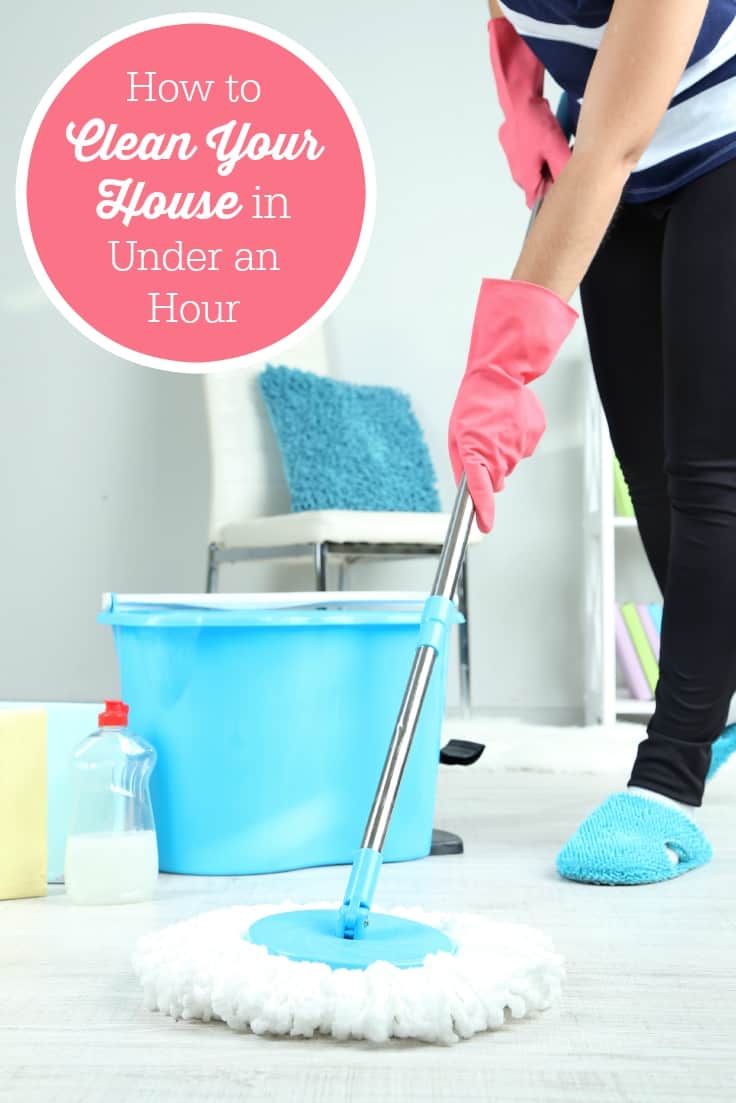 How to Clean Your House in Under an Hour
Group Similar Tasks Together
Grab a trash bag and head to each room to gather the trash up quickly. Old take-out menus, school lunch flyers, newspapers, junk mail, receipts you don't need, etc – grab all the trash from every room and put it in the trash bag.
Do the same with clutter. Instead of a trash bag, I use a laundry basket for this task. I scan each room for things that don't belong, and put them in a basket. As I'm going through every room, I can drop off the things that I found that belong in that room.
Clean the Common Areas First
If you're cleaning your house just because it needs to be cleaned, you can hit the bedrooms first. I find they're usually the easiest and that can give you the motivation to finish the rest of the house quickly.
However, if you're cleaning because company is coming over in a few hours (oh no!), you can skip the bedrooms for now and just cover the areas they will be in: living room, dining room, kitchen, and bathrooms.
Start in the kitchen because it will probably be the most daunting especially if you have a bunch of dishes to do. When you first start to tackle the kitchen, load the dishwasher or hand wash dishes if you need to. Get all of the dishes taken care of so you can shine your kitchen sink.
Don't sweep and mop just yet – we're going to do that in just a bit.
Moving on from the kitchen to the bathroom, clean the mirrors and shine the sink in the bathroom. Scrub the toilet and the tub, then dump the trash if you didn't do that earlier while picking up the rest of the trash.
Sweep and mop the bathroom floor(s), moving onto the kitchen and any other tiled floors immediately after. Again, we're grouping similar tasks together to save time. Usually, you can use the same cleaning products in the bathroom that you do in the kitchen so this saves time as well.
While tackling the living room, I find that it's usually just a few clothes here and there that need to be picked up – and maybe a few stray toys. Vacuum the living room and then move onto any other room you can vacuum.
Finally, if you have time, head to the bedroom. Make your bed, pick up any dirty clothes and bring them to the laundry room. Clear any extra clutter by removing things that don't belong – whether they're giveaway items or just things that belong in other rooms.
Gather reinforcements!
If you have kids, now's the time to rally the troops and get them to pitch in. Making it a fun race or game is probably going to yield the best results.
How long does it take for you to give your home a quick tidy?