This recipe for Honey Garlic Chicken is an easy way to dress up plain ol' chicken breasts using ingredients you probably have in your house right now. There's nothing fancy about it! It makes a moist, tender and flavourful meal and tastes delicious paired with mashed potatoes and veggies.
If you love garlic, add in more cloves. We love garlic so I often add a few extra cloves to really kick up the flavour. A super easy and satisfying dinner that the whole family can enjoy.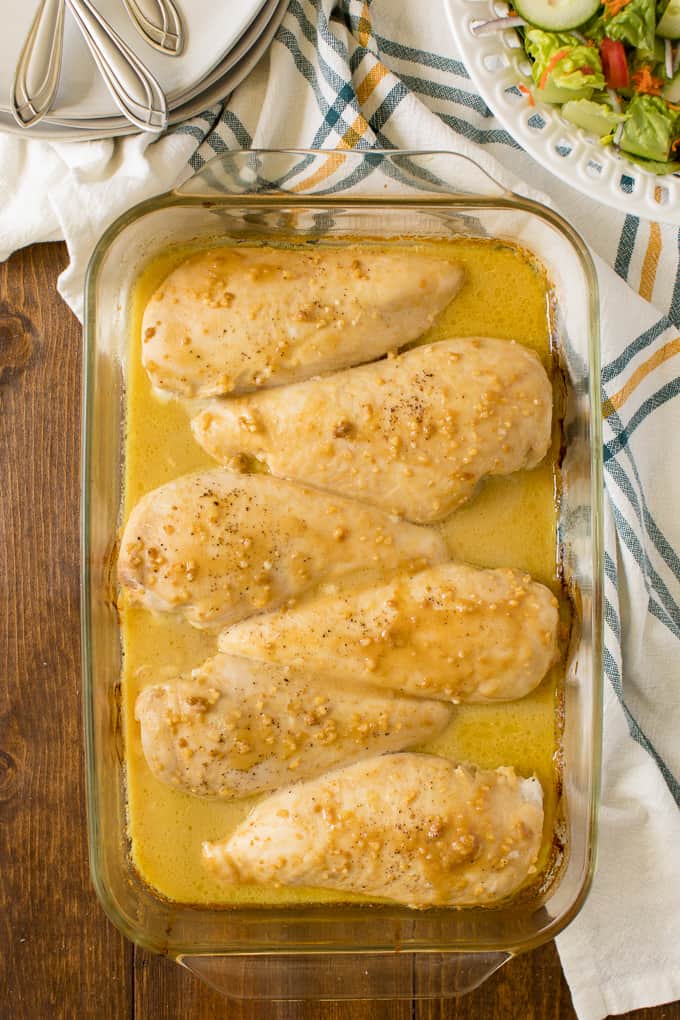 Honey Garlic Chicken
One thing I noticed about living in Ontario is chicken is a lot more inexpensive in stores here compared to Nova Scotia. We have a freezer full of chicken breasts because the price is so good.
So if you are a fan of chicken give this recipe a try for a tasty and satisfying dinner for your family or a crowd.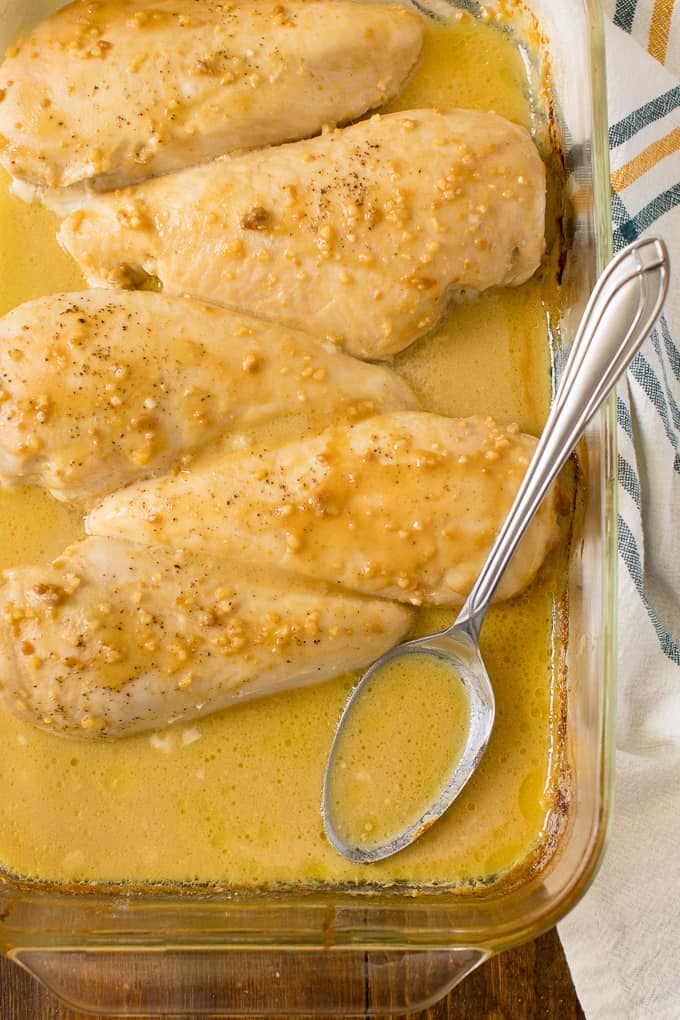 Can I Use Bone In Chicken For This Honey Garlic Chicken
You very well could use bone-in chicken but you need to make sure that you cook your chicken longer. Bone-in chicken will require a longer cook time. You just need to use a meat thermometer to check to ensure the meat reaches 165 degrees Fahrenheit.
Just make sure to not stick the thermometer in where the bone is, or it can give you a false reading.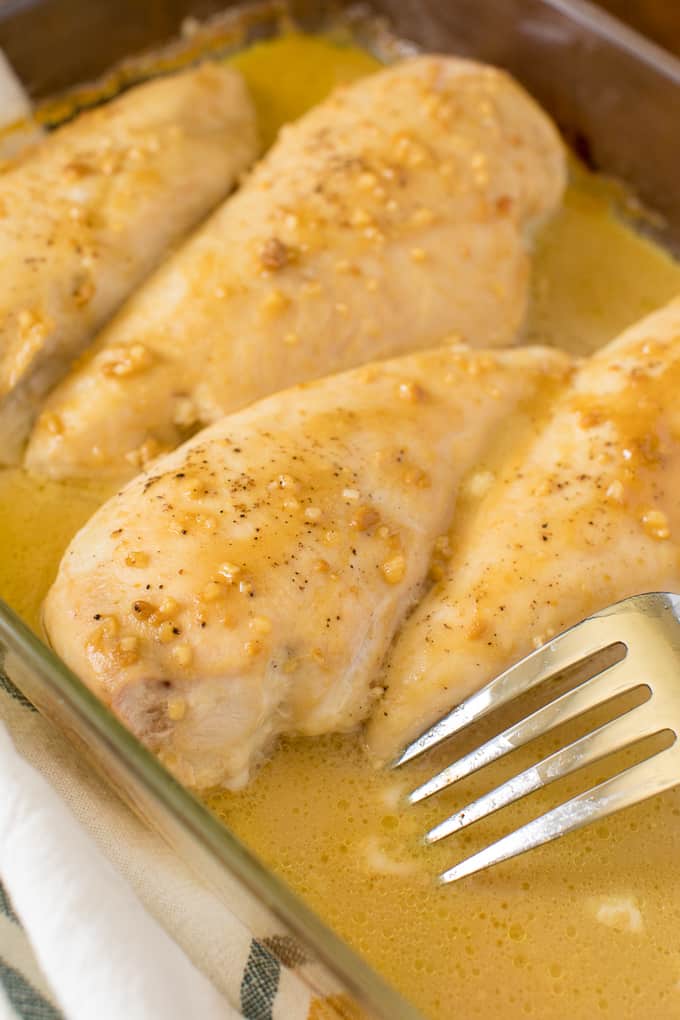 How to Make Honey Garlic Chicken
Start by preheating your oven as directed in the recipe card below. Then in a bowl, you will make your honey garlic sauce, set aside.
Now in a baking pan, you will place your chicken the spread the honey mixture all over the chicken. Season with salt and pepper and then bake in the oven for 45 minutes or until the chicken is fully cooked.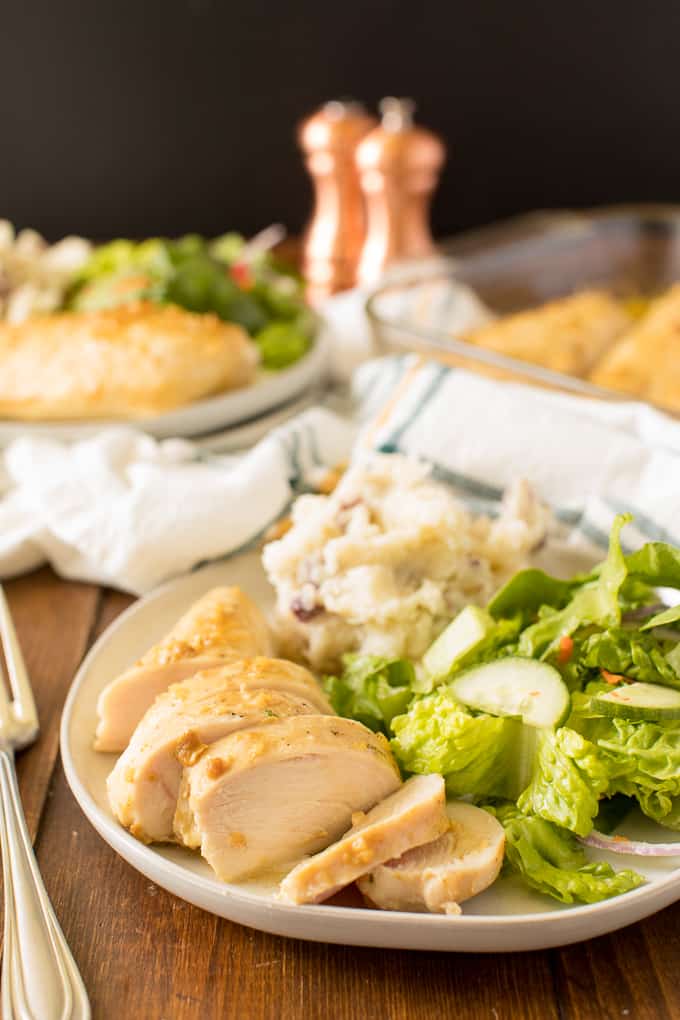 Looking for more chicken recipes to whip up
For more chicken recipes, check out my posts: 21 Chicken Dinner Recipes Ready in 30 Minutes or Less, Grilled Herb Chicken and my Grandma June's recipe for Hurry Chicken. You might also like this Honey Garlic Salmon.
Ways to Use Leftover Honey Garlic Chicken
If you are lucky enough to have leftovers you can simply store them in an airtight container in the fridge. For leftovers, you can simply reheat in the microwave or oven and eat the same way again.
Or you can make up some pasta and then slice and serve the chicken that way. Or another great option is to slice the chicken and place over a bed of greens and then make your homemade salad.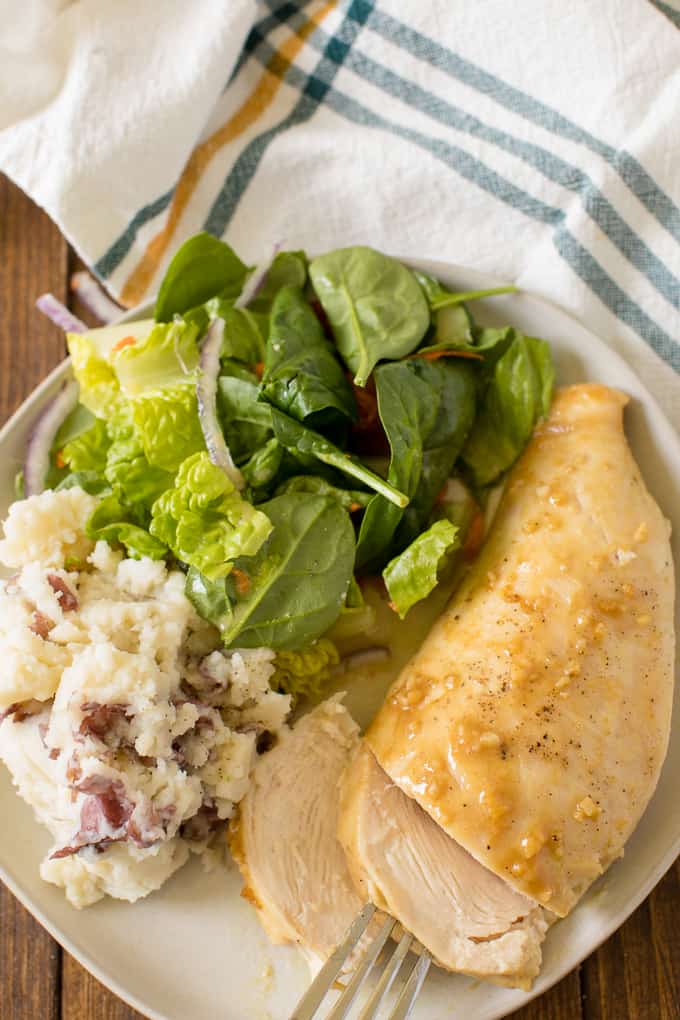 Looking for More Easy Dinner Ideas
Can I Double This Baked Chicken Recipe
You sure can! I have made this recipe a few times where I wanted to make larger batches to serve a crowd. This recipe is great you might need to add a little extra time if you have a lot of chicken in your oven.
The biggest thing is to make sure that your chicken is all similar-sized so that they can all cook up around the same time.
What to Serve with Garlic Chicken
Cauliflower Rice | This is a low carb option that is great to pair next to your chicken.
Zoodles | Zucchini noodles is another great option. A quick and easy side that will pair great with your chicken.
Mashed Potatoes | Add a hearty side dish like some buttery and creamy mashed potatoes.
Steamed or Roasted Veggies | Who doesn't love a good vegetable side dish. Whether it is roasted, steamed, or cooked in any other way give it a try.
Rice | Reach for a classic rice dish as well. Whether you do plain rice, brown rice, wild rice, and the list goes on.
As you can see almost anything goes with this chicken. You can even do a light salad, cold pasta salad, and so on.
Don't wait, if you enjoy chicken, garlic, and honey, then this recipe is gonna be a treat.
Honey Garlic Chicken
Five simple pantry ingredients are also the best weeknight dinner! This sweet and savory chicken dish goes with everything.
Ingredients
3 tbsp butter, softened
3 tbsp honey
4 cloves garlic, minced
3 tsp Dijon mustard
6 boneless, skinless chicken breasts
salt and pepper
Instructions
Preheat oven to 375°F. Combine honey, butter, garlic and mustard in a bowl. You might need to mash the butter with a spoon to blend in with the other ingredients.
Place chicken in a shallow baking pan and spread the honey garlic mixture all over the chicken breasts. Season with salt and pepper.
Bake uncovered for 45 minutes or until chicken is cooked thoroughly. Remove from oven and serve hot.
Notes
It tastes delicious with some mashed potatoes!
Recommended Products
As an Amazon Associate and member of other affiliate programs, I earn from qualifying purchases.
Nutrition Information:
Yield:

6
Serving Size:

1
Amount Per Serving:
Calories:

285
Total Fat:

10g
Saturated Fat:

5g
Trans Fat:

0g
Unsaturated Fat:

4g
Cholesterol:

117mg
Sodium:

252mg
Carbohydrates:

9g
Fiber:

0g
Sugar:

9g
Protein:

38g