Disclosure: This post was sponsored by Dempster's. The opinions are completely my own based on my experience.
It's been said time and time again that breakfast is the most important meal of the day. I admit that I used to skip eating breakfast, but I've changed my ways since having kids. When I prepare my kids breakfast, I'll make sure I eat something too. I need the energy it provides to keep me going through my busy work and family schedule. The good news is that breakfast doesn't have to be boring and you can let your creativity shine in many different ways.
For our family, weekday breakfasts are much simpler than weekend breakfasts. During the week, I'm usually stretched for time and trying to rush my kids out the door to school. One of our favourite breakfast staples is a simple piece of toast with butter and honey. Our recent breakfasts have been slices of the new Dempster's Honey Wheat Bread. It's new in stores for a limited time and is a must-try! My family loves it.
So why honey? The question should really be why not honey. This natural sweetener is an emerging trend in Canada with production up 11% since 2015. Many Canadian families are using honey to sweeten their recipes over refined sugar. For me, I've been using honey in more and more recipes from everything to breakfast to entrees. It's delicious.
Dempster's Honey Wheat Bread is made with real Canadian honey and contains no artificial flavours or colours. Try a slice for breakfast with a little bit of honey on top and I'm sure you'll fall in love like we did. You can taste a hint of honey in every bite.
I was inspired to create these yummy Honey Almond Breakfast Cups with my loaf of Dempster's Honey Wheat Bread. It's perfect for lazy weekends when you want to try something a little different and more refined for breakfast. Think French Toast jazzed up with a sweet, creamy filling and fresh toppings. Of course, I added more Canadian honey to give it an extra bit of yum factor.
To start, you make it the same way you would French Toast with a mixture of eggs and milk. I also added cinnamon and honey to the mixture for extra flavour.
Dempster's Honey Wheat Bread is the perfect "cup" holder for this breakfast/brunch recipe.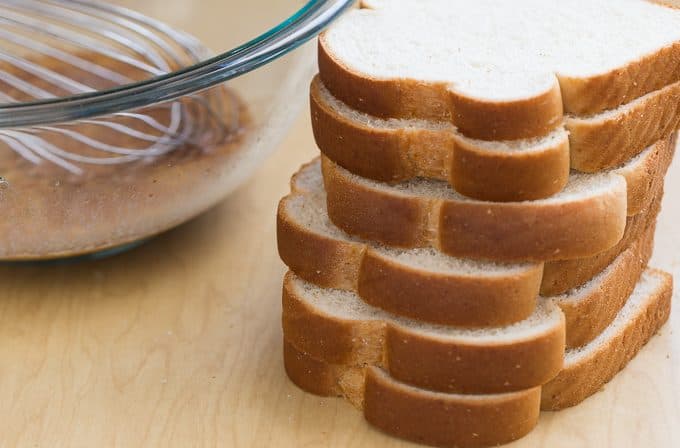 Drench Dempster's Honey Wheat Bread in your egg mixture ensuring that both sides are completely covered.
Then mold them into a greased muffin tin to create a cup shape. They bake in the oven for about 12 minutes and come out perfectly golden and ready to be filled.
For the filling, I used a mixture of ricotta cheese and honey. If you don't have ricotta cheese, you could also use cottage cheese in its place. The honey gives it a nice punch of sweetness.
Then comes the fun part – dressing them up with your favourite toppings. Kids love to help with this part of the process.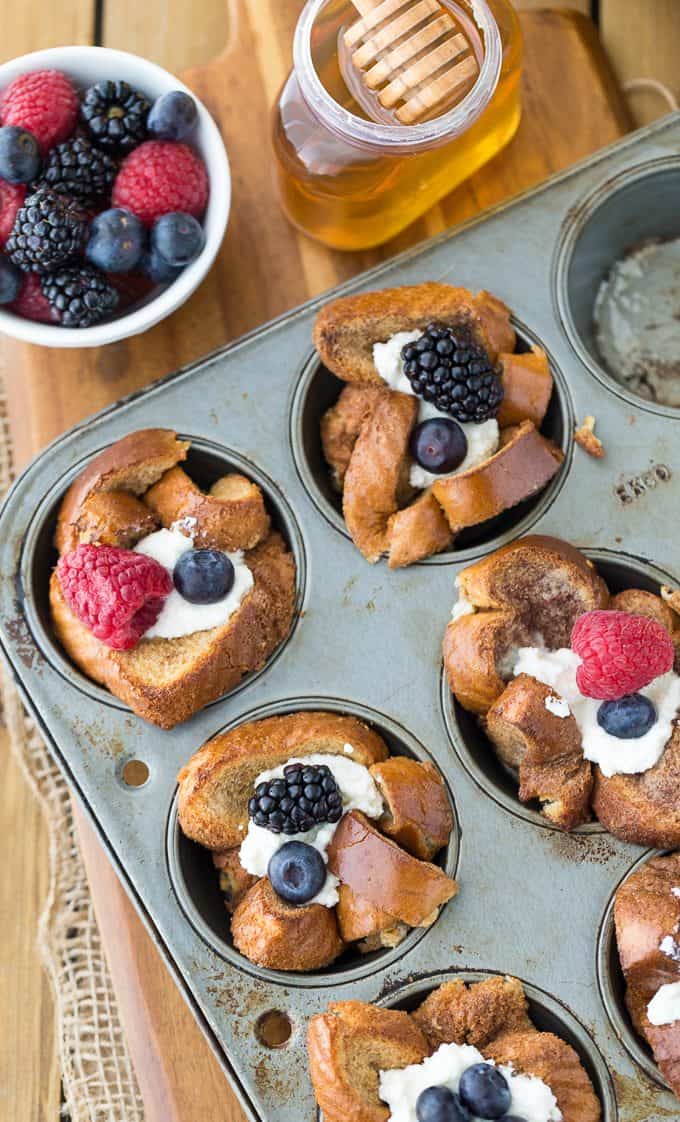 We added fresh berries, slivered almonds and another drizzling of honey.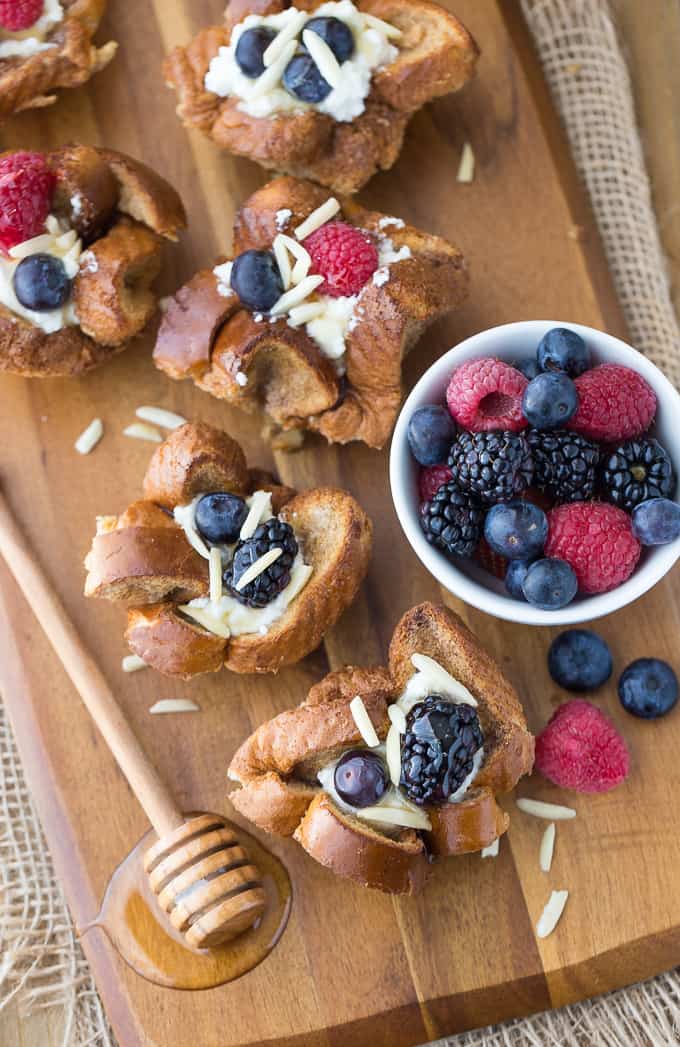 And wow are they are good! This recipe makes six cups, but you could easily double it if you are feeding more people. The best part is that it's easy to make with little effort. I'm definitely making them again when we have family visiting overnight. Why slave over a stove when you can create these gorgeous bundles of deliciousness!
I loved watching my family gobble them done. Seeing them enjoy every last bite made me feel happy and like a meal time hero. It's those little things that mean the most in life!
As a mom of picky eaters, I know first-hand how frustrating it is to make something that no one wants to eat. Thankfully, my family LOVED this breakfast and didn't leave any behind. In fact, I even had requests to make it again the next morning!
Fresh and perfectly sweet, these Honey Almond Breakfast Cups will make you a breakfast hero and no one has to know how little effort they took to make.
I hope you'll give them a try and let me know what you thought! If my family is any indication, I'm sure they'll be an instant hit with yours too.
You'll also like these French Toast Cups and Whole Wheat Blueberry Pancakes.
Do you think your family would enjoy these Honey Almond Breakfast Cups?
You'll also like these Cinnamon Banana Pancakes.
Connect with Dempster's on Facebook, Instagram and Twitter.
Honey Almond Breakfast Cups
Even the picky eaters loved this easy weekend breakfast recipe! French toast cups are filled with a sweet, creamy ricotta filling and topped with honey, berries and slivered almonds.
Ingredients
Breakfast Cups
6 slices Dempster's Honey Wheat Bread
3 eggs
2 tbsp milk
1 tsp cinnamon
1 tsp honey
Filling
1/2 cup ricotta cheese
1 tsp honey
Toppings
Slivered almonds
Honey
Fresh berries
Instructions
Preheat oven to 375F. Grease six spots in a muffin tin with butter or cooking spray.
Breakfast Cups
Whisk together the eggs, milk, cinnamon and honey in a medium size bowl. Dip each slice of bread into egg mixture until covered. Let excess drip off. Press bread into the muffin tin.
Bake for 12 minutes or until golden.
Filling
In a small bowl, mix together ricotta cheese and honey.
Assembly
Spoon equal amounts of ricotta mixture into baked breakfast cups. Top with berries, almonds and a drizzle of honey, if desired.
Notes
Make sure to liberally grease your muffin tin to ensure easy removal of your breakfast cups. If you have trouble removing them, use a butter knife or spoon to gently pry them loose.
Recommended Products
As an Amazon Associate and member of other affiliate programs, I earn from qualifying purchases.
Nutrition Information:
Yield:

6
Serving Size:

1
Amount Per Serving:
Calories:

195
Total Fat:

7g
Saturated Fat:

2g
Trans Fat:

0g
Unsaturated Fat:

4g
Cholesterol:

100mg
Sodium:

206mg
Carbohydrates:

24g
Fiber:

3g
Sugar:

8g
Protein:

10g