People ask sometimes how I stay so organized. I tell them it's not that hard when you have a little help. I'm talking about simple hacks using everyday items to keep things in my home and business running smoothly. They are my tools to help me be successful.
I apply these same principles to my girls to set them on the path for success. A couple weeks ago, I shared a few hacks to make school mornings easier and I hope they helped you out as much as they have for me. Today, I wanted to share a few more simple tips to try in your home. This time, I'm talking all about the dreaded homework!
I'm very familiar with homework from raising two daughters, one in university and the other in grade 8. Olivia, my oldest, was much easier to handle when it came to doing her homework. I didn't have to coax or remind her. She just did it. Bridget, on the other hand, needs a little more prodding. Thankfully, we have a few homework hacks in our arsenal that set her up for success.
Homework Hacks
These easy homework hacks use everyday items and can still be used even if you don't have a dedicated "homework space". Our home is small so I wanted hacks that would work in any sort of space you have. Bridget typically does her homework either in her room or at the kitchen table. The good news is that these hacks won't take you long to do and you can start using them anytime throughout the school year.
Hack #1: Reading Goals
I was a bookworm when I was growing up so I didn't need any encouragement. Bridget isn't one to pick up a book and read for fun. I have to remind her daily to do her required reading for school. Most schools recommend kids do daily reading as it helps them to improve in all subject areas. This simple hack will help you raise a reader!
All you'll need are some Post-it® Notes, a pen and a book for your child to read. I used the colourful 3×3 Post-it® Notes.
On each Post-it® Note, mark dates and a few words of encouragement. The goal here is to get your child to read to the spot that you pick for that particular date.
I want Bridget to read two chapters a day so I placed a Post-it® Note every two chapters until the end of the book. Tailor it to your child's reading level even if that means less chapters or only a few pages a day.
I added the little notes of encouragement to personalize the experience and keep Bridget motivated to continue reading. It's been working great since we've implemented this hack into our after school routine. I may make an avid reader out of Bridget after all!
Hack #2: Project Organizer
In the past couple years, I've noticed a big influx of homework, tests, projects and assignments for Bridget. As kids get older, the amount of school work required increases drastically. I'll be honest. I struggled last year with keeping track of what was due and when. It's hard for kids (and parents) to keep track of due dates if you don't have a system in place. Last year, I rushed to help Bridget finish a science project that was due the next day. She didn't tell me about it till the night before. Talk about stress!
This year, we've implemented a simple Project Organizer to help keep track of deadlines and to ensure all work is handed in on time. No more late night homework sessions here!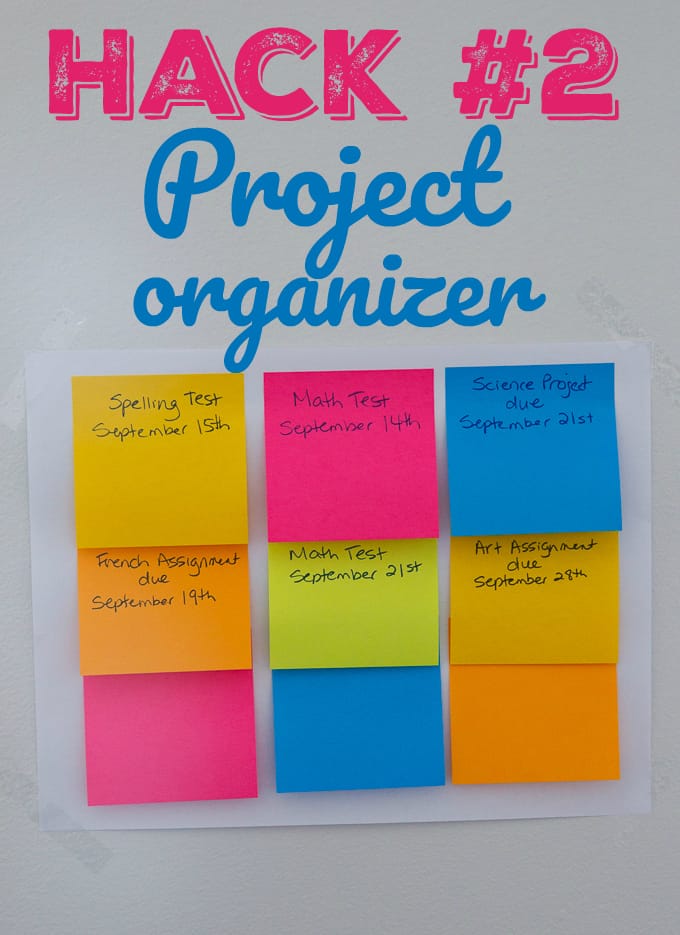 For this hack, you'll need Rio de Janeiro Post-it® Notes, Scotch® Brand Transparent Tape, a pen and a blank piece of paper. Easy peasy.
To create it, add each assignment, project or test and its corresponding due date to its own Post-it® Note and place them on a piece of paper. Tape it to the wall with Scotch® Brand Transparent Tape somewhere central so you can easily see what is on your child's plate with a quick glance. We put ours in the kitchen.
I love using Post-it® Notes because they can be easily removed and replaced once the assignment is completed.
Hack #3: Homework Supplies Station
Keep all your kids' supplies in easy reach with this simple DIY Homework Supplies Station. I was tired of hearing, "Mom, I can't find a pen!" or whatever essential tool was missing at the moment. Now, she has no excuse to not get her homework done because everything she needs is in easy reach. It's also portable so you can easily bring it to any location your child is doing homework and then store it when they are done. I slide ours behind the couch.
You'll need a piece of foam board (I like that it's sturdy), Scotch® Brand Magic Tape, Miami Post-it® Notes and plastic wrap. You could also use plastic baggies if you prefer.
Cut out plastic wrap and tape it on three sides with Scotch® Brand Magic Tape. Leave a hole at the top so you can insert the supplies needed. Scotch® Brand Magic Tape is strong and holds the supplies in space great.
I used Miami Post-it® Notes to label each of the supplies and to also add a bright pop of colour.
I prop it up on a kitchen chair while Bridget is working on her homework at the kitchen table.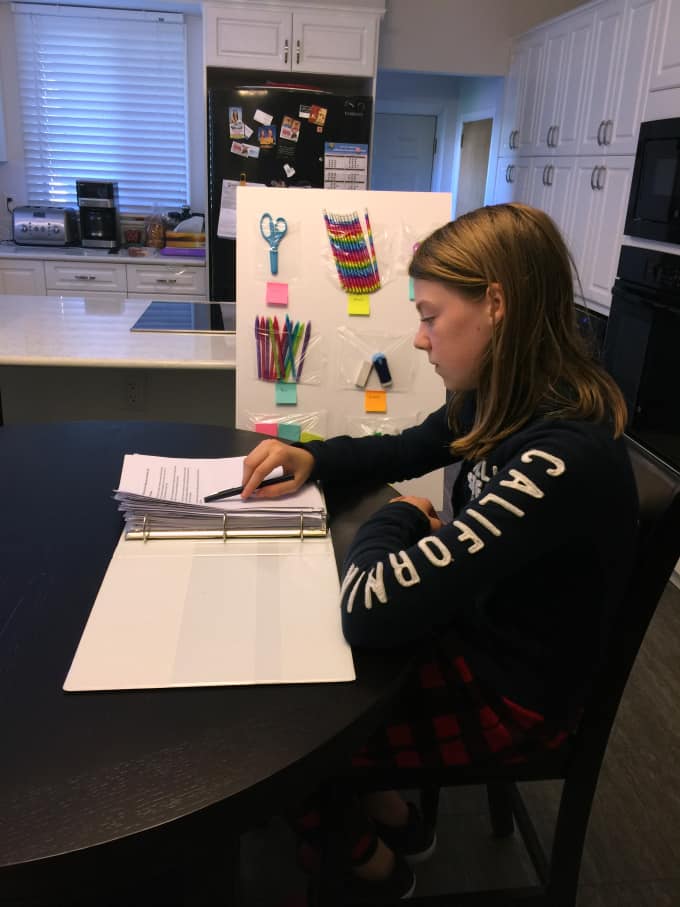 A little organization goes a long way to set your child up for a successful year. I love that these homework hacks are easy to do and most importantly, they actually work.
For more creative ideas for back to school and beyond, check out the Inspiration That Sticks blog.
I'm always looking for more homework tips. I'd love to hear about how you tackle homework in your home!
Disclosure: I am proud to be a 3M sponsored blogger, and as part of my responsibilities, I get the opportunity to evaluate 3M products.