Disclosure: I was compensated for this post. All opinions on this blog are my own.
How safe is your home? I stopped to think about it a bit and the question gave me pause. I'd like to think my home is a safe place for my girls. I would die if anything were to ever happen to them. Home safety should be a priority. It's always good to go over safety tips to make sure that you are doing everything in your power to make your home as safe as possible for your family.
10 Ways to Make Your Home Safer
1. Make sure you have enough smoke alarms in your home. Having one will not cut it. The National Fire Protection Association recommends installing smoke alarms outside every bedroom, outside each sleeping area and on every level of your home including your basement. Yes, it may seem like a lot of smoke alarms, but better safe than sorry. Roughly 3 out of 5 fire deaths happen in homes with no smoke alarms or no working smoke alarms. Scary!
Tip: Get First Alert Nuisance Smoke & Fire Alarms. They are battery operated with a hassle free guarantee for no battery replacements for 10 years.
2. Test your smoke alarms frequently. Make a note on your calendar to test each smoke alarm at least once a month. It's quick and easy to do. Just press the test button and you'll know if it's working properly. It's also good to replace your smoke alarms when they are 10 years old.
3. Make sure you have the right kind of smoke alarm. I didn't realize that they had different kinds. Ionization smoke alarms are quicker to warn about flaming fires while Photoelectric alarms are quicker to warn about smoldering fires. Use both types throughout your home to be safer. It's also best to use interconnected smoke alarms where if one sounds, they all sound.
4. Install a CO (Carbon Monoxide) alarm. CO is an invisible, odorless gas that is created when fuel burns incompletely. CO alarms should be installed in a central location, outside each sleeping area and on every level of your home. Buy CO alarms that are interconnected so that when one sounds, they all will sound. Like smoke alarms, make sure to test your CO alarms at least once a month.
Tip: Pick up First Alert Carbon Monoxide Alarms. I like that it has a digital display that tells you CO levels and temperature in your home.
5. Make a home safety plan. Go over with your family on what to do if either the smoke alarm or CO alarm sounds. Make a fire escape plan and ensure everyone understands what to do. When the CO alarm sounds, immediately move everyone to fresh air either outside or by an open window or door. Then call for help and don't go back inside until the emergency personnel give you the ok.
Tip: Did you know that you can get Smoke & Carbon Monoxide Alarms from First Alert. They offer 2-in-1 protection.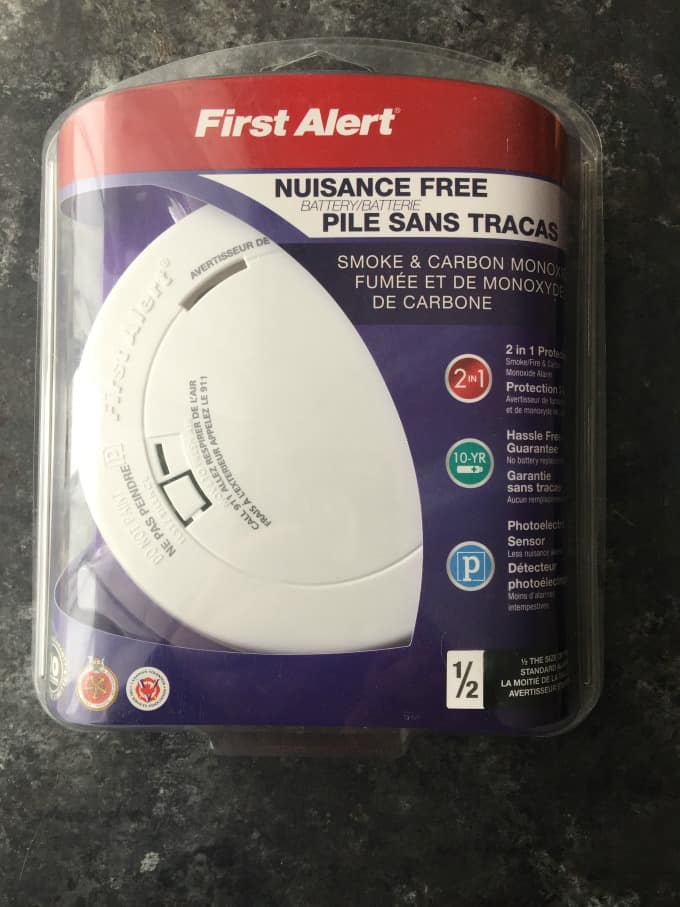 6. Never warm a vehicle indoors. If you have your vehicle parked in your garage, move your vehicle outdoors while it runs. Just opening the garage door is not enough.
7. Keep your vents clear. During and after a big snowstorm, snow can build up dangerously. Make sure to remove snow from around your dryer vent, furnace vent, stove and fireplace.
8. Only BBQ outdoors. It seems like a no-brainer to me, but it's important to say anyways. Gas or charcoal grills can produce CO so only use them outdoors.
9. Maintain your furnace and chimneys. Get them inspected every year by a professional before the cold weather sets in.
10. Never use your oven as a heating source. It puts you in danger of CO.
Do you have any other home safety tips to add?
Connect with First Alert on Facebook, Twitter and Instagram.