Disclosure: I received $100 Walmart Gift Card to complete the #WalmartFrugalHeroes Challenge. The opinions expressed are my own.
On August 22, I joined shoppers across Canada for the second edition of the Walmart Frugal Heroes Challenge. I also took part in the first edition back in May where I outfitted two kids for summer on $100 budget.
This time around I decided to give our home office a mini makeover. It definitely needs a complete renovation, but that won't come till later on when we have more $$$ and time to do it! For now, a mini makeover will freshen up the space and make it more usable for our family.
We had a bunch of John's tools back there and as you can see from the picture below, there's a cat on my printer. Misty (and sometimes Princess) love to sleep in front of the window in the sun. There's also a piece of the linoleum that was ruined by the dog and two extension cords plugged into the computer and the printer.
With my $100 Walmart gift card in hand, I headed out to our local Walmart store in Greenwood, NS. I spent about 45 minutes shopping and picking up what I'd need for the makeover. I was trying to keep a tally of the total bill in my head. I started in the Office section where I picked up a stapler set, push pins, a bulletin board, pencils, pencil crayons, battery operated pencil sharpener and a little storage drawer. Then I headed over to the Household section and added a black mat, waste bin and red chair cushion. In the Lighting & Electrical, I grabbed a black desk lamp and Power Bar. Those extension cords on my floor were driving me bonkers!
There were 12 products in total in cart and I thought I was pretty close to $100. I wasn't sure if I'd be over or under because of the tax (15% HST in Nova Scotia). My total order came to $96.90. I wanted affordable, but also quality products and I think succeeded in getting just that!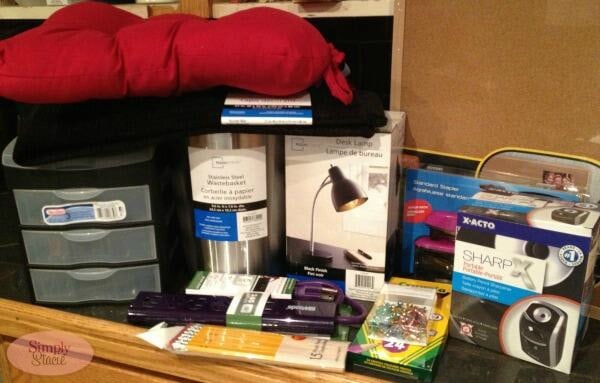 The first thing I did was move John's tools and everything that didn't belong out of the room. Yes, I had to kick the cats out too. Misty was not impressed and shot me dirty looks for the rest of the day. She'll get over it though…
I dusted and swept the room and started on the desk first. I put our pencils in a woven basket and placed the desk lamp on the desk. At night, this room has very low lighting so the desk lamp will help the girls see to do their homework. The desk lamp was only $6.98!
I put the cushion on the old chair to make it more comfortable to sit on. It's such a hard chair that it hurts to sit on for any extended amount of time. A cushion was greatly needed! It was only $7.97.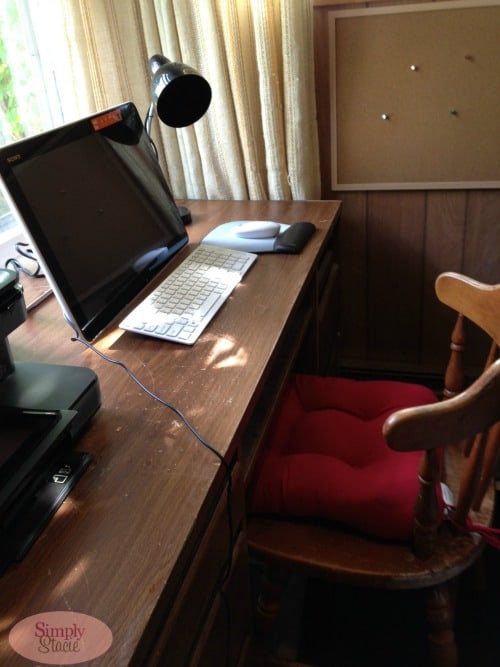 On the wall, I put up the bulletin board ($5.97) with some of the metallic tacks ($2) I bought. I think this will be handy for notes and reminders or maybe even a picture or two. The girls can decide what they want to put there. The stainless steel wastebin was $6.96. I liked the look of it better than the plastic ones even though it was a couple dollars more.
On the filing cabinet, I put the storage drawer ($7.47), battery operated pencil sharpener ($14.96) and stapler set ($8.98). I'll fill up the storage drawers with office and school supplies once I have them.
The final touch was the black mat ($14.97) underneath the chair. The floor is ruined in that room so that was my attempt to make it look a little better. I think it helped.
Our home office is now organized and ready! My only issue now will be trying to keep the cats off that cushion! That's another check on my list of things to do to get ready for back to school. This space is perfect for the girls to use for homework.
Thanks Walmart Canada for the fun opportunity!