The holiday season is the perfect time to wear the most elegant jewelry for all of those special parties, dinners and celebrations. However, many budgets this year (including mine) cannot afford to add extremely expensive pieces to their collections.
Thankfully, MemeJewels.com has a wonderful selection of "elegant jewelry at affordable prices." From bracelets, necklaces, earrings, rings and pendants the jewelry offerings are striking, high quality and well within my budget.
I love sterling silver pieces and the Designer Inspired Sterling Silver Cuffed Bracelet is absolutely stunning and is an exceptional in terms of quality and value.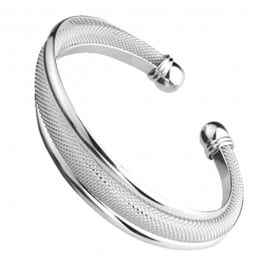 The combination of braided and polished textures on this bracelet makes this one eye catching piece of jewelry. The intricate details including the capped ends are what really make this bracelet a standout. I wore this bracelet to church to accent my simple black dress and it received many compliments from complete strangers. I am very impressed because it definitely feels like I am wearing one of my higher end pieces of jewelry yet it is affordably priced at only $65.95 (regular price $145.99) at MemeJewels.com!
What special piece of jewelry do you want to add to your collection this holiday season? The prices at MemeJewels.com are so affordable that you can buy your favorite piece and pick up a second one to give as a gift too. Just look at this beautiful Sapphire Pink Heart CZ Rhinestone necklace….I did a double take when I saw that it is priced at only $29.95. Hint to my beloved husband……this is at the top of my Christmas wish list!
You are invited to visit MemeJewels.com to browse the entire collection of high end inspired, affordable jewelry.
Giveaway
WOW! Two lucky readers will receive a Designer Inspired Sterling Silver Cuffed Bracelet valued at $65.95 from Meme Jewels!
Check out the list of all my current giveaways!
IMPORTANT: Please leave your entries above using the Rafflecopter form. Comments do not count as entries. If you are having issues with the form please leave me a comment here. It's a new software and feedback is appreciated!
To do the daily tweet: If the form will not let you put in your daily tweet, please fill out the main entry again and put "Do Not Count" in the Extra Info, Name or Email box. Then it should let you complete the daily tweet.
*I did not receive any financial compensation for this review, though I did review a sample of the product for evaluation purposes. The opinions are based only on my experiences with the product.*