Disclosure: This post is sponsored by Workman Publishing. All opinions are my own.
My 12-year-old daughter, Bridget, noticed a big change when she advanced from grade six to seven. Lots more homework! She spends about 30 to 45 minutes after school completing her work. She's also working her way through the Big Fat Notebook series, a revolutionary study guide series made for middle school students. School has been in session for almost 2 months and I'm happy to say she's now into a routine and doing very well in school. What a relief!
I think developing good study habits at the middle school age is so important. What she is learning now will help her when she goes into high school and beyond. Being able to sit and focus on completing assignments and exercises is an important skill to have. Bridget still needs a bit of coaxing some days, but she is getting better about starting on her own without a daily reminder from me.
I still check in on her to make sure she stays on task and provide her with some healthy snacks. She always comes home hungry and I'd rather her not eat junk food before supper.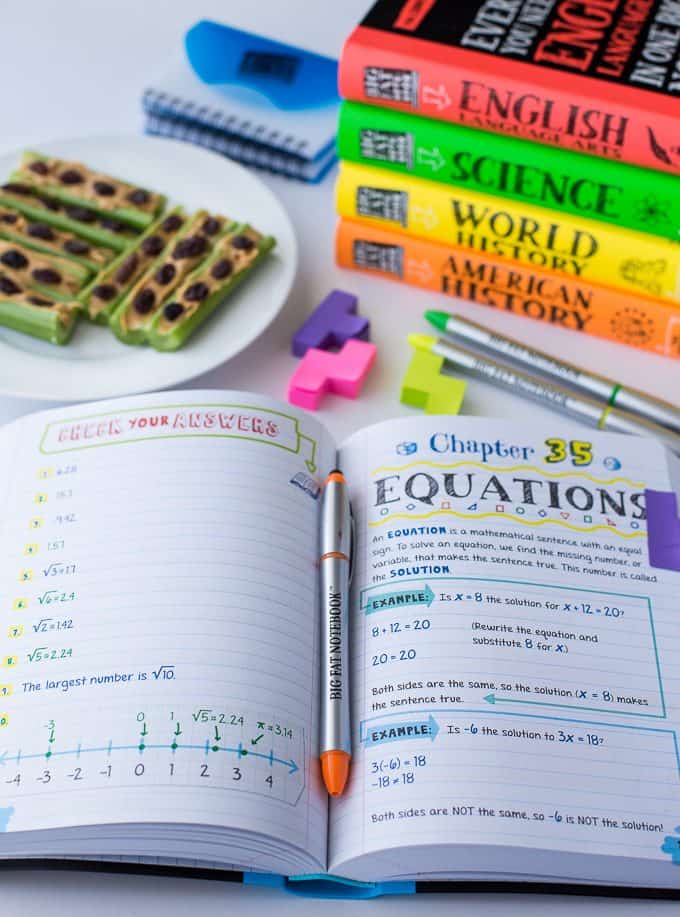 One of her favourite snacks is one my mom used to make for me during my childhood homework sessions: Ants on a Log. It's a funny name for a simple, healthy snack. It's celery sticks spread with peanut butter and topped with raisins. It's a kid snack that spans many generations!
Another delicious, nutritious after school snack is sliced apples with peanut butter. It's quick to make and gives her enough energy to keep going strong until dinner is ready.
I try to sneak in peanut butter without the added sugar sometimes. I figure the apple gives enough natural sweetness.
Our third healthy homework snack is one that is still quite new to us. I discovered kale chips a few years ago when I was looking for low carb snacks for myself. Turns out, it's a kid favourite too!
Making kale chips is a little more effort than my other two homework snacks, but not by much. Rip off some kale leaves and place on a parchment paper lined baking sheet. Season with salt and place in a 300F oven for 10 minutes. Then, flip over the leaves and put back in the oven for another 5 to 10 minutes. My kids love them!
If you are looking for extra study material for your middle schooler, I highly recommend the Big Fat Notebook series. Bridget's been working her way through the five subjects, Math, Science, English Language Arts, World History and American History. Think of them as notes you borrowed from the smartest kid in class. That's actually the concept they were built around. They are easy to read and understand with doodles explaining any tricky concepts. Plus, they have quizzes kids can test their knowledge to see if they understood what they read.
Here's a free printable that goes along with the series so you can get a feel of what they are all about.
You might find it interesting to learn that this series is from the makers of Brain Quest. I thought that was neat because my oldest daughter grew up on Brain Quest.
You can purchase Big Fat Notebooks on Amazon, Barnes & Noble, Indiebound and Workman.
What are your child's favourite healthy homework snacks?