Do you love a good scare? I don't mind watching certain horror movies by myself. The ones with the deranged killers and alien encounters don't phase me. The ones I would never, ever watch alone are the movies about the supernatural. Ghosts freak me out. Despite this fact, I can't help, but still be interested in ghosts. I'll watch the scary movies with someone by my side and I'll even tour a haunted house, if given the opportunity.
My dream one day is to visit the Winchester Mystery House in San Jose, CA. It's pretty far though and a lot of money to fly there so I'm holding off. In the meantime, Ontario, my home province, has many haunted spots that within driving distance for me.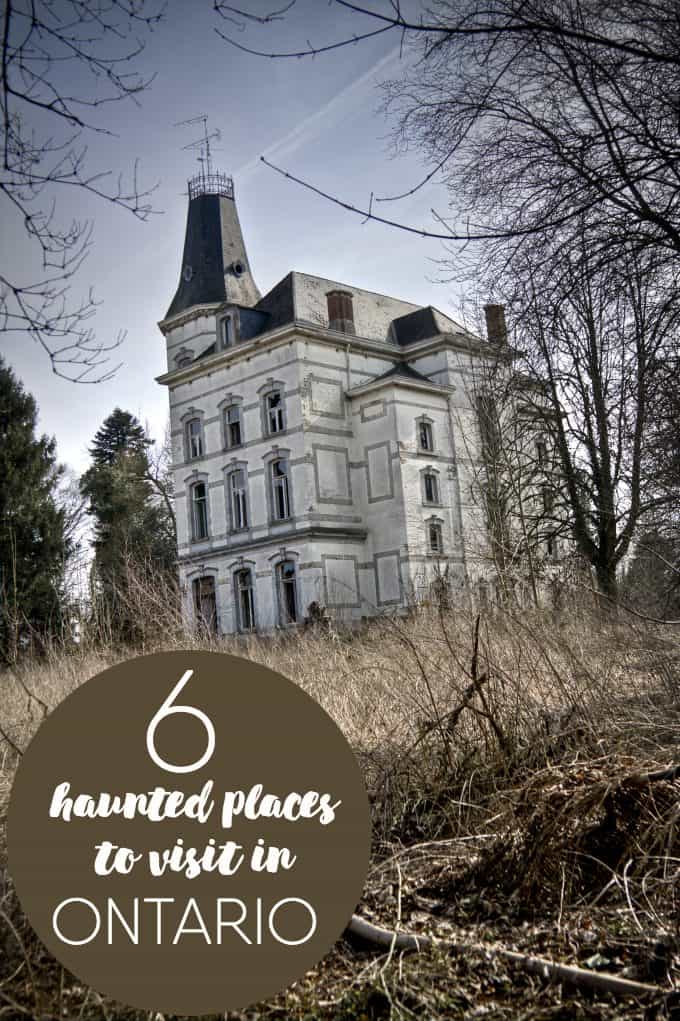 © haunted house image via Shutterstock
The Toronto and Ontario Ghosts and Hauntings Research Society has a list of several hundred haunted places, divided by area, too. Be sure to check that out if you're looking for a hauntingly good time!
Haunted Places to Visit in Ontario
Check out these six haunted places to visit in Ontario.
1. Eugenia Falls. If you're looking for a ghost town, you've almost found it in Eugenia. Well, to be fair, it's not completely a ghost town. Rather than a once-bustling town, though, it's more like a village. Many buildings in Eugenia have fallen down or been demolished. As of a few years ago, there were many still standing from the original Eugenia establishment, including the former hotel, and a few homesteads. Eugenia Falls is where most of the hauntings are said to take place. Stories of cries for help, and ghost children are plenty.
2. Cove Island Lighthouse. Rumour has it, the captain of a ship that sunk back in 1881 now haunts this beautiful lighthouse. The Cove Island Lighthouse was built by John Brown, and became operational in 1858. Access to the island is restricted, so you won't be able to tour the lighthouse, but you can get there by ferry or tour boat.
3. Proctor House Museum. Located in Brighton, the Proctor House Museum was built in 1867 and is now a haunted attraction that is part of a walking ghost tour. The staff at the Museum claim there are many spirits that walk the property. According to legend, the ghost of John Nix Jr. haunts the home as payback for the original owner's dirty deeds.
4. Hermitage Ruins. Originally built in the 1800s, Ancaster's Hermitage was once a residence that housed an English officer, Otto Ives, and his wife. According to legend, one of their nieces lived with them in the mansion and fell in love with the coachman. The coachman requested Ives' permission to wed his niece, but he said no and the coachman was found hanging from the rafters in the barn the next day.
5. Nightmares Fear Factory. There are few survivors that make it through the Nightmares Fear Factory. To date, nearly 150,000 folks have chickened out. John and I went in 2009 and though we made it through, I was never the same afterwards. 🙂
Abraham Mortimer owned a coffin factory atop Clinton Hill, and dedicated every waking hour to watching the coffins being built and ensuring the success of his business. One night, some kids were taunting Abraham. He confronted them, and the struggle caused a stack of coffins falling on Abraham. He was crushed to death. Soon after his funeral, the coffin was found unearthed and empty! He now walks the halls for revenge on those who dare trespass on his beloved factory.
6. Haunt Manor. I love the Haunt Manor because they have children's rides and attractions rather than it just being a scary haunted attraction for adults. Don't get me wrong! There are some parts of Haunt Manor that aren't kid-friendly, and you'll want to visit with your friends instead, but it's nice to see they have a few things for the little ones, too. I've seen some reviews on TripAdvisor saying this is the scariest haunted house in Canada.
I have a few more on my list of 10 Most Haunted Places in Canada so make sure to read that post too.
Have you been to any of these locations? If so, I'd love to hear about your experience. Let me know if you know of any other haunted spots in Ontario too!