Even though the Harry Potter books were written between 1997 and 2007, they remain just as popular as ever. It's nearly impossible to go an entire day without hearing something about Harry Potter—whether it's the books, the movies, The Wizarding World of Harry Potter at Universal Orlando, a theme for a birthday party, or any number of other Harry Potter-related conversations.
Not that I'm complaining. I was once wrapped up in the books as well and now I enjoy hearing how other generations are enjoying all the magic that is Harry Potter. It doesn't matter if you're young or old, I think enjoying the wonderful fantasy world of Hogwarts and all that it entails is for everyone.
So when I say you can't go a day without Harry Potter, you really don't have to. Allow me to introduce you to some of my favorite Harry Potter gifts. Perfect for any fan of the series or anyone who needs a little bit of childhood magic back in their life, these gifts are perfect for just about anyone.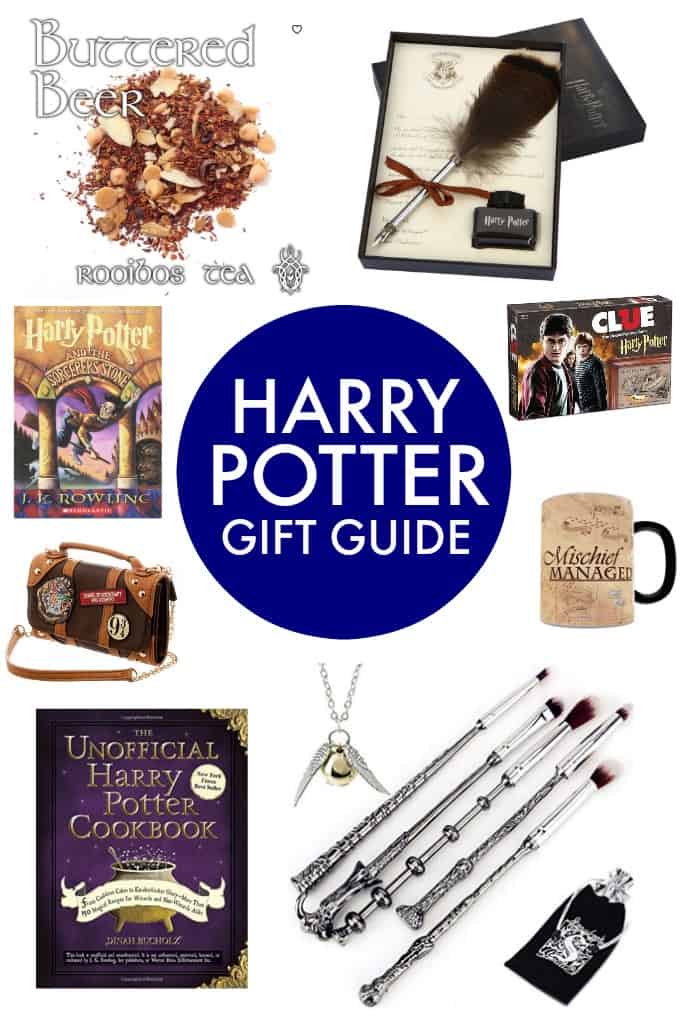 Harry Potter Gift Guide
This post contains affiliate links.
1. Hagrid's Hut Subscription Box. Cratejoy is at it again with a wonderful Harry Potter-themed monthly subscription box. Inside the box, you'll find items purchased directly from the Universal Studios' Diagon Alley and Hogsmeade attractions.
2. Harry Potter Soap Set. This soap set features four handmade artisan soaps, each named after a significant item in the book series. The soaps are lightly perfumed and contain moisturizing body butters that are perfect for people with sensitive skin.
3. Harry Potter Engraved Rolling Pin. This item is a great gift for that Harry Potter fan that also likes to bake. Leave an imprint of Harry Potter insignia on your pies, cookies, or pastries with this fun birchwood rolling pin.
4. Harry Potter Quote Bracelet. If you know a lover of jewelry (and Harry, of course), then they'll love these beautiful, handmade copper, gold, or silver cuff bracelets that read: "The ones that love us never really leave us."
5. Harry Potter Quidditch Golden Snitch Necklace. Potterheads will love this intricately designed golden snitch necklace. Choose from bronze or silver metals and either 16- or 18-inch lengths.
6. Harry Potter Welcome Mat. What a fun and whimsical way to welcome people to your home at the Platform 9 ¾. These custom entryway welcome mats feature a permanent imprint that will not rub off or fade and will help to keep your home free of debris tracked in by your guests.
7. Buttered Beer Loose Tea. Start your morning or end your evening off right, with a taste of Hogsmeade's famous Buttered Beer. Containing butterscotch chips, organic rooibos, cinnamon, coconut, allspice, ginger, and other flavors, this tea is sure to delight any fan—of Harry Potter or tea!
8. Harry Potter Cookbook. Now you can make more than 150 of the recipes you've read about in the Harry Potter books with this cookbook. Recipes include Treacle Tart, Kreacher's French Onion Soup, and Banoffi Pie. Great for themed birthday parties or any occasion.
9. Harry Potter Writing Quill Ink Dip Pen Set. Send correspondence the old-fashioned way, using a quill (made from a real feather) and ink (high quality, bottled, smooth-flowing)—just like they do in the Harry Potter series.
10. Wizard Wand Potter Makeup Brushes. You might be a muggle—but you won't feel like one putting on your makeup with this set of five makeup brushes. The set also comes with a pretty golden snitch necklace.
11. Hogwarts Magical Marauder's Map Heat Reveal Coffee Mug. Watch this seemingly boring, black mug transform into the Marauder's Map in front of your very eyes once you add hot liquid to it.
12. Harry Potter Hybrid Bag. Wear your love for Harry Potter everywhere you go with this fun and functional brown purse with decorative patches.
13. USAopoly Clue Harry Potter Board Game. Students are disappearing from Hogwarts and it's your job to figure out the who, how, and where. The board also features wheels that move to reveal secret passages.
For more gift guides, check out this Disney gift guide, unicorn gift guide, best travel gifts, gifts for coffee lovers, and gifts for book lovers.
What Harry Potter gift is your favorite?