My kids aren't big milk drinkers. My pediatrician always told me not to worry about it as long as they were getting calcium from other sources, like cheese and yogurt. Luckily, both my boys will gladly eat both. My little guy Noah especially loves yogurt – and more specifically, Greek yogurt. So when I heard that the Happy Family brand had come out with Greek yogurt pouches I couldn't wait to get my hands on them!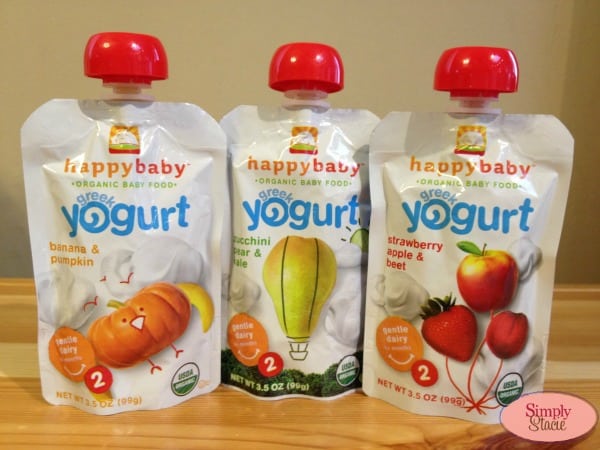 I received coupons from Happy Family to buy samples of their Greek yogurt pouches. I found them at my local A&P grocery store and picked up a combo of flavors to try – Banana & Pumpkin, Zucchini, Pear & Kale, and Strawberry, Apple & Beet. When I got home I handed over to 2-year-old Noah who knows exactly what to do with a squeeze pouch. He happily drank the first flavor I gave him. I was glad that he liked the flavor and the texture enough to ask for more. I was more than happy to let him have more – these Greek yogurt pouches are organic, with no artificial preservatives, trans fats or artificial flavors. The pouches are BPA free and contain at least 2 grams of protein per pouch. My family has been a Happy Family customer for years and we will continue to be. I feel good about their commitment to providing healthy products for families. The Greek yogurt pouches in this review are made for children six months and older and retailed for $1.49 each at my local market.
The Happy Family story starts with its launch on Mother's Day 2006. What began as Happy Baby — a minimally processed frozen, organic alternative to baby food in a jar — has since grown into a complete line of organic, healthy products for the whole family. Owned and operated by moms, Happy Family is the leading premium organic food brand delivering optimal nutrition for the entire family. Happy Family products are consistently recognized for superior taste and nutrition. In 2011, founder and CEO Shazi Visram earned the title of Ernst & Young's Entrepreneur of the Year for New York and Happy Family has been named as one of the fastest growing organic food companies in the nation by Inc. magazine for two years running.
To see the full line of Happy Family products, check out their website. While you're there, sign up for their newsletter for the latest product news and coupons. You can also find Happy Family of Facebook, Twitter, Pinterest, and YouTube.
Disclosure: I was not financially compensated for this post. I received a sample of the product for review purposes. The opinions are my own, based on my personal experience with the product.