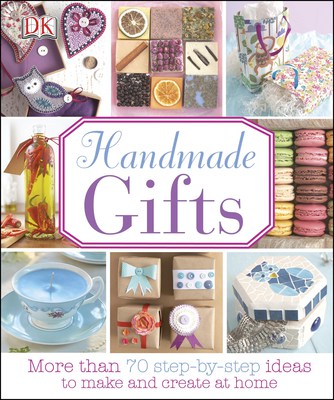 *I received a copy of this book for review, but was not compensated financially in any way. The opinions expressed are my own and are based solely on my experiences while reading this book.*
Title: Handmade Gifts
About the Book:
Containing more than 70 projects, from candle making and crocheting to paper-crafts and baking, Handmade Gifts is the perfect guide to making handcrafted items that people will love. Each project is clearly explained using simple step-by-step images along with photographs of the finished item and variations on how to make each piece unique. There are even ideas for green and up-cycled gifts.
My Review:
I'll be starting my holiday shopping very soon and am trying to figure out what to buy everyone this year. I have the hardest time trying to decide on the perfect gift. What do you buy someone that has everything already? I was wishing I was more crafty so that I could make a nice gift. I know I love receiving handmade gifts because that person put their love and effort into its creation. My sister, Laura, is very crafty and always makes me homemade gifts. I could never part with them!
This year I'm thinking of trying my hand at making a few gifts for family and friends. I recently picked up a copy of the book, Handmade Gifts by DK Publishing. It has over 70 tutorials on how to make your own handmade gifts. There's jewelry, bags, soaps, candles, edible gifts and even gifts ideas for pets!. It's geared towards all skill levels from beginner to advanced. I'm definitely a beginner so I was looking for the crafts that looked the most simple to make.
Each tutorial has detailed step-by-step instructions with pictures so you can see exactly what you should be doing and most importantly, what it should like when you are done! You'll find a list of all the materials and tools required for the craft. I'm looking at making a few of the crafts for myself. I've always wanted to make my own throw pillows and there's a tutorial on how to make a customized pillow in the For the Home chapter.
For gift ideas, I'm loving the chapter on Pampering Gifts and Edible Gifts. I've always wanted to make my own soap and there's a tutorial in the book to make all natural luxury soap. The Fizzy Bath Bombs also looks pretty neat! It looks really simple to make your own flavoured oil. It shows you how to make Chili Oil, Basil Oil and Garlic & Rosemary Oil.
The last chapter is on how to make Homemade Gift Bags if you wanted to really showcase your crafty talents! All the templates for each tutorial are located at the back of the book.
Buy Handmade Gifts for yourself or for someone else! My sister, Laura, would enjoy reading it. Though I think I might make her something from the book and surprise her!
Craft Boutique
For a limited time you can save up to 30% off on select Craft books from DK Canada!
Connect with DK Canada on Facebook & Twitter. Also find it on Amazon.ca.