I was recently introduced to a new product, Halo™ Oral Antiseptic that was created to kill infectious airborne germs. As the mother of a six year old with severe viral triggered asthma, I am a bit of a germaphobe. I am also a skeptic by nature but was willing to give this product a try and put it to the test because it could be extremely beneficial to our family if it works especially during cold and flu season.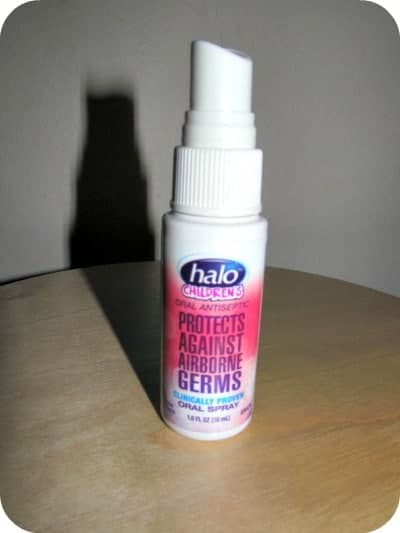 Halo™ Oral Antiseptic and Halo™ Children's Antiseptic has been "scientifically proven to kill 99.9% of infection airborne germs for up to six hours" in clinical studies. The product comes in a convenient 1 ounce sized pump spray that is easy to keep in my bag for on-the-go. One bottle provides 35 doses and has a suggested retail price of $12.99.
There are two flavors for adults that have a pleasant taste (the kid's love the grape flavor) and I appreciate that it is alcohol and sugar-free. Everyone in my family agrees that it tastes great and no complaints when it is time for a quick spray.
I put Halo™ Oral Antiseptic to the ultimate test on a recent 1,100 mile road trip to Ohio for the holidays. My three children ages 5, 6 and 7 and my husband and I used this product during the trip. I am always particularly vigilant because my younger children still put their fingers in their mouths constantly despite warnings about germs. We stopped at numerous restaurants, rest areas, gas station bathrooms, crowded areas, malls and even a movie theatre. Normally, at least one of us will pick something up on vacation and then it will quickly spread throughout the entire family. If we get sick it is bothersome and disruptive but if my daughter gets sick it can be life threatening each and every time due to her respiratory issues. I am so pleased to be able to report to you that it has been almost a week since our return and NO ONE got sick on our vacation!
In fact, did you know that "If someone sneezes or coughs in the morning, their germs can linger in the air and infect another person hours later"…..ugh!! The next time you plan to be in a crowded environment or travelling, I highly recommend using Halo™ Oral Antiseptic! I plan to stock up personally to try and keep my loved ones safe during the cold/flu season. I am going to pick up a few extra to hand out to my friends/family as stocking stuffers too!
Halo™ is available for purchase online and at major retailers including CVS, Walmart, Kmart and more. You are invited to visit the website to learn more about my newest favorite weapon in our cold/flu weapons arsenal!
Disclosure: I was not financially compensated for this post. I received a sample of the product for review purposes. The opinions are my own, based on my personal experience with the product.