Occasionally, I discover a product to use in our classroom that is exceptional and the Desk to Easel Art Cart from Guidecraft® is at the "head of the class". Since it was introduced, the Desk to Easel Art Cart has been a big hit with my little artists who use this not only for school projects but during quiet play time too.
The Desk to Easel Art Cart is extremely versatile because it can be used in any number of ways. For example, in the desk position it has a white laminate surface with write-on/wipe-off surface that can be used for drawing (use dry erase products) and sculpting with clay. It is easy to keep clean and it is the right height for younger children to stand or sit while playing. I particularly like the feature of five covered paint cups that nestle into the wooden holders and can be used to hold paint/glue.
For school projects, the art desk transforms very easily into an art easel with one side the laminate write-on/wipe-off surface and the other side a chalkboard. It also includes a paper holder and 18" x 100" paper roll so that the artists can have paper for their paintings, drawings etc.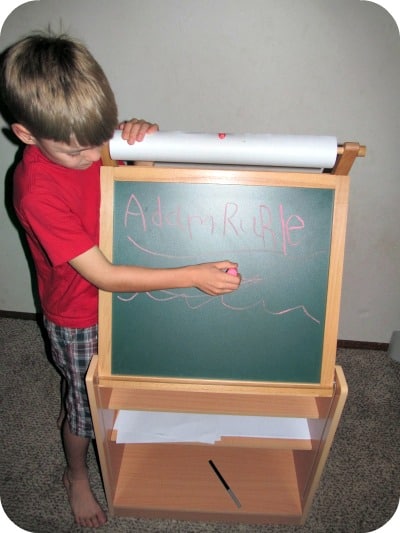 My favorite feature of the Guidecraft® Desk to Easel Art Cart is the very generous storage space with four vibrant red fabric bins, paper cubbies and a place where we store our art books and supplies. It even has side clips which are perfect for displaying prized art work.
The Desk to Easel Art Cart is very durable and made of the finest quality materials in the proud Guidecraft® tradition. It is sure to withstand years of use from budding artists and I love that I have one area to keep all of our arts and crafts supplies organized and accessible at all times. It saves me so much time for class prep, clean up and I have found the children doing even more art projects since introducing the Desk to Easel Art Cart!
While I am a huge fan of all the wood furniture and toys from Guidecraft®, this product is by far my favorite and I highly recommend it for use in the home and in classrooms.
You are invited to visit Guidecraft® to get purchasing information for the Desk to Easel Art Cart (SRP $200) and browse the entire collection of fine quality art equipment. This would be a wonderful holiday present for a special child or teacher in your life!
I know you would be excited to win a Desk to Easel Art Cart from Guidecraft® so be sure to visit fellow Guidecraft® Educator Blogger, Katie's Literature Lounge to enter the giveaway for a chance to win this fabulous prize!
Disclosure: I was not financially compensated for this post. I received a sample of the product for review purposes. The opinions are my own, based on my personal experience with the product.