I am excited to be guest blogging on Simply Stacie this evening. I am Jenn/GreenDoorGirl from Green Door Designs where I post my thoughts on everyday design from home to attire to crafts to recipes to my part time business, Willow House. I believe design is found in all aspects of our daily life regardless of your background, hence the tagline "for everyday living.
I made a wreath for fall and I wanted to try my hand at a winter wreath. I am excited with how it turned out, I hope you enjoy!
Winter Wonderland Wreath Instructions
Materials Required
– Glue Gun and Sticks
– Ribbon
– Snowflake Ornaments (mine were from Hobby Lobby – $7.99 for about 30)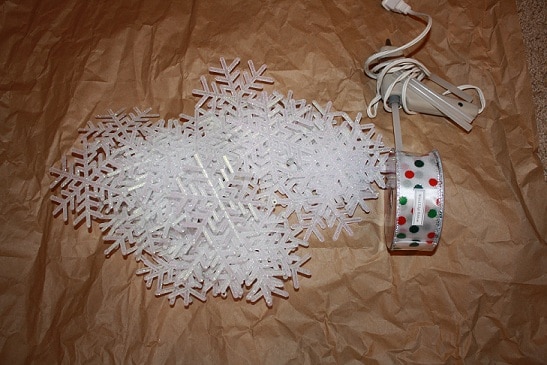 Step 1 – Figure out the shape/size of the wreath you want – I decided on square, but rectangle would have worked also
Step 2 – Determine the pattern of the snowflakes for each side of your wreath. I decided to have one that was "shown" in the middle of each side with the others layered on top of each other
Step 3 – Glue the whole thing together. I glued my sides together and then glued together my sides. I also had to add a snowflake to each corner.
Step 4 – in order to hang the wreath I went ahead and hung ribbon from the top – I made an upside down v and then tied a separate bow on top of the V. I also glued the V to the wreath and the top bow to the V.
Step 5 – Hang it up! I made two and plan to put them on my french doors or the doors to my girls' rooms – not sure yet 🙂 I plan to use command hooks to hang it so that you can see the bow.
Enjoy!