Guacamole Tomato Boats are the perfect bite-size appetizer with a Tex-Mex flare. Blistered tomatoes that are stuffed with guacamole and salsa, then garnished with cheese. If you are looking for a quick and easy appetizer, this tomato boat recipe is for you.
Tomatoes are something we can't get enough of. When they are baked in the oven and have that tenderness, it makes the flavors stand out even more. This Guacamole Tomato Boat recipe is one I have been preparing for a few years now. Anytime we have a party or go to a potluck, I pack up a batch of these.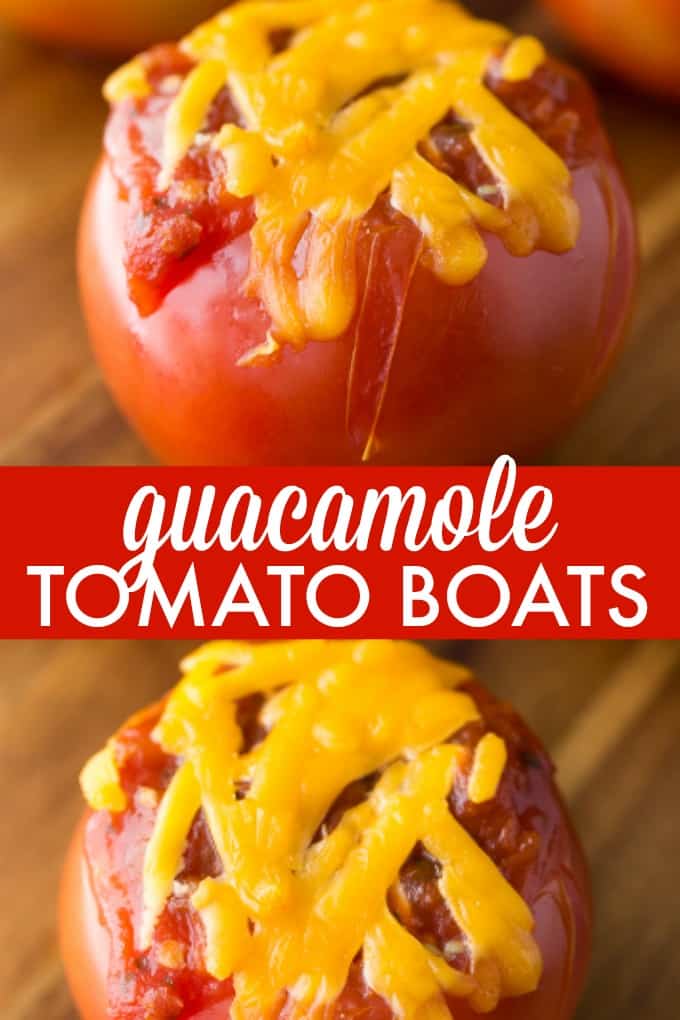 Guacamole Tomato Boats are a Bite Size Appetizer
With a little prep, you can have these ready to share with friends and family. If you have never tried a stuffed tomato, you have to try it out! We love stuffed mushrooms, and this was a fun twist that will leave you reaching for one more.
Even More Tasty Appetizers To Bring to The Party
Bacon wrapped water chestnuts are salty, crunchy, and a hint of sweet. Bite-size appetizers that are dynamite to serve up your guests.
Parmesan crisps are a low carb appetizer that is cheesy, crispy bites. Pair with your favorite dipping sauces or eat as is. Best of all, just two simple ingredients are needed for these crisps.
Buffalo Chicken dip is spicy, creamy, and of course cheesy. Pair with bread, chips, celery sticks for everyone to enjoy — one of our favorite dips to serve guests.
How do I know when my tomatoes are ripe?
Squeezing your tomatoes is the best way to tell the ripeness factor. You can give your tomatoes a gentle squeeze, and if they are firm with a little bit of give, they are pretty ripe. Make sure you don't see a lot of dimpling or wrinkles on the tomato skin. If you do, they are overripe and could be going bad on the inside.
Best way to scoop out the filling in the tomatoes
You can buy a special scoop for spooning out fruit and vegetables online. Or you can go the classic way and use a spoon. Just slice off the top of the tomato, and gently spoon out the seeds. Just do your best not to push the spoon all the way through the tomato, or it will not work.
Can I stuff regular tomatoes instead of small ones?
Absolutely! You would just need more filling for each tomato. These would make a tasty side for you Taco Tuesday dish. We prefer the bite-size option, but yes, you can use larger tomatoes. This could be a great dish for someone who wants meatless for dinner.
How to store Guacamole Tomato Boats?
If you have leftovers, just place leftovers in an airtight container. Place in the fridge for up to two days. The tomatoes will become softer as they sit in the fridge. You can eat them cold or warm them up in the oven if you prefer them hot. Tomato boats will change in texture when you reheat once they have been chilled.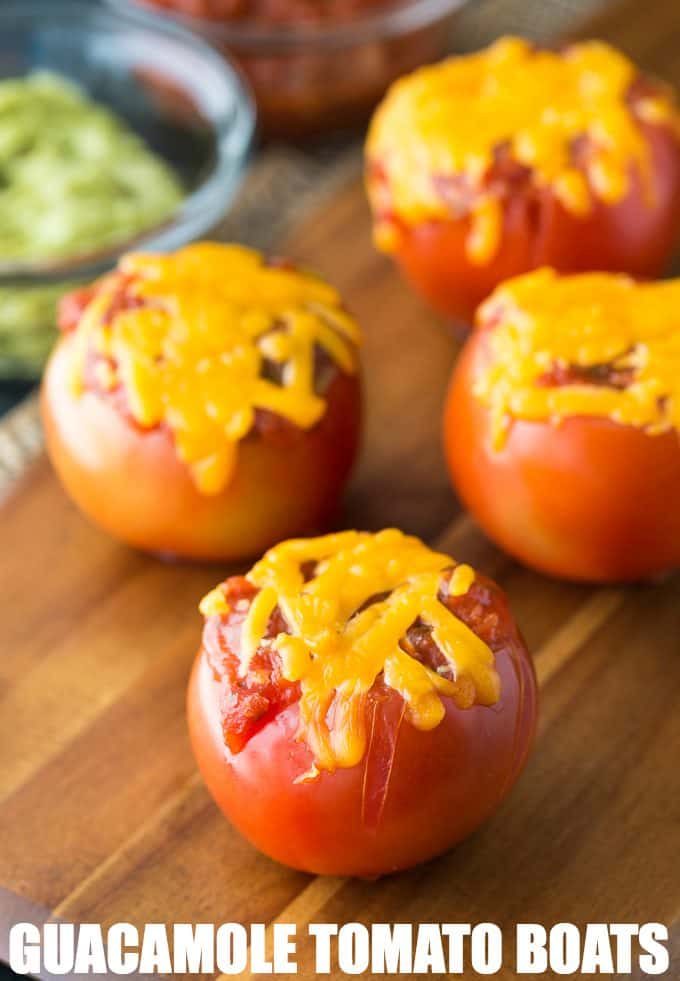 Do you use homemade guacamole for tomato boats?
You are welcome to use store-bought or homemade guacamole for the Tex-Mex tomato boats. Sometimes I will make a homemade batch of guacamole and other times I cut a corner to speed up the process and buy pre-made. Just buy a brand that you like.
The same thing goes for the salsa; you can use homemade salsa if you enjoy making your own.
How to make guacamole tomato boats
Start by preheating your oven. While it is heating, you can assemble your tomatoes.
Just slice off the top of each tomato, and scoop out all the seeds on the inside. Then you just fill the tomatoes with a layer of guacamole, then salsa, then top with cheese.
Bake for five to seven minutes, or until your cheese is melted and tomatoes are blistered a bit.
Then serve right away. These tomato boats taste best when served fresh!
Easy Appetizer For Guests
As you can see these guacamole tomato boats are so quick and straightforward to make. You can create as many or few as you would prefer. No measurements needed, just a little of this and a little of that is all that is necessary!
Have you tried a Guacamole Tomato Boat before?

Guacamole Tomato Boats
Stuffed tomatoes with a Mexican flair! Serve them at a party or for a healthy snack.
Ingredients
4 medium tomatoes on the vine
4 Tbsp. guacamole
4 Tbsp. salsa
4 Tbsp cheddar cheese, shredded
Instructions
Preheat oven to 400° F.
Slice the top of each tomato and carefully scoop out the inside. Make sure to not puncture the bottom.
Fill each tomato with guacamole, then salsa, and garnish with cheddar cheese.
Bake for about 5 to 7 minutes until the cheese melts.
Recommended Products
As an Amazon Associate and member of other affiliate programs, I earn from qualifying purchases.
Nutrition Information:
Yield:

4
Serving Size:

1
Amount Per Serving:
Calories:

62
Total Fat:

4g
Saturated Fat:

2g
Trans Fat:

0g
Unsaturated Fat:

2g
Cholesterol:

7mg
Sodium:

239mg
Carbohydrates:

4g
Fiber:

2g
Sugar:

2g
Protein:

2g