In our home, it's me who does all the barbecuing. Most often, you'd think it would be the man's domain. Since we bought our new BBQ several weeks ago, I've been the only one using it. The funny thing is that I don't want to share it. It's my new toy and I want to be the one who prepares all the meals. I'm like a kid with a new toy. Who knew barbecuing could be this fun?
The majority of Canadians also barbecue in the summer months. M&M Food Market conducted a survey that showed that 95% of Canadians barbecue in the summer. No surprise there. I can open my back door on any given day and smell my neighbours outside cooking up something delicious on the BBQ.
What I did find interesting about the survey is that 76% listed men as the primary grillers in their homes, yet only 39% of women would rate their partner's grilling skills highly. Something else that was interesting was that only 23% of grillers would rate their own skills highly despite their passion for grilling and how often they BBQ during the summer. It gives you some food for thought, doesn't it?
Grilling Tips
These findings show me that people want to improve their grilling skills. Just like any skill, it does take practice. The more you do it, the better you get at it and the more confident you become. However, there are some basic grilling tips to implement to ensure your meals turn out as delicious as they can be.
1. Start with good quality products. Your food will taste 100 times better if you do. Right now, my freezer is stocked with a variety of M&M Food Market products. I know I can always count on them being top quality, simple to prepare and food my family loves to eat. They have a huge selection of steakhouse quality steaks, burgers, kabobs, seafood, appetizers, side dishes and lots more. Pictured below are their Chicken Pineapple Mini-Skewers. They grill up quickly and are a yummy appetizer to serve to family and friends.
In addition, M&M Food Market has recently launched their Real Food For Real Life campaign with a promise to only offer products with no artificial colours, flavours, sweeteners or partially hydrogenated oils across their full product lineup by the end of 2017. I personally think that's fabulous news!
2. Always preheat the BBQ. Wait at least 10 to 15 minutes before you start cooking. With my BBQ, I have a temperature gauge so I can easily tell when it gets to the proper temperature. If you put your food on a cold grill, you won't get that nice searing and the food may stick to the grill once it does heat up. Why make extra clean up for yourself? Preheat Preheat Preheat.
3. Clean the grill while it's hot. I clean mine as it's preheating to get it ready. Give it a good brush to make sure there is no stuck on food from a previous meal. It comes off much easier when it's hot. You could also clean it after you've finished cooking everything and the grill is still hot.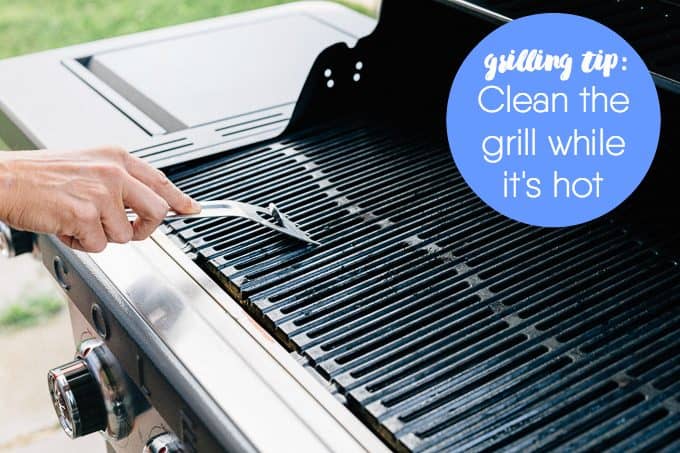 4. Pat steaks dry with a paper towel before grilling. The reason behind it is simple. Wet steaks won't sear and let you get those beautiful sear marks on your steak. Once you've dabbed off all the excess liquid, you are ready to grill.
4. Use a food thermometer to check for doneness. You may be tempted to cut into the steak with a knife, but don't. You'll be letting all those mouthwatering juices to escape. I have a small food thermometer that I use that tells me what temperature my steak is at. It's handy to have since everyone likes their steak a different way. I love mine medium rare.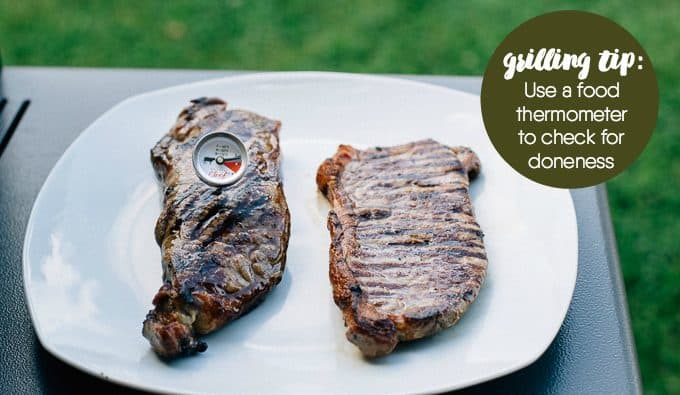 5. Let meat rest 10 minutes before serving. I know it's hard because you are hungry and want to dig right in with your fork and knife, but hold yourself back. Your steak will be so much juicier and more flavourful if you give it a little time to finish cooking and let the juices flow inside. As an added bonus, your plate won't be filled with liquid. It will be inside the steak where it's supposed to be instead!
6. Keep the BBQ tools close by. Mine are stored in my kitchen and in their own drawer so I can quickly grab them when I'm heading outside to grill. You don't want to be out there grilling and realize you have nothing to use to flip the steak or whatever it is you are cooking. A little thinking ahead makes BBQ'ing smoother sailing!
7. Avoid cross contamination by using separate plates for raw meat and another for cooked. Raw meat isn't safe to eat and you don't want the juices transferring over to your cooked meat. Food poisoning isn't fun. I use two different coloured plates so I don't forget which one is for which.
8. Use a grill basket to cook smaller food. These work awesome for veggies and smaller seafood. I made these mouthwatering Stuffed Potato Shells on the BBQ in this grill basket. They were cooked to perfection.
9. Add sauce in the last 10 minutes of cooking time. M&M Food Market recommends brushing on any sauces that are tomato, sugar or honey based in the last five to 10 minutes so you don't scorch your food. We brushed on our BBQ sauce on these Bacon Wrapped Chicken when they had just under 10 minutes left to grill. They were saucy, tender and juicy. If I had put it on right at the start of cooking, they'd be too charred for my liking.
10. Try something new. Pretty much anything can go on the BBQ. I've seen people make bacon and eggs, desserts, and even pizza on the BBQ. M&M Food Market has some suggestions of products that can also be grilled. I took one of their suggestions with the Stuffed Potato Shells. Delish!
For more grilling tips, I recommend reading Top Five Grilling Do's & Don'ts and How to Prepare the Perfect Steak. If you are looking for a burger recommendation to try this summer, you simply must make my Deluxe Pizza Burger. Yes, it's HUGE, but man, it's good!
I hope that if you are having doubts about your own or your partner's grilling skills that you just get out there and practice. Visit your local M&M Food Market and ask one of their expert in-store meal advisors for new products to try. I love that M&M Food Market products has all the directions right on the packaging. It makes the whole process so much easier! Let them help you figure out BBQ and give you meal ideas and inspiration!
Do you have any grilling tips to add?
Disclosure: I was compensated for this post. All opinions expressed are 100% my own.