If you need me this long weekend, look for me by the BBQ! It's the perfect time of year to dust off the ol' BBQ and get cooking some delicious food. I know what will be on my grill: 100% Canadian AAA Angus Beef from Walmart.
Yes, you read that correctly. Walmart now sells 100% Canadian AAA Angus grade beef. Walmart is committed to offering premium quality, fresh meats and produce at affordable prices. All their beef is locally sourced from Canadian farms and ranches (support local!) and raised to high quality and care standards. This new announcement couldn't come at a better time, in my opinion. We love our steak!
I was recently shopping for groceries at Walmart and was checking out all the selection of beef. They have Strip Loin Steak, Boneless Sirloin Tri-Tip Steak, Beef Strip Loin Medallions, Bone-in Strip Loin Steak, Beef Top Sirloin Steak and more. Let's just say it's a whole lot of YUM to choose from. I was like a kid in a candy store trying to decide what to buy.
One thing I love is that the beef has changed at Walmart, but you can still expect the same great prices. Walmart has a 100% satisfaction guarantee so if you aren't satisfied with the quality and freshness of any fresh beef product, just bring it back to the store with your receipt for a full refund.
To put their new beef to the test, I tried out two of Walmart's recipes. The first one was a steak stir-fry with a medley of peppers, corn, ginger and garlic and top sirloin steak. It's super easy to whip up for a quick weeknight dinner and I guarantee your family will love it. Mine sure did!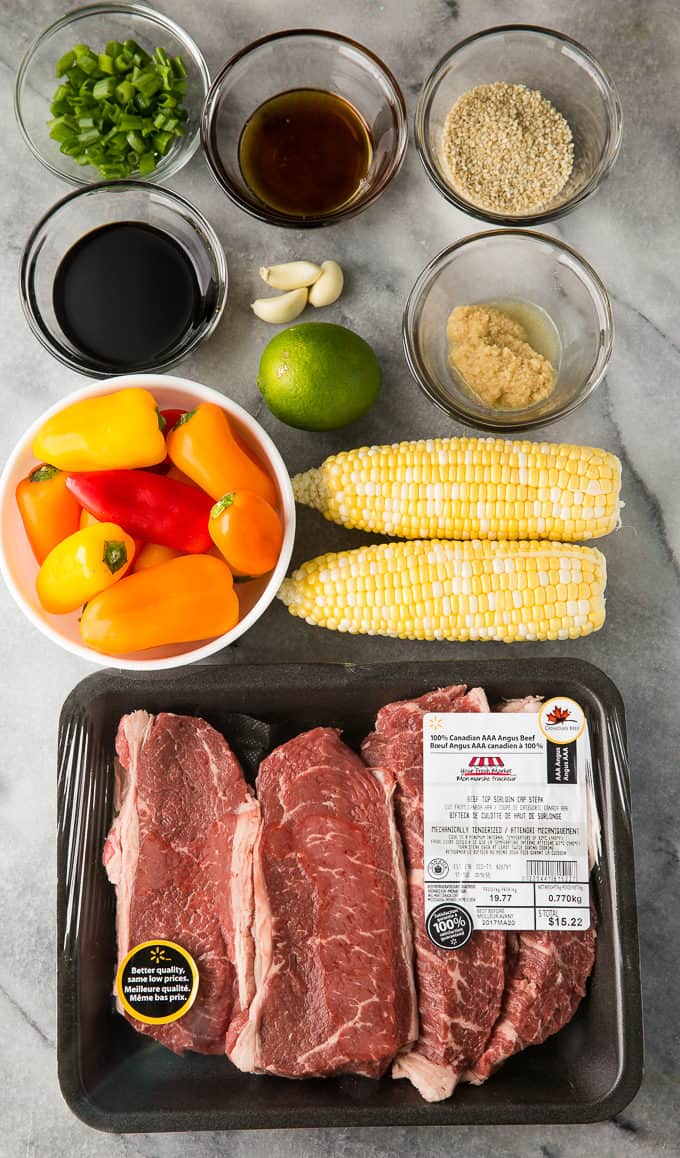 The first thing I noticed about the steak was how easy it was to cut up into one inch pieces. The knife slid right through like I was cutting up butter. That was a sign to me that this was going to be a tender piece of beef.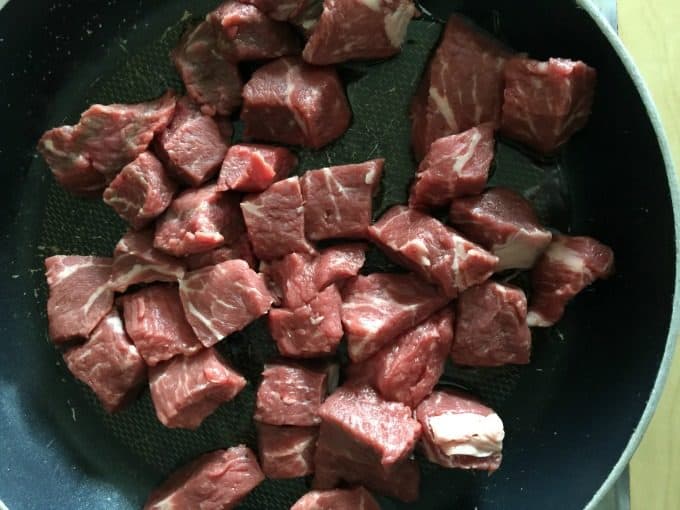 After you sear your steak pieces for a couple minutes, it's time to add your veggies. I picked up the 1 lb bag of mini sweet peppers from Walmart. I used half in this recipe and saved the other half for my daughter's school lunches. Add a little freshly shucked corn, ginger and garlic and you've got the stir fry base created.
The sauce is simple: fresh lime juice and soy sauce. Serve your steak stir fry on top of a bed of rice and garnish with some fresh scallions and sesame seeds. It's a pretty dish with all the bright colours and tastes delicious.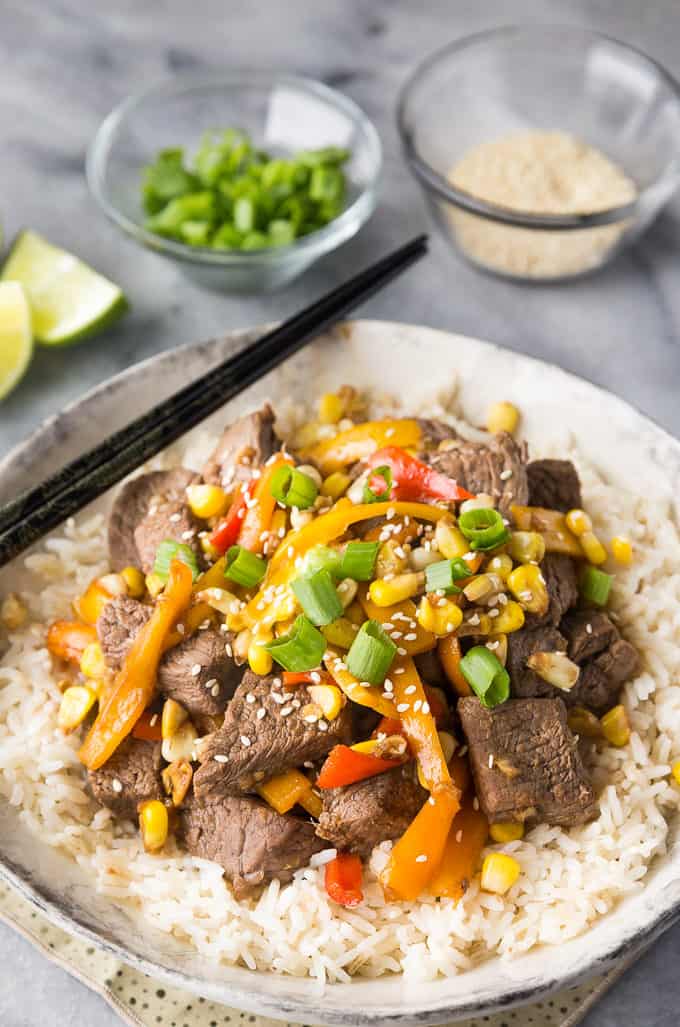 The best part was the steak. Oh my word, it was so good. Honestly, I was shocked at how tender, juicy and flavourful it was. I've had stir-fries where the steak is tough to chew. This is not one of those dishes. It was one of the best beef stir fries I've ever had and I know it's because of the high quality beef in the recipe. It practically melts in your mouth.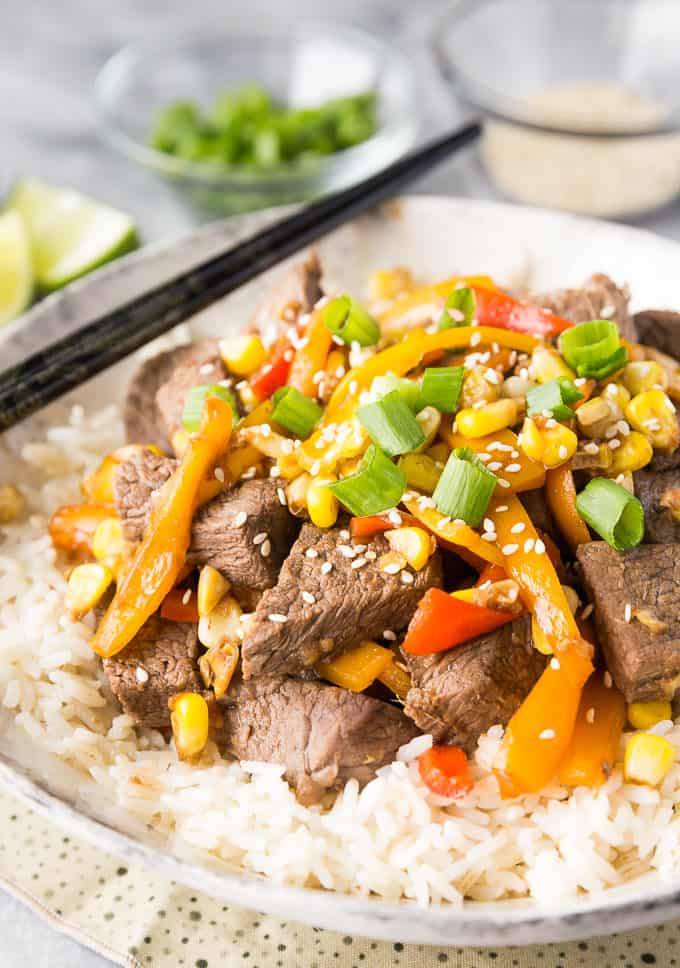 My cousin was coming over so I saved her a small plate. I wanted her to try the beef. I had to stop myself from opening up the fridge and popping the beef off her plate in my mouth. It was sheer willpower.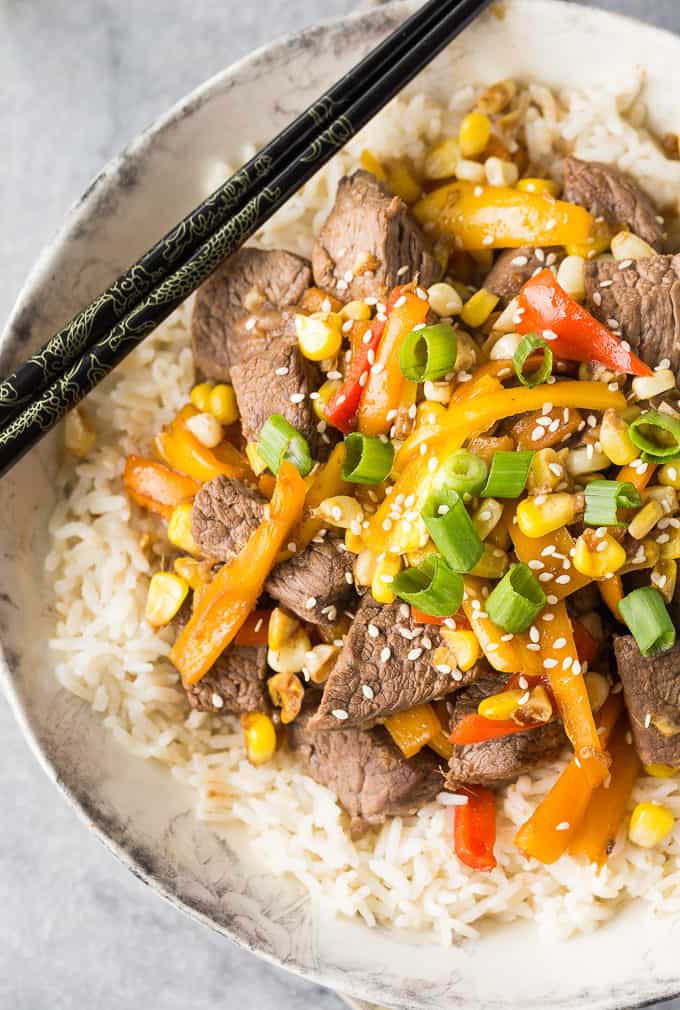 The first thing she said to me was, "How did you cook it?" and I told her it was just sautéed in a frying pan. She couldn't believe it. She said a meat that tender and juicy that she expected it to have been marinated for hours and hours. Nope. It's a recipe that requires minimal effort.
Next up is a real crowdpleaser: Mediterranean Style Grilled Rib Steak. It features a garbanzo bean salad top with sliced rib steak. It's another easy recipe you can make in a matter of minutes!
Pick up four rib steaks from your local Walmart, a can of garbanzo beans (also known as chick peas), fresh tomatoes, red onions, basil, balsamic vinegar and olive oil.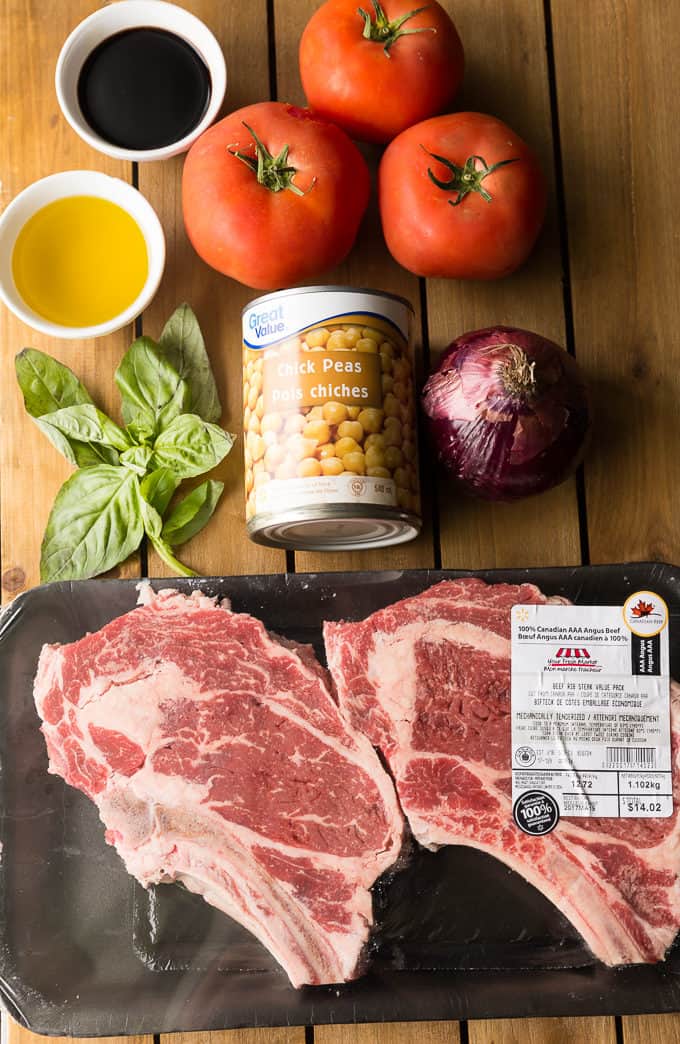 The salad is quick to assemble. Store it in the fridge while you are barbecuing your steak.
Cook the steak on high heat about 5 minutes per side. I like mine medium-rare so if you like yours more cooked, leave them on a bit longer. My backyard was smelling so good. My neighbour even popped his head through the bushes to ask what we were cooking. I think he wanted some, but I didn't want to share! Oops!
Let your steak rest for about 10 minutes before you slice it up. This way, you'll be able to keep all those delicious juices inside.
To serve, add your garbanzo bean salad to a plate and place sliced rib steak on top. It's a match made in heaven!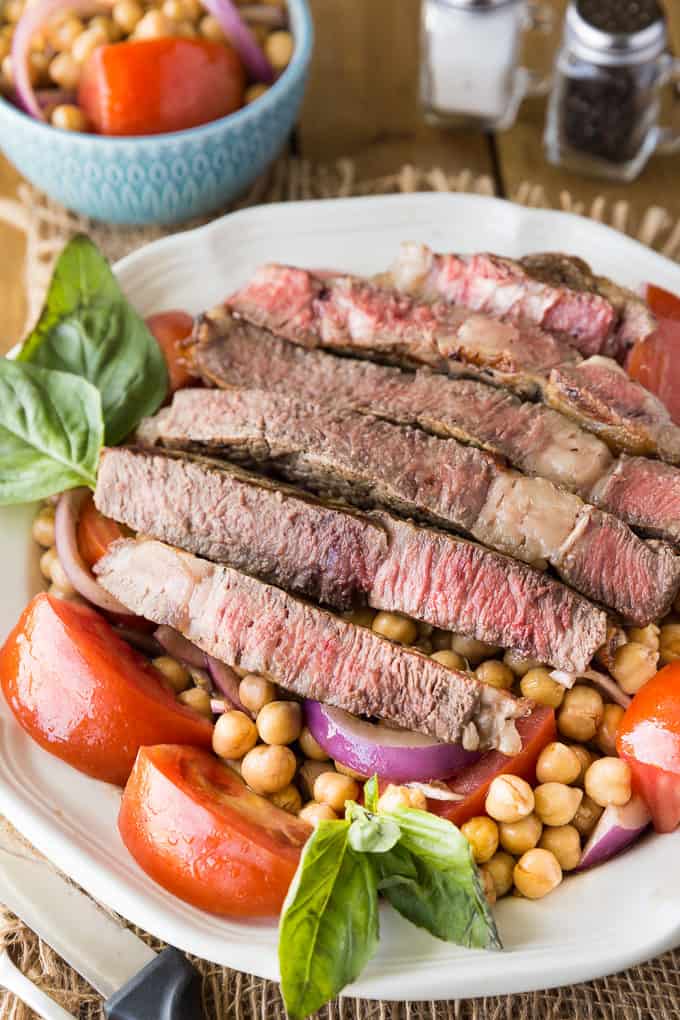 The steak was fall-off-the-bone tender and packed full of flavour. I seriously wanted to close my eyes and say, "Ahhh", with each bite! I think my family would have looked at me weird though!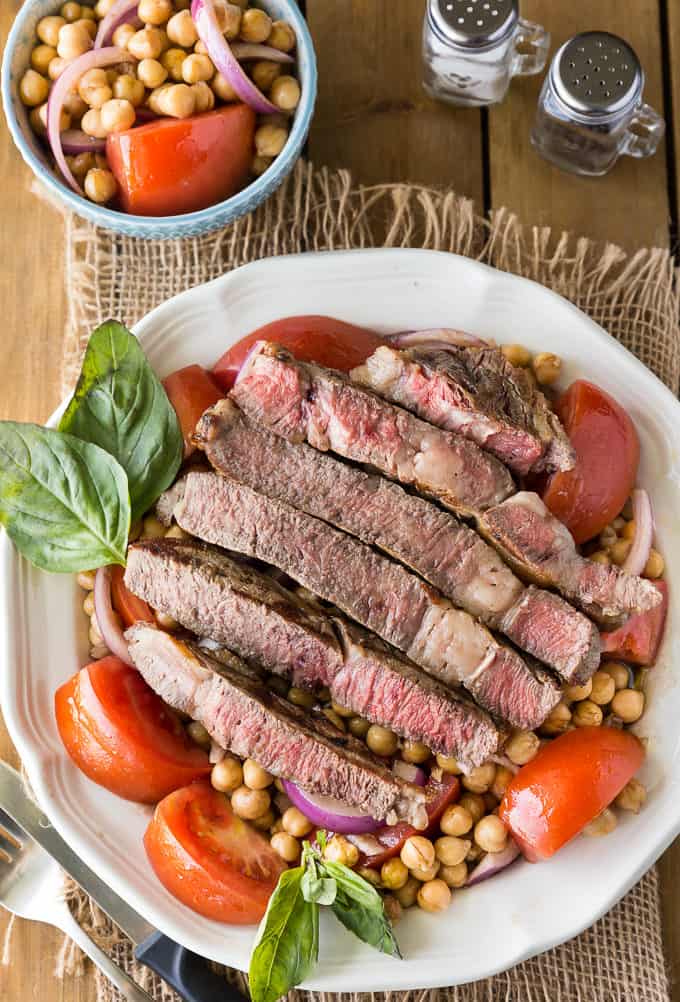 I can tell you this for sure – Walmart's 100% Canadian AAA Angus Beef rivals any I've tried from a butcher shop or fancy steakhouse restaurant. You can't beat those prices either. If you buy steak this summer, make sure you get it from your local Walmart or Walmart.ca. You can thank me later.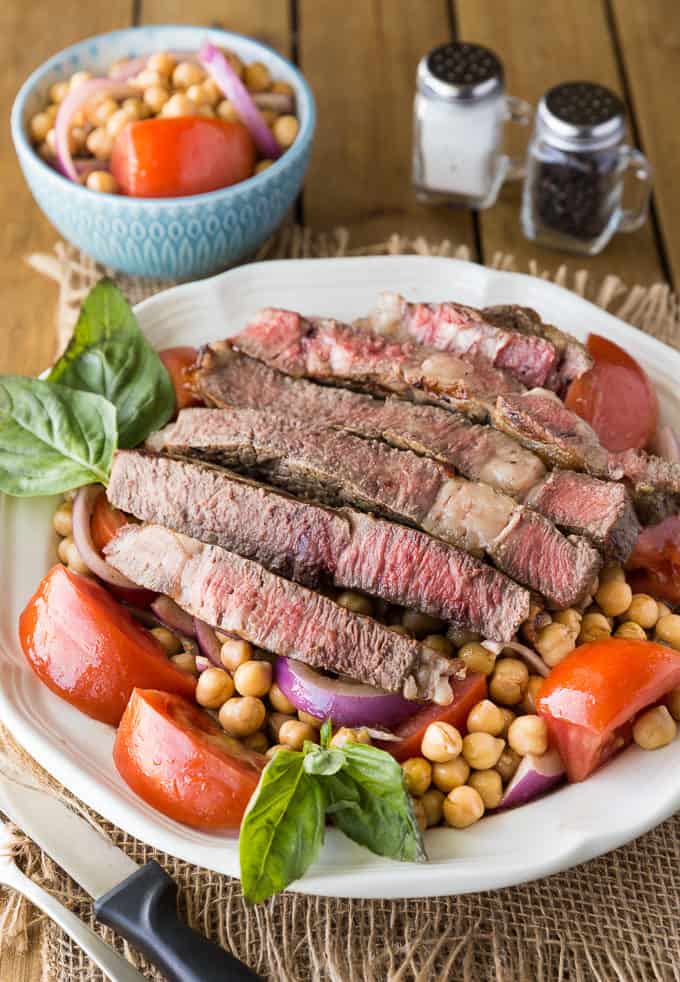 What kind of steak is going on your grill this summer?
Disclosure: This post is sponsored by Walmart Canada's "100% Canadian AAA Angus Beef" program. In exchange for this post, I have received perks in the form of products and/or compensation. All opinions on this blog are my own.
Steak Stir-Fry
One of the best stir-fries you'll ever eat! So tender, juicy and flavorful.
Ingredients
1.5 lb 100% Canadian AAA Angus top sirloin steak, cut into 1″ pieces
1/2 lb baby peppers, julienned into strips
2 ears sweet corn, shucked
1 tbsp fresh ginger
3 large garlic cloves, sliced
1 lime
1/4 cup soy sauce
2 tbsp sesame seeds
1 bunch of scallions, chopped
2 tbsp sesame oil
Cooked rice
Instructions
In a wok or large sauté pan, sauté steak in sesame oil for 2 minutes. Add peppers, corn kernels, ginger and garlic.
Cook together for 5 minutes. Add in lime juice and soy sauce.
Divide rice among 4 bowls. Top with stir-fry and garnish with scallions and sesame seeds.
Recommended Products
As an Amazon Associate and member of other affiliate programs, I earn from qualifying purchases.
Nutrition Information:
Yield:

4
Serving Size:

1
Amount Per Serving:
Calories:

393
Total Fat:

21g
Saturated Fat:

6g
Trans Fat:

0g
Unsaturated Fat:

13g
Cholesterol:

70mg
Sodium:

922mg
Carbohydrates:

28g
Fiber:

3g
Sugar:

4g
Protein:

26g
Mediterranean Style Grilled Rib Steak
A garbanzo bean salad top with sliced rib steak. It's another easy recipe you can make in a matter of minutes!
Ingredients
4 6oz 100% Canadian AAA Angus rib steaks
salt and pepper, to taste
4 cups canned garbanzo beans
3 tomatoes, cut into quarters
1 red onion, shaved
1/4 cup olive oil
1/4 cup balsamic vinegar
1 bunch of fresh basil
Instructions
Preheat grill on high.
Season steaks with salt and pepper. Place on grill and cook about 5 minutes per side.
Rinse garbanzo beans and mix with tomatoes, red onions, olive oil and balsamic vinegar.
Place garbanzo bean salad on a plate. Slice rib steak and layer slices on top. Garnish with fresh basil.
Recommended Products
As an Amazon Associate and member of other affiliate programs, I earn from qualifying purchases.
Nutrition Information:
Yield:

4
Serving Size:

1
Amount Per Serving:
Calories:

851
Total Fat:

51g
Saturated Fat:

17g
Trans Fat:

0g
Unsaturated Fat:

31g
Cholesterol:

133mg
Sodium:

586mg
Carbohydrates:

46g
Fiber:

12g
Sugar:

13g
Protein:

55g