Green Bean and Tomato Salad is an effortless side dish that screams summer. Whether you are pairing with your weekly dinner or packing up to take to your next summer cookout, this tomato and green bean casserole is bursting with fresh flavors.
I think green beans just may be my favorite veggie! For a long time, it was broccoli, but I've been using green beans more in recipes and I can't get enough of them!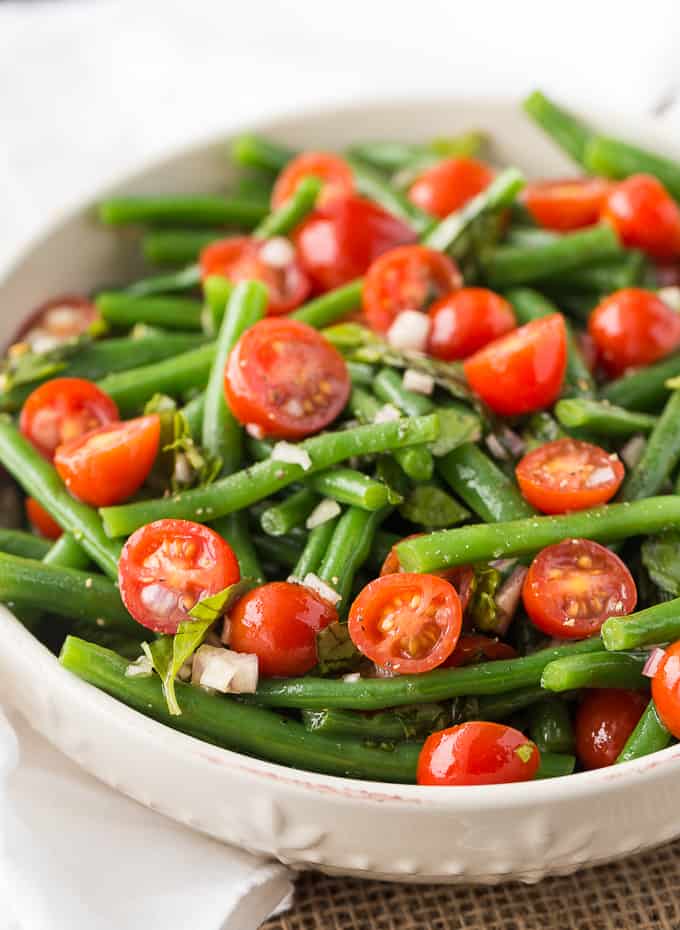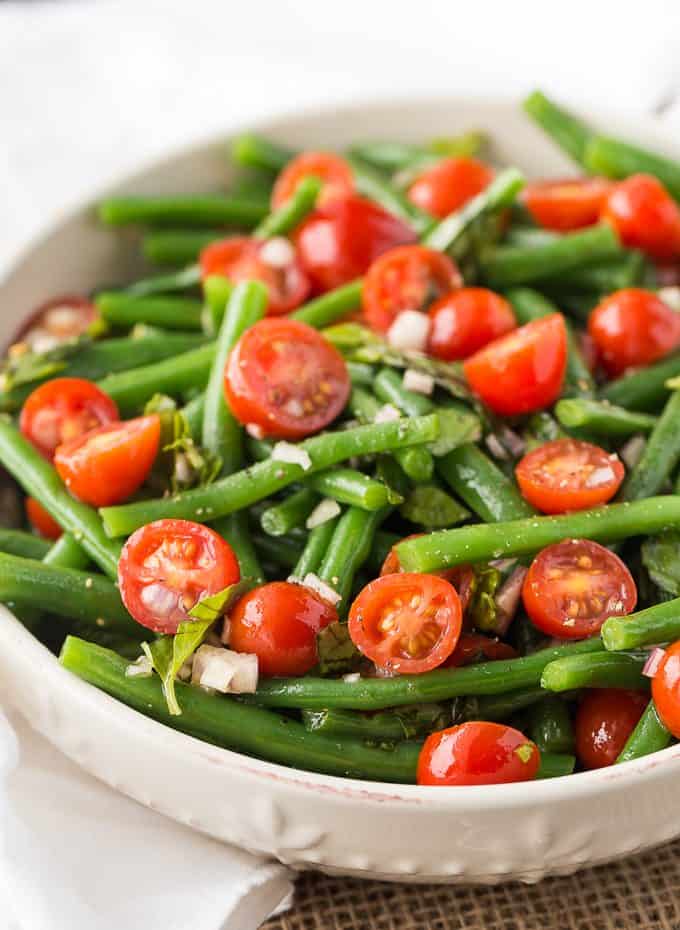 Green Bean and Tomato Salad
June seems to be the best month to buy local green beans in our area. I bought organic green beans that were already trimmed and triple washed at the grocery store. Fresh green beans are absolutely worth buying.
If you are looking for more green bean recipes, check out my recipes for Green Bean Casserole, Southern-Style Green Beans, Garden Vegetable Beef Skillet, and Chili Buttered Green Beans & Almonds.
How Do You Wash Fresh Green Beans
You will want to start by washing your green beans in cold water and rinse and wash until water runs clean. I generally place them in a strainer or bowl and lift the beans up from the water to wash. You will find a lot of debris can drop down from the beans.
Then break off the ends (top and tail) and rinse, and then set aside.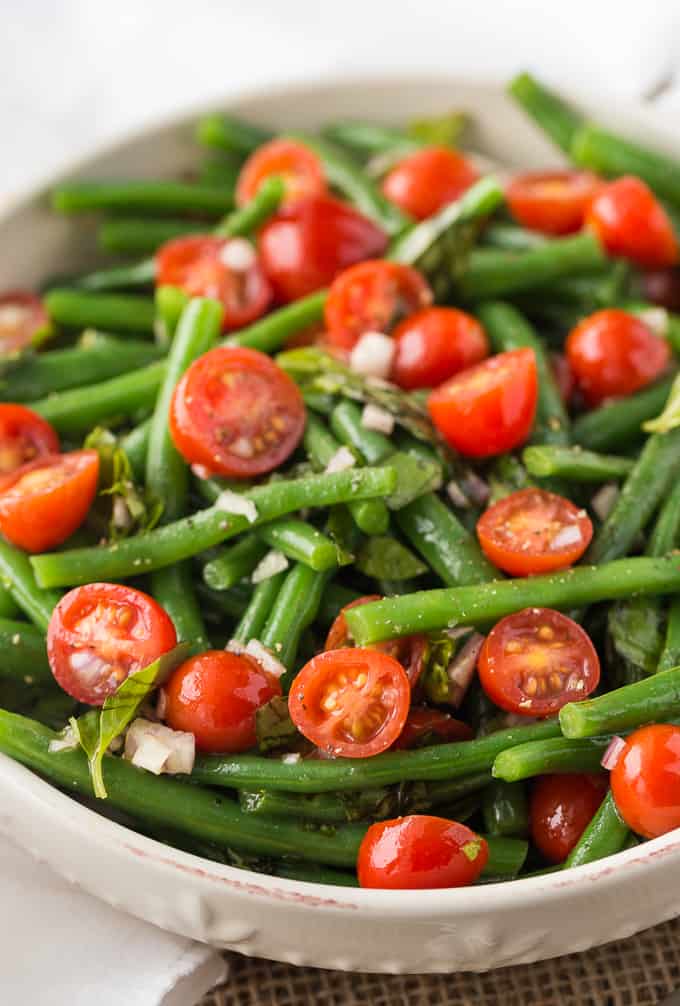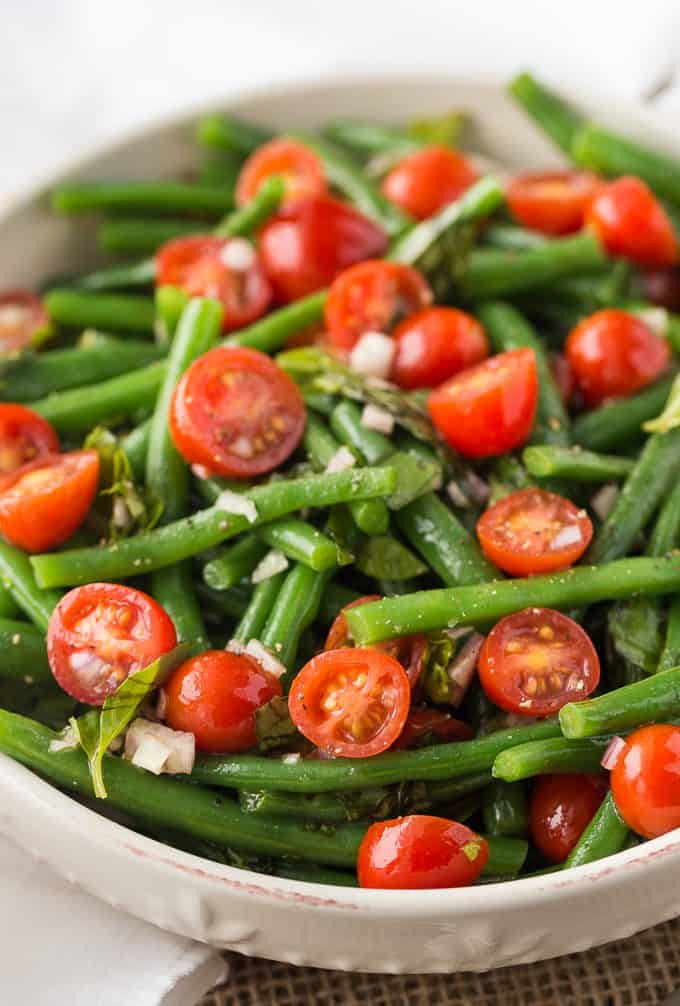 Why are my Green Beans Tough
Sometimes green beans can be picked past their prime. You want to reach for smaller pods that are young. If you get really large beans they could offer a more fibrous texture as they are older and should have been picked earlier.
How Do You Know If Fresh Green Beans are Bad
Limp | If you hold up a green bean and it droops it means it is bad. You want your green beans to be firm and hold up if you hold one by one end.
Snap | When you bend your green bean you will hear it make a snap noise as it breaks. That means it is fresh. If your bean just bends and doesn't snap or breaks with no noise, it is less than at its prime.
Color | Brown spots or a dull look on the green beans is a sign it is bad or going bad. You want your green beans to be bright in color.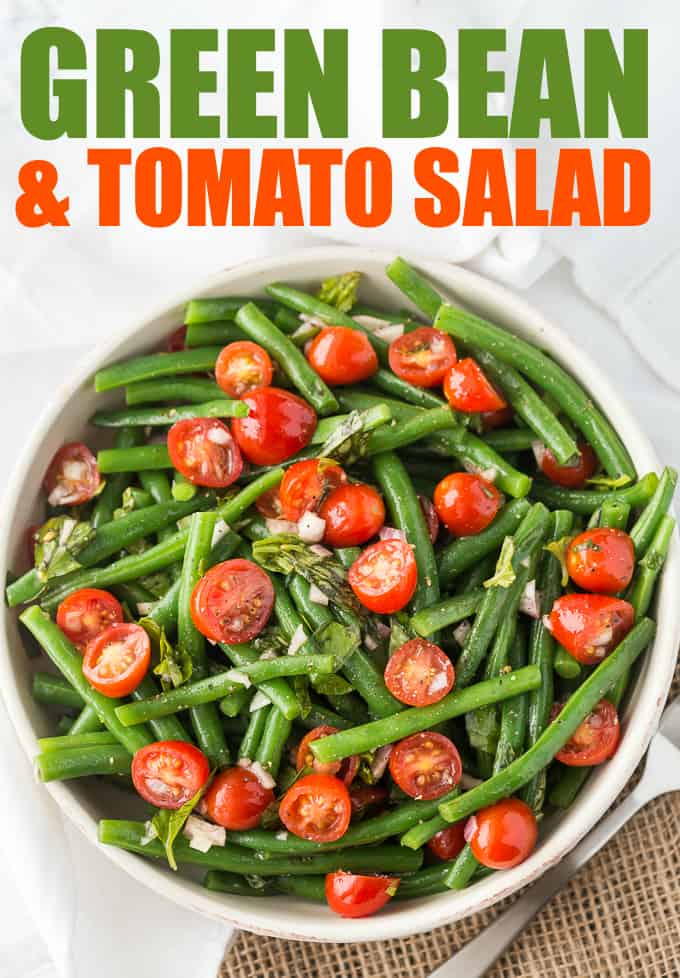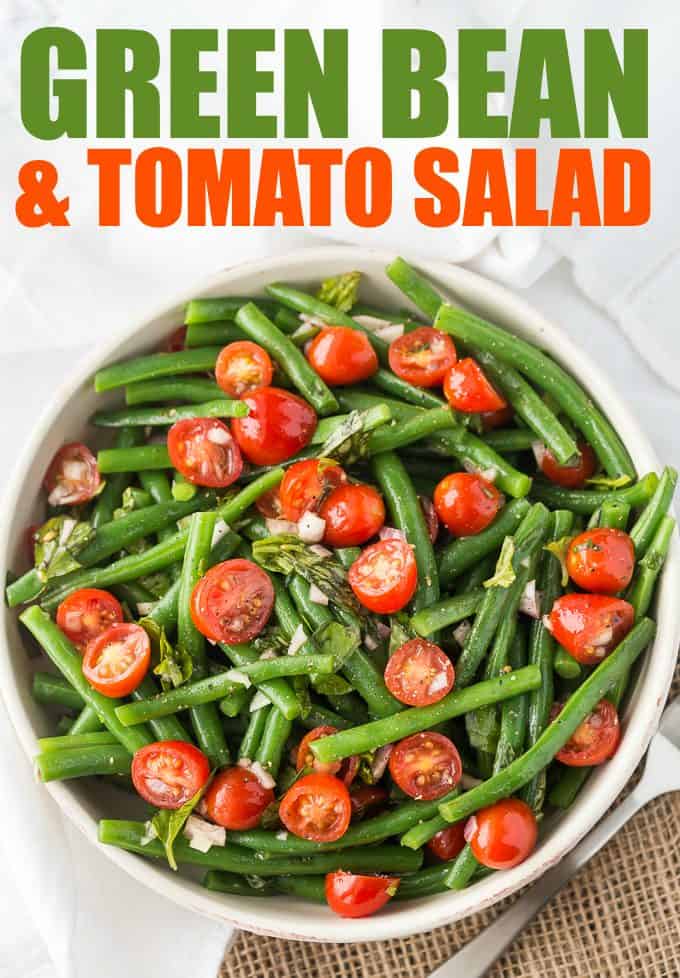 Dressing For Green Bean and Tomato Salad
Homemade is the best in my opinion. This recipe is incredibly easy, and you will love the fresh flavors. You just can't get that same freshness from a bottled vinaigrette.
What Tomatoes to Use in Salad
Personally, I reach for a cherry or grape tomato. I slice it in half, they seem to be a perfect size. Now, you are welcome to dice up other size tomatoes if you prefer the taste of that better.
How to Make Green Bean and Tomato Salad
Start by prepping your green beans by washing, and breaking off the ends. Then cook the green beans in a pot of boiling water for around two minutes. Drain and rinse the beans in cold water to help stop the cooking process. Pat dry and then transfer the beans into a bowl.
Toss in your tomatoes, shallot, and basil. Then in a small bowl whisk your salt and pepper along with vinegar and oil. Toss and pour over your veggies and mix it in. Then you are ready to serve.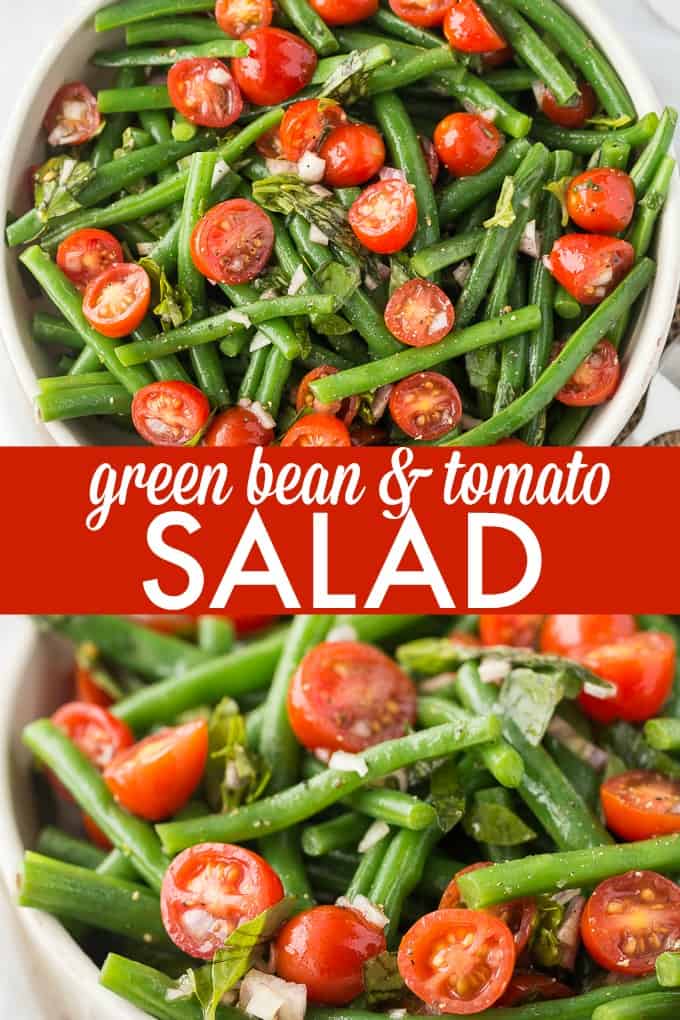 Best Way to Store Tomato and Green Bean Salad
You will want to store your salad in the fridge. This will last for 2-3 days. The shallots can become strong with each day, so just be aware the flavor will change as it sits.
Craving More Summer Side Dishes
Cheese Potato Salad | This is a fun twist on a classic potato salad that is cheesy as can be. Whip this up in a hurry and serve at your next potluck.
Corn Salad | One of my favorite summer salads is a corn salad. You have crisp radishes, sweet corn, and more all together in one salad.
Sauerkraut Salad | Tangy, vinegary, and downright delicious. This salad is unique in flavor and delicious. We make this recipe often.
Can You Freeze Green Bean Salad
No, you can't. Unfortunately, the salad will break down too much once it begins to thaw. But since the recipe is so easy you can make it whenever you want.
This Green Bean and Tomato Salad is truly a home run. Give it a try if you want something a bit different to serve up at your next event or weeknight meal.


You'll also love this Watermelon and Feta Salad.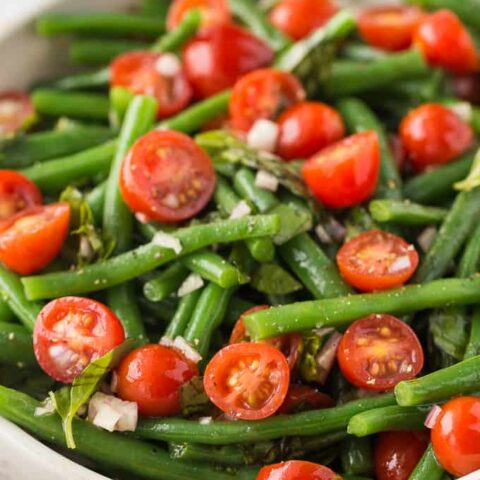 Green Bean & Tomato Salad
An effortless side dish that screams summer! This light and crispy side dish is great for weeknight dinners or your next barbecue.
Ingredients
3/4 lb green beans, ends trimmed
1 cup cherry tomatoes, halved
1 shallot, minced
1/4 cup coarsely chopped fresh basil
3 tbsp. olive oil
1 tbsp red wine vinegar
salt & pepper
Instructions
Cook green beans in a large pot of boiling water for about 2 minutes. Drain and rinse under cold water to stop the cooking process. Pat dry and transfer to a bowl. Mix in tomatoes, shallot and basil.
Whisk oil, vinegar, salt and pepper. Add to veggies and toss.
Recommended Products
As an Amazon Associate and member of other affiliate programs, I earn from qualifying purchases.
Nutrition Information:
Yield:

4
Serving Size:

1
Amount Per Serving:
Calories:

135
Total Fat:

10g
Saturated Fat:

1g
Trans Fat:

0g
Unsaturated Fat:

9g
Cholesterol:

0mg
Sodium:

78mg
Carbohydrates:

10g
Fiber:

4g
Sugar:

5g
Protein:

2g