A dream is just a dream. A goal is a dream with a plan and a deadline ~ Harvey MacKay
I'm a firm believer that if you work hard and put your mind to it, you can do just about anything. My own personal goals have evolved over the years especially after I started my family. I always dreamed of owning my own business and now work from home and support my family from the income I earn from my blog. You yourself are a big part of the equation, but there is also another key factor that we can't forget: the support of others. It's easier to fulfil your dreams if you have others helping you and rooting for your success. I'm grateful that my family has helped me realize my dreams and I do whatever I can to help make their dreams a reality too.
On a bigger scale, another example would be Olympic athletes. They have a whole team behind them to help them fulfil their quest for gold. They have coaches, organizations, community and friends and family behind them who want to see them succeed. My cousin was on the Canadian Women's Hockey team in the last Winter Olympics. I rarely watch hockey, but I watched that game and was cheering her on. Actually, our whole family was. My Facebook feed blew up with excited status updates after they won. We were so proud.
Disclosure: I was compensated for this post. All opinions are my own.
Swimming Canada is another organization that relies on the support of sponsors to carry out its mission of helping Canadian athletes on their quest for gold. Chicken Farmers of Canada (CFC) has been a key sponsor of Swimming Canada since 2012 through an official nutritional sponsorship and by supporting the athletes directly all year long. One specific example of their involvement was at the FINA world championship where the CFC implemented an incentive program for medal-winning swimmers.
I think it's fabulous that CFC supports Canadian athletics. Both my daughters have taken swimming lessons. Bridget, my 11-year-old, is in level 8 and can't wait to start her lessons this spring.
CFC recently released a brand new video, The Farm, with Olympic swimmer, Hilary Caldwell, and Canadian chicken farmer, Derek Janzen. It's a humourous video that demonstrates the similarities between these two hard working groups of people: the Canadian athletes and Canadian chicken farmers. It was fun to see Derek supporting Hilary and pushing her towards her goals as she helped him with the farm!
Watch and see for yourself what I mean.
Next time you are watching a Canadian swimming competition like the Olympics, think about all the support they had behind them to get to the podium. The Chicken Farmers of Canada will be a big one that will come to my mind!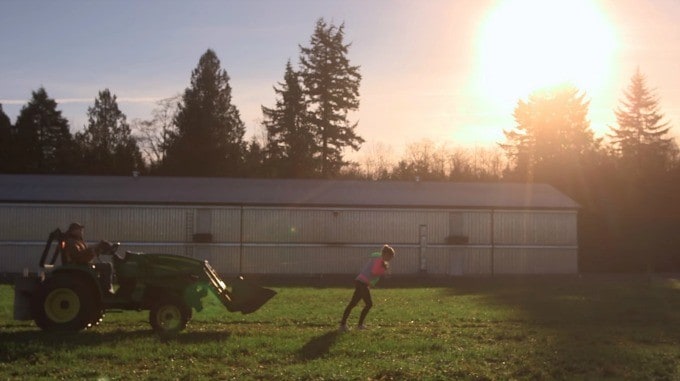 Canadian chicken farmers are community minded – both on a local and national scale. The stability of their industry allows them to reinvest with confidence in their farms and communities. Provincial chicken boards are a regular supporter of food banks. In 2015, Chicken Farmers in Ontario donated 100,000 whole chickens to food banks across the province.
I love how they give back in so many ways! It's partnerships like this one that remind me of all the good in the world and how being supportive truly matters.