My first nephew, Emmet, was born in late August. I was counting down the days till my sister's due date and could not wait to meet him. To be honest, I missed having a little baby around the house! My girls are 18 and 12 so it's been a long time. He was worth the wait and is such a little cutie.
It was fun helping my sister prepare for his arrival. She had a baby shower a couple months before her due date and received a ton of gifts. Some were practical items like Playtex bottles that she needed and others not so much. I know it's the thought that counts, but sometimes you wonder what people are thinking when they pick out a baby gift.
TripleScoop Premium Market Research conducted research about buying baby gifts called, "Baby Gifting – The Bizarre, the Useful and the Needed". Some of the findings were pretty interesting and good to keep in mind the next time you need to buy a baby gift for a shower or birth. These were my faves:
Just over 60% of Canadian moms consider gift cards to be useful gifts. My take: they are one of my personal favourite gifts to both give and receive! Heads up – PlaytexBaby™ and Babies "R" Us are having a special promotion where you'll receive a $10 gift card from Babies "R" Us when you spend $40 or more on PlaytexBaby™ products. More details on that below!
42% of gift givers don't realize that they may be gifting something completely impractical. My take: Yes, you can have too many stuffed toys!
70% of Canadian moms think diapers are helpful gifts. My take: I agree as long as you buy the right size! I couldn't even use the newborn diapers on my girls because they were so big at birth.
63% of Canadian moms like to receive onesies while 57% prefer other baby clothes, toys or books. My take: I liked the bigger sizes because the girls barely were able to wear the 0 to 3 months sizes.
Just over 50% of Canadian moms are grateful to get bedding, blankets and swaddling blankets. My take: I loved receiving blankets and think you can never have too many of them.
Car seats were considered a top useful gift by 42% of Canadian moms while strollers came in at 40%. My take: I wish someone had bought me one at my baby shower! These were items I purchased on my own.
I was chatting with my sister about the survey to hear about her experience. She agreed that blankets and diapers were much appreciated, practical gifts. She also mentioned that she loved having the baby swing, a sound machine for the nursery and sleep sacks. I mentioned that I loved receiving good quality baby bottles. I used Playtex bottles with both my daughters.
On the other hand, we talked about stuff you really don't need or have too many of. She said she was overloaded in onesies and that Emmet won't ever be able to wear all of them. Other items that she didn't really need was face cloths and towels. People tend to buy these for gifts and though they are needed, you can have too many of them. My sister also mentioned a baby album wasn't something she needed more than one of. Chances are that mom may already have one so it's best to find a different gift.
The key thing to remember when you are deciding on a gift to buy for the baby is to focus on what the baby will need. I typically look for practical gifts and PlaytexBaby™ has many items that new parents will find useful.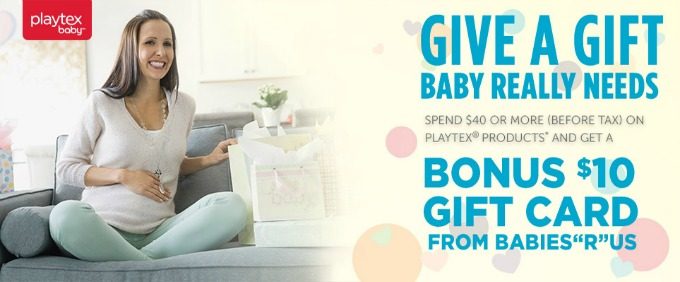 PlaytexBaby™ and Babies "R" Us have teamed up to help you give a gift that mom and baby both really need. Up until October 31, 2016, when you spend $40 or more before tax on PlaytexBaby™ products (excluding all Playtex Diaper Genie products) at Babies "R" Us, you'll receive a $10 bonus gift card to use on your next purchase! If you receive the offer online, you can also use it on an in-store purchase.
Keep the gift card for yourself and your little one or include it in the gift for the new parents – it's up to you!
Which baby gifts did you find most useful?
Disclosure: I was compensated for this post. All opinions are my own.