Looking for gifts for coffee lovers? I got your back. I'm a huge coffee drinker myself so it was easy to come up these coffee gifts. Not only are they unique, they are sure to be loved by the recipient, too.
I started drinking coffee at age 20 and I can always count on getting a Tim Horton's gift card for my birthday or Christmas. Yes, it makes a nice gift, but for something different try one of these coffee gift ideas instead. They won't break the bank and will be a lovely surprise for whoever you buy them for.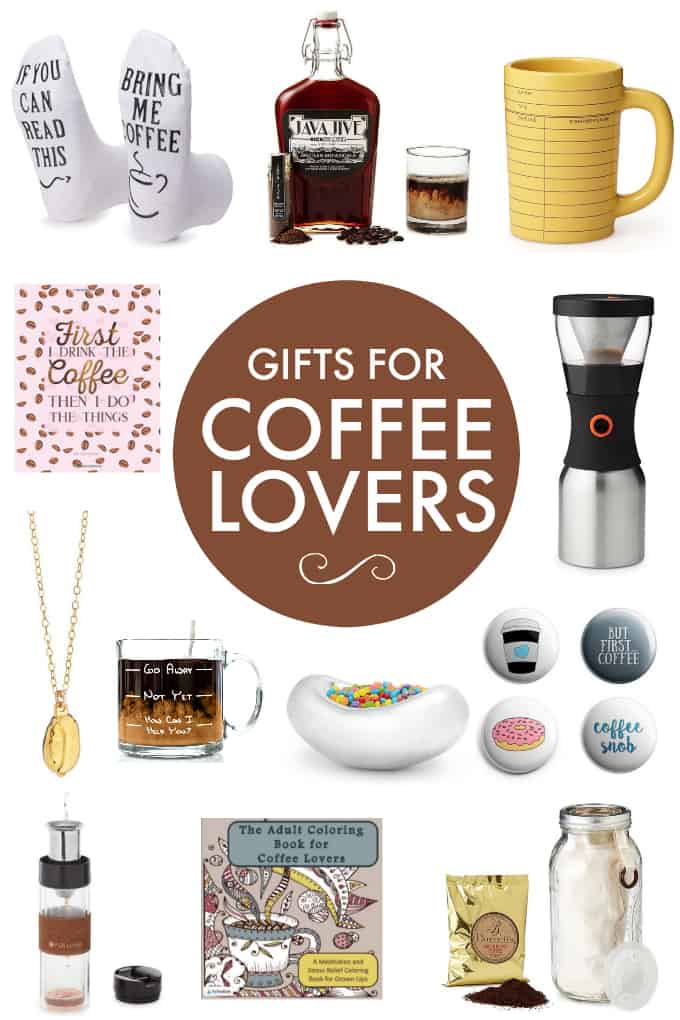 Gifts for Coffee Lovers
1. Volcanica Coffee Company. Try delicious coffee sourced from all over the world! Use the code STACIE10 to save 10% on your order until September 30, 2021.
2. Bean Box Coffee Subscription Box. Get coffee beans delivered to your home every month from top roasters. I've tried Bean Box Coffee before and it's wonderful. Every month, they deliver 4 bags of whole bean coffee from various origins and roasters.
3. Portable Hot & Cold Coffee Maker. For those who want pour over coffee on the go, this is your gift! Bring it with you camping or to work to always have a fresh cup of coffee close by.
4. Cold Brew Coffee Maker & Carafe. Prefer cold coffee? Try this carafe for a delicious, refreshing cup every time.
5. Dipped Coffee Bean Foodie Necklace. Yes, it's a real coffee bean they dipped in gold! Crazy! This unique gift would please any coffee lover.
6. Library Card Mug. Curl up with a good book and a mug of your favourite hot beverage served in this cute mug. It brings back fond memories of checking out books at the local library.
7. Bean Bowl. It's functional, whimsical and fitting for any coffee lover. Place it on your coffee table for an eye catching centrepiece.
8. Coffee Liqueur Making Kit. Make your own coffee liqueur at home with this helpful DIY kit. I love that you can create your own custom recipes.
9. Coffee Cold Brew Gift Set. Prefer cold brew coffee on a hot day? This gift set will help. Make your own cold brew coffee to enjoy.
10. Adult Coloring Book for Coffee Lovers. Coloring is a great activity for stressful relief. Yes, it's not just for kids. Adults can benefit greatly from the calming act of coloring and this book is themed for coffee drinkers!
11. Coffee Notebook. First I drink coffee, then I do the things. So true! This lovely coffee themed notebook is perfect for a person to jot down ideas, thoughts and reactions.
12. Bring Me Coffee Socks. These cute socks will bring a smile to anyone's face. What is better than a hot cup of coffee first thing in the morning?
13. Go Away Funny Glass Coffee Mug. A fun coffee mug that tells it like it is! Don't bug me until I get my coffee is the message here.
14. Coffee Bean Necklace. Elegant and simple. This sweet necklace will match any outfit and show off one's love for coffee.
15. Coffee Lovers Fridge Magnets. A great little stocking stuffer that won't break the bank and would look cute on a fridge. They are much nicer than the magnets that come with the phone book.
16. Coffee Vanilla Perfume. Smell like a scrumptious café latte. This gift is perfect for anyone who loves the smell of freshly brewed coffee.
17. Cappuccino Scented Lip Balm. Get a coffee fix without the cup. This lip balm is guaranteed to make you want to lick your lips.
18. Cafe Mocha Soap. This soap exfoliates and makes your skin smooth and soft. Plus, it will smell like a rich cup of joe.
19. JavaSok. Keeps your iced coffee drinks cold and your hands dry. They also carry a HotSok you can use for your hot coffee cups instead of a cardboard sleeve.
You might also like these gifts for tea lovers or best graduation gifts.
Which coffee gift are you loving the most?