I love reading, so coming up with gift ideas for bookworms was fun! Each of these gifts is from a different Etsy shop. Take your time and get lost like I did, and you'll have gifts for everyone on your list in no time.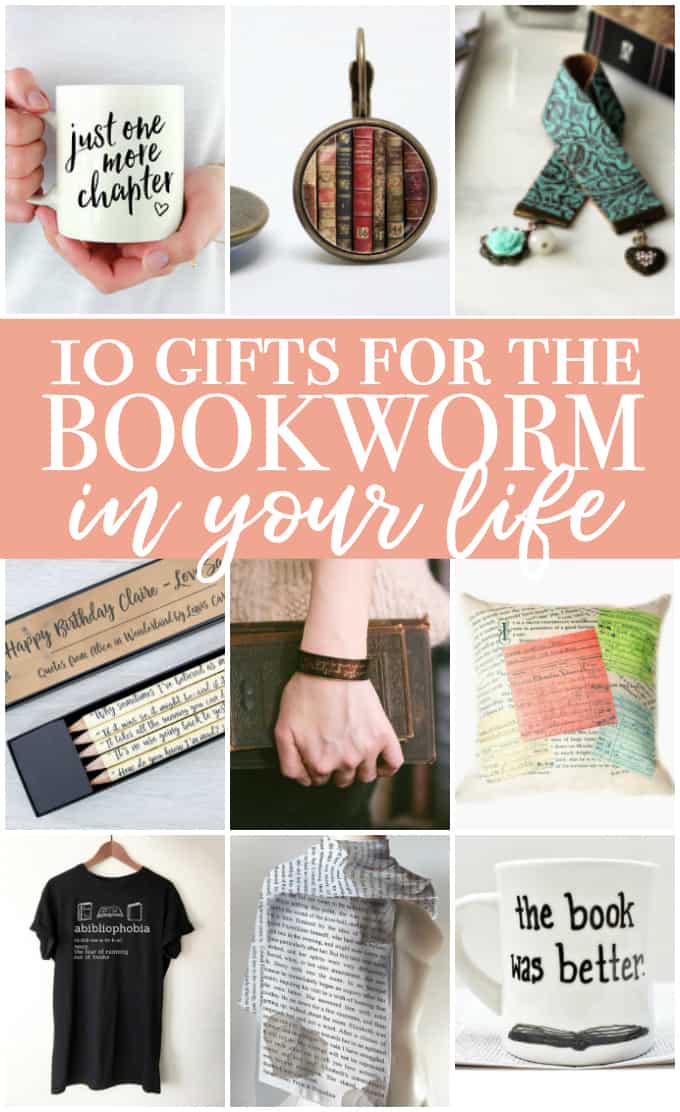 10 Gifts for the Bookworm in Your Life
This post contains affiliate links.
1. "Just One More Chapter" Mug. It's tough to put a good book down. Your bookworm friend will enjoy this "Just One More Chapter" Mug from Tiny Zen Co, while they're reading and sipping some tea.
2. Bookworm Earrings. Bookworms love to tell the world that they're bookworms! Bookworm Earrings from WorldOfDream do just that.
3. "The Book Was Better" Mug. This handpainted "The Book Was Better" Mug from Knotwork Shop is on our list because, obviously, you know the book is always better!
4. "The Book Was Better" T-Shirt. And if your bookworm friend isn't the mug type, there's a shirt: "The Book Was Better" Shirt from BRDTshirtZone.
5. Abibliophobia T-Shirt. I can't be the only one who's afraid of running out of books to read, can I? Grab this Abibliophobia T-Shirt from StagandPeachCo for your bookworm BFF.
6. Personalised Pencils Gift Set. Personalised gifts are always my favourite to give, so I squealed with delight when I found these Personalised Alice in Wonderland Pencils from sixOsixdesign. There are tons of book quotes available and the pencils come in a box with the recipient's name on it as well as your name. You can even have them wrap the gift box in an old encyclopedia page!
7. Pride and Prejudice Book Scarf. I have to admit this is a new one for me. I haven't seen a book scarf before! This Pride and Prejudice Book Scarf from EnjoyTheTraffic is one of those gifts you can give and be sure nobody else is going to have a duplicate. I got lost in the shop for a while, finding book scarves from Moby Dick, Peter Pan, Alice in Wonderland, and more.
8. Oscar Wilde Bracelet. A stunning, original brass Oscar Wilde Cuff Bracelet from JezebelCharms is for the walking encyclopedia in your life. You know, the bookworm who knows everything! "I am so clever that sometimes I don't understand a single word of what I am saying" ~ Oscar Wilde
9. Library Card Pillow. Vintage library checkout cards and vintage book pages make this Library Card Pillow from TheWriteStuffDesign a must have gift for bookworms. Pillows and other literary gifts make this shop a one stop shop for all book lovers!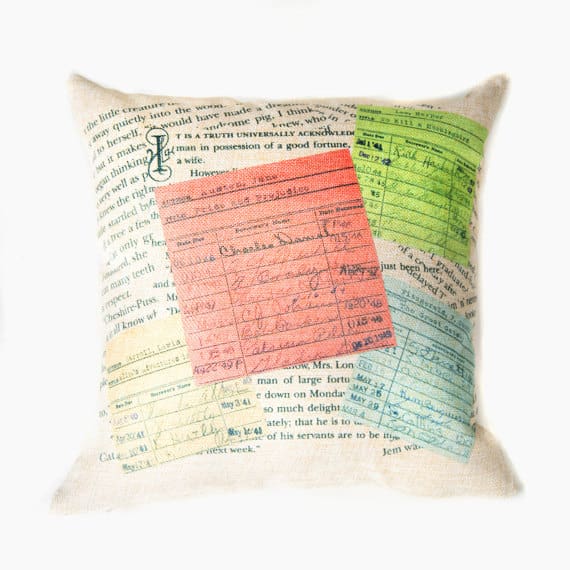 10. Leather Embossed Bookmark. What a gorgeous Leather Blue Embossed Bookmark from ShabbyChicRetreat! While some bookworms have gone over to the dark side (a.k.a. to e-readers), some of us are still reading the old-fashioned books. This bookmark is definitely original, and what a thoughtful gift for a bookworm friend!
You might also like these gifts for coffee lovers.
What bookworm gift is your favourite?