This post contains affiliate links.
10 years after its inception, I've bit the bullet and this year am planning to do Elf on the Shelf. I've been seeing my Facebook friends doing it for years and thought it looked like fun. I just never got around to it in the previous years. This year, I'm planning ahead and getting my Elf on the Shelf now so I'm ready for December.
The premise behind Elf on the Shelf is simple. Santa tasks one of his elves to a family who adopts the elf and gives him a name. This elf has the important job of being a scout for Santa and helps him make his naughty and nice lists. He watches over the children and each night, flies back to the North Pole to give Santa an update. Every morning he returns to a different spot in the house to keep an eye on everything.
I've seen my friend's elves be in some pretty funny (and sometimes dangerous) positions!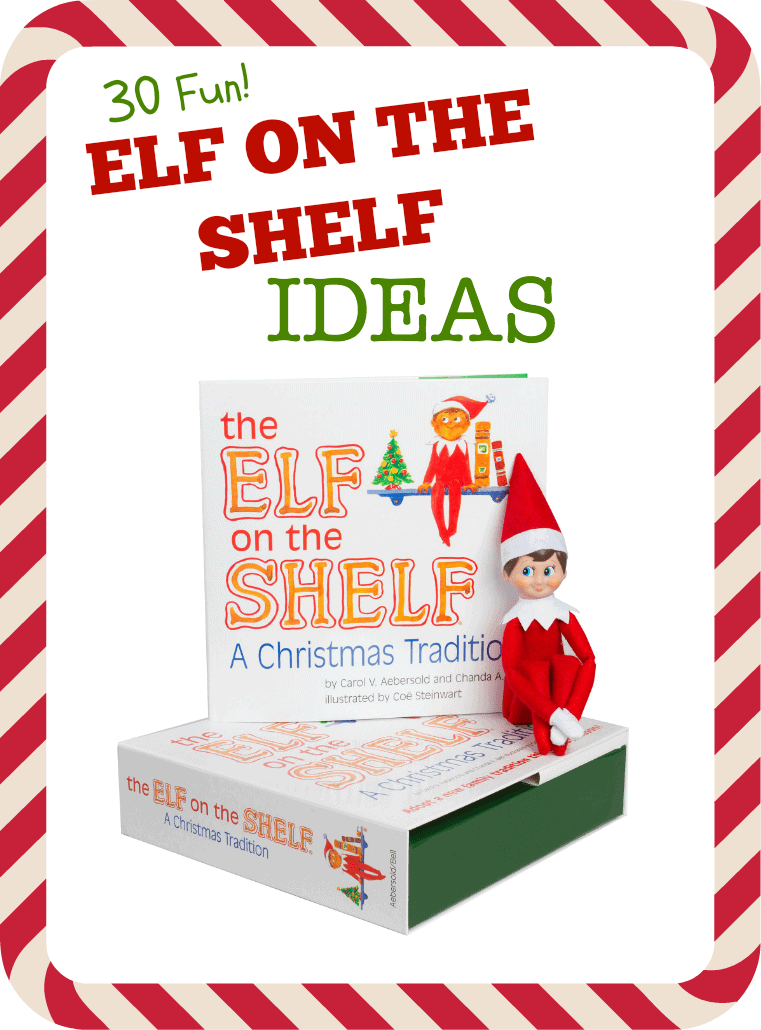 Elf on the Shelf Ideas
For many parents, the magic of the Elf on the Shelf fades after the second or third evening. The kids are still expecting the elf to move, but you've already run out of ideas. I thought it would be a good idea to put together a roundup of 30 cute (and family friendly) Elf on the Shelf Ideas for you (and me). It's my first year so I'm a complete newbie and need some direction!
1. Elf on the Shelf Parachute
2. Elf Fishing for Goldfish
3. Moves Like Santa
4. Elf Rock Band with Cans
5. Elf on the Shelf Makes his own Christmas Tree
6. Elf on the Shelf Good Deed Cards
7. Elf in the Shower
8. Party Boy
9. Elf Crime
10. Zip Lining Elves
11. Elf Stuck in M&Ms
12. All Wrapped Up
13. LEGO Ambush
14. Elf Goes for a Midnight Snack
15. Elf Snow Angel
16. Let's Garden
17. Elf Coloring on Photos
18. Gaming Elves
19. Toilet Paper Snowman Elf
20. Elf and Stuffed Animals Sack Race
21. Kissing Booth
22. Caught in the Candy Jar
23. Candy Bowling
24. Elf Going Sledding
25. Reading by the Light of the Tree
26. Lego Throne
27. Elf Hot Cocoa
28. Poker Night
29. Escape Artist Elf
30. Elf is a Mechanic
What's your favourite Elf on the Shelf idea?