Disclosure: I was compensated for this post. All opinions expressed are my own.
As I mentioned earlier this month, John and I have been renovating our upstairs bathroom. It's been entirely gutted and we are basically starting fresh. John's ripped out the walls and put insulation in them. Can you believe there was no insulation?! He's also added in a 6 foot bathtub, new tile backsplash and a new sleek showerhead. We are about half way there and he still has to install the sink and vanity, toilet, flooring and then I can paint and add in the decorative touches. It's going to be absolutely beautiful when its done. It will be my relaxing oasis and I cannot wait.
There are easy ways you can upgrade your bathroom without having to start from scratch like I'm doing. I already shared with you how big of a difference upgrading your bathroom with tile makes. Today I want to talk about upgrading your showerhead for a whole new and improved experience! It doesn't have to cost you a fortune and it's something you can do yourself.
Upgrade Your Showerhead
A few months ago, John and I went shopping at The Home Depot to pick out our plumbing for the bathroom. One important item on our list of things to buy was a showerhead. I was impressed with the selection at the store. Who knew there are so many different types of showerheads on the market?
I was most interested in purchasing a rain showerhead. We stayed at Caesar's Palace last year in Las Vegas and our hotel room had a rain showerhead. I swear it was the best shower I have ever had. It was so relaxing and felt so good. I had a hard time leaving because I knew I'd miss those showers!
We settled on the DELTA Lahara Monitor 14 Series Tub And Shower With In2Ition Two-In-One Shower. I picked this particular one for its elegant design, but more importantly because it had the In2ition Shower System! It has a detachable hand shower that runs simultaneously with the showerhead so you have two streams of water going at the same time. The description sounded just heavenly and it was recommended to us by the associate at The Home Depot who was helping us with our purchase.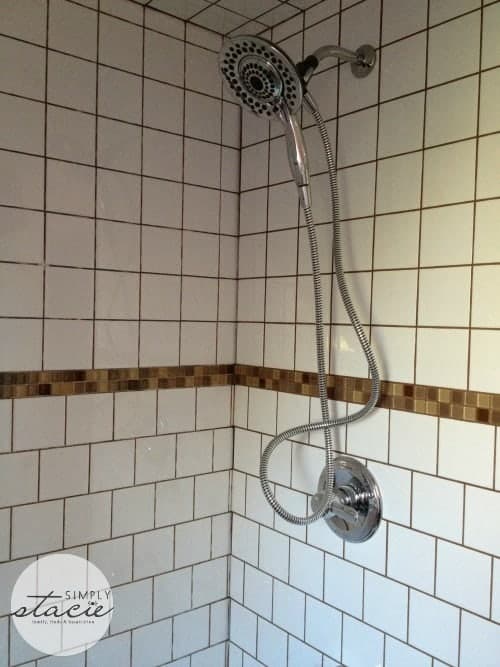 Here's a few things to consider when you are shopping for a new showerhead:
Type of showerhead: Think about what kind of experience you want. Do you prefer a soft, gentle rain or a pounding rainstorm? You'll find that there's something for everyone no matter what your preference. Look at the spray options, massage settings and the water pressure each showerhead offers.
Handheld or Fixed: Do you like a more traditional showerhead where it's fixed directly onto the wall or would you rather a handheld one you can maneuver? I personally like the handheld version better because it comes in handy when you're cleaning the tub!
Budget: Showerheads vary widely in price so know ahead of time what you want to spend when you go to the store (or look online) and see what options are available in that price range. The nice thing is that you don't have to break the bank to get a good quality showerhead.
Rain showerheads are all the rage nowadays and are available in different sizes and styles. They offer a soft, gentle rain-like experience and often include a variety of massage settings. The Home Depot has a couple of rain showerheads that look like they would be simply divine: KOHLER 10 Inch Traditional Round Rainhead With Katalyst Spray Technology and the KOHLER 14 Contemporary Round Rain Showerhead.
I encourage you to check out the DIY Workshops offered at The Home Depot. Their section on Baths will get those ideas flowing on ways to improve your bathroom!
Connect with The Home Depot on Facebook, Twitter and Pinterest.
Win $500 Gift Card to The Home Depot
Have you entered my giveaway for a $500 gift card to The Home Depot and a consultation with a local associate about renovating a bathroom? It's going on now till November 1st and is open to Canada only (excludes Quebec). I've been sharing all the entries on a Pinterest board. Lots of people would love some help improving their bathroom!