I was born and raised in the Ottawa Valley. Pembroke is about an hour and half drive from the capital of Canada – Ottawa, Ontario. I remember many, many trips to Ottawa growing up. From shopping with my mom and sisters to school trips to see the Parliament Buildings, Ottawa has so much to see and do. It's one of my favourite cities to visit in Canada!
It largely depends on the time of year you're visiting when it comes to finding free things to do in Ottawa.
If you're here in January or February, you obviously must check out Winterlude. From ice sculptures to ice skating, you can spend all day (or longer!) taking everything in.
If you're here in May, you absolutely must see the Tulip Festival! I love the history behind it.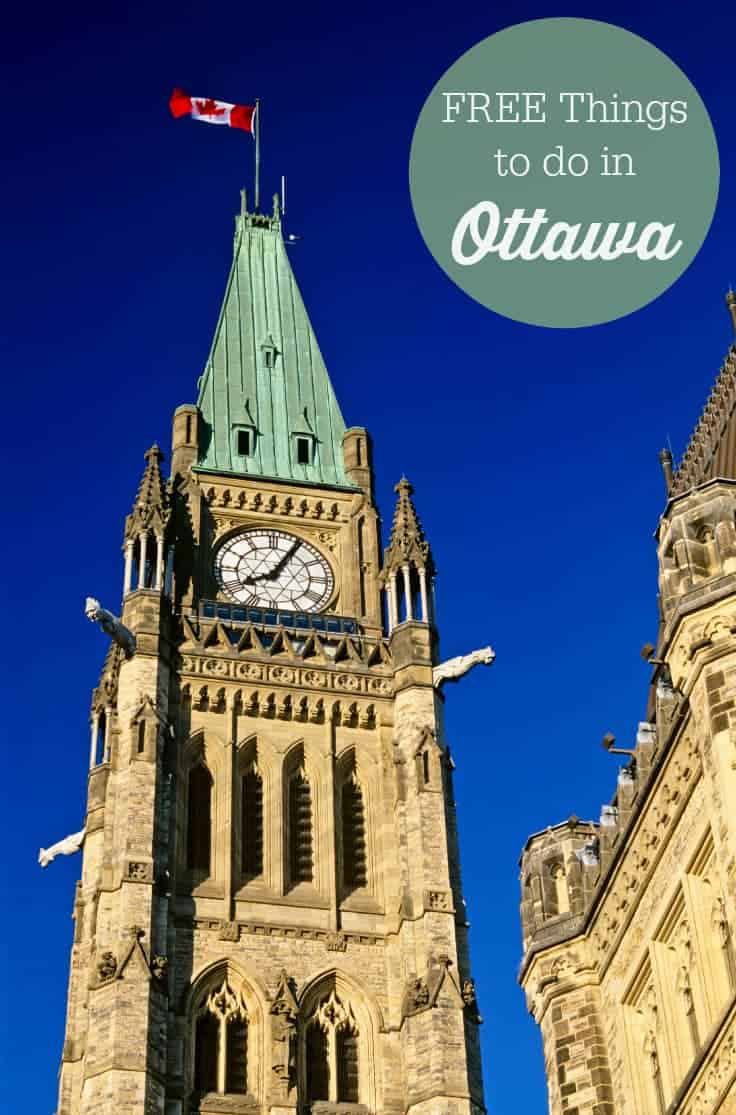 There are many other year-round "must sees" in Ottawa.
Gatineau Park is home to unique plants and wildlife, and is just 15 minutes from downtown Ottawa. Skiing, camping, hiking, swimming, and more are all available from May through late October. It's also a geocaching paradise!
Confederation Park is another unique gem in the heart of Ottawa. Winterlude, as mentioned above, is hosted in Confederation Park. Canada Day celebrations and the Ottawa International Jazz Festival also take place here. Visit this park to see sculptures and monuments, including the South African War Memorial and the memorial fountain honouring Colonel By.
Changing of the Guard takes place late June through late August, at 10 am. Be sure to arrive early to Parliament Hill to get the best view! After the Changing of the Guard, you'll see a march by the Guard up Elgin Street.
The Parliament Buildings are world famous and rich with history – a great educational trip in the making!
The Canadian War Museum has free admission Thursdays from 4 pm til 8 pm, and on Remembrance Day. Located near downtown Ottawa, the museum is full of exhibitions, prize-winning architecture, and public programs displaying how conflict in Canada (and around the globe) has changed the face of the world.
Be on the lookout for the amazing collection of tanks, trucks, and cannons – I think that is the best part of the trip for the kiddos! I think the museum is made for older kids – maybe 10-ish and older – because younger ones might get bored. Plan your visit online. You'll want to allow at least a few hours for your visit – there's a lot to see! It's rated #1 out of 200+ things to do in Ottawa, so I would definitely say it's a "must see".
The Canada Aviation and Space Museum, rated #12 out of 200+ things to do in Ottawa, offers free admission between 4 pm and 5 pm each day. This place is massive! You'll see many exhibits – planes and all things aviation – that both kids and adults will enjoy. Get up close and personal with extremely rare planes and biplanes. The Aviation and Space Museum is stroller (and wheelchair) accessible, so it's a perfect visit for the entire family.
Though not free, they offer biplane rides, helicopter rides, birthday parties, and even summer camps!
Canada Agriculture & Food Museum is a working dairy farm that is free to explore daily from 9 am til 5 pm. There are so many things to learn here! Meet adorable alpacas, learn about the breeding, feeding, and care of beef cattles, and learn about the chickens on this working farm.
Download their busy bees educational activity kit, too!
This list is only the tip of the iceberg. When you visit Ottawa, you'll see for yourself what I mean about how awesome this city is.
Have you ever been to Ottawa?