I've got another mega set of free printables to share with you today! If you are the organizing type, you'll be in your element!
I'm calling this set a 2016 Household Planner. It has a variety of sheets to record important information to keep your home running smoothly. My suggestion is to only print out the sheets you think you'll need.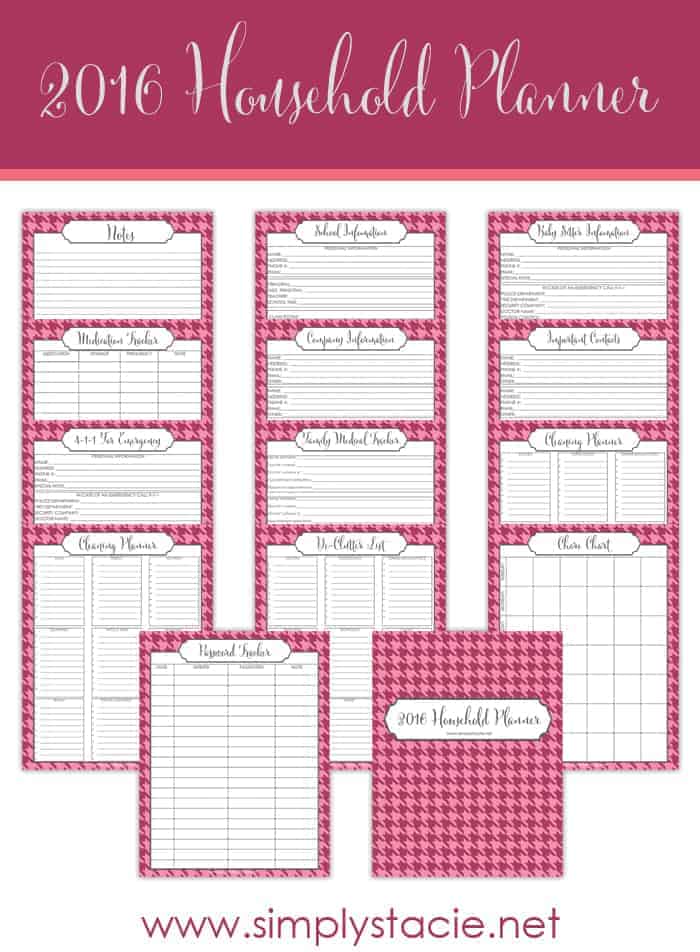 This set is designed to help you with cleaning, medical information and recording important phone numbers so you always have them handy. Get yourself a binder and three hole punch and keep your household binder in your kitchen or home office. You'll want it somewhere you can easily access it because if you are like me, you'll be referring to it often!
Here's what's included:
Password Tracker
Chore Chart
Declutter List
Cleaning Planner
Family Medical Tracker
Emergency Contacts
Important Contacts
Company Information
Medication Tracker
Babysitter Information
School Information
Notes
I'm rolling out a bunch of free printables over the coming weeks. Make sure you subscribe so you don't miss them! Let's get organized for 2016 together!
Staying organized is something I work really hard at. It's not hard to do once you get the initial set up done. Trust me, it's totally worth the little bit of effort! My friends laugh at me with how crazy I am with my little organizing projects, but I think they are just jealous 😉 It's all in good fun!
Print out these planning worksheets, fill them out and get ready for an awesome 2016. Make this the year that you organize your home and life!
Update: My 2021 Household Planner is now in stock in my new shop! I also have a 2021 Organizing Bundle with all the printable sets.