Disclosure: I was not financially compensated for this post. I received a sample of the product for review purposes. The opinions are my own, based on my personal experience with the product.
My boys will be heading back to our homeschool co-op classes in style with the latest fall fashions from Florsheim Kids. What makes Florsheim Kids so exceptional is the super quality and attention to detail in this shoe line. Florsheim Kids footwear are constructed for durability and style just like the "dad's shoes" that Florsheim has proudly made since 1892! With a wide selection of dressy to casual there is sure to be the perfect shoes for your little guys this fall season.
In addition to durability, it is very important that my active boys wear shoes that are comfortable. They have owned several pairs of shoes from Florsheim Kids over the years and they always ask if they can wear these pairs over other brands.
My husband wears chukka boots to work every day so my eight year old son, Adam was excited to have a similar pair. The Valco Jr. Moc Toe Boot ($65) is very appealing to young boys especially those like mine who love to wear a camouflage wardrobe. This is a boys' chukka boot that is quite comfortable and perfect for school, sports and active play time. What makes it so comfortable is the breathable fabric lining, a non-removable insole (I love this feature) and a sturdy lug rubber sole that stands up to the test of my busy boy. The size I selected fit Adam perfectly and it even has a bit of room to grow since his feet tend to grow like a weed. This pair is available in sizes from a little boy's 10 through boy's size 6.
A slip on shoe is a must have in my children's shoe wardrobe and my five year old son loves his Getaway Plain Jr. Casual Loafer ($55). These shoes give him a sense of accomplishment because he can dress himself independently when wearing these shoes as he is still learning how to tie his own laces. These kid's casual loafers in black have lovely contrasting stiches make these very fashion forward due to the detailing on the genuine suede upper. The soles are very durable and my son can wear these everywhere including fun at the park.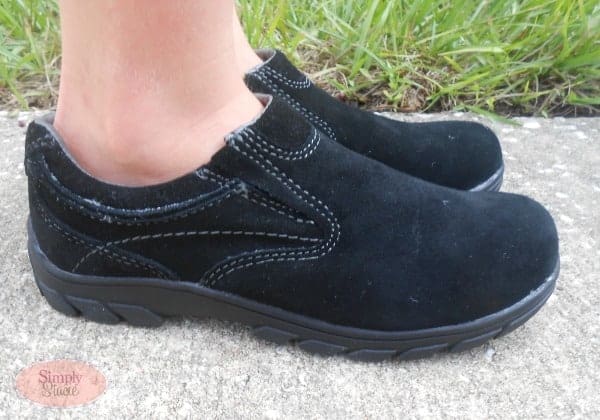 I always get excited to see the new collection of boy's shoes each season at Florsheim Kids. I don't mind investing in a good pair of shoes for my kids because durability, comfort and style are important to me. In fact, I have made the mistake of purchasing lesser quality shoes for my kids in the past and it backfired because the shoes fell apart so quickly that I had to constantly buy new shoes. With Florsheim, I can feel confident that the pairs of shoes in my kids' wardrobes are going to stand the test of time! You are invited to visit Florsheim Shoes to browse the entire collection of kids' shoes available for fall 2013.