With it being time for Spring cleaning, most of us wish there were ways to get the job done faster! We all want to go out and enjoy the warmer weather, but we want to come back inside to a neat home. Read on for ways you can finish your Spring cleaning faster, so you aren't stuck inside all day, every day!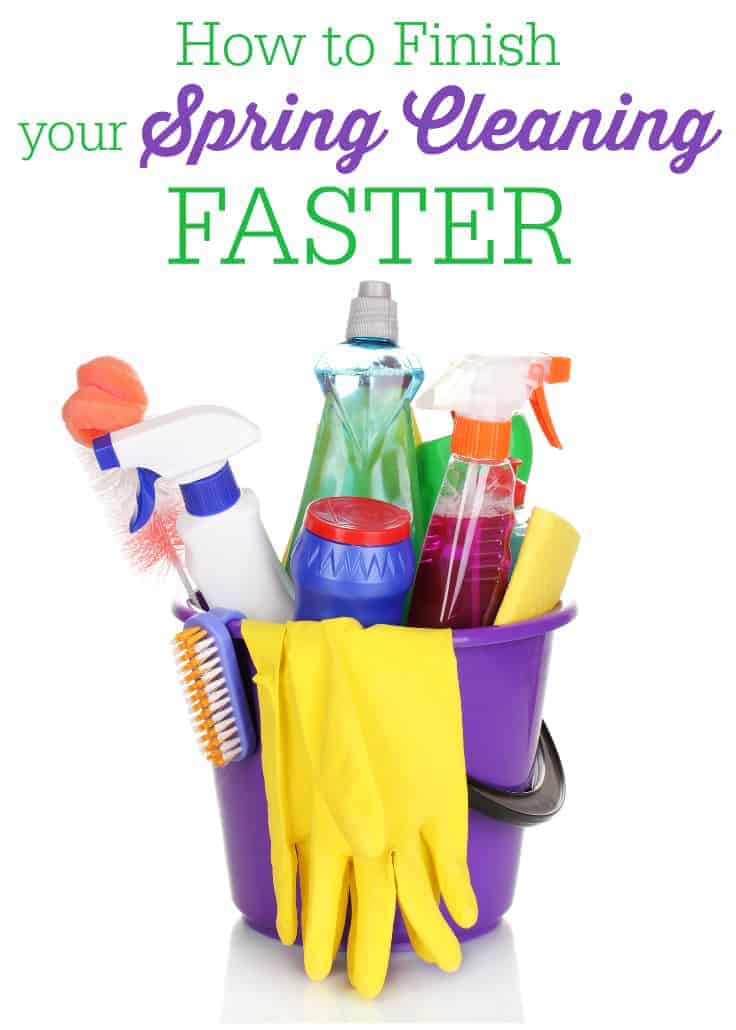 How to Finish Your Spring Cleaning Faster
1. Start each room by decluttering. The less 'stuff' you have to clean around, the less time it will take! When you start cleaning a room, bring in a couple of bags: one for donate, one for trash. If needed, grab a third bag for things you need to go through later. Don't let yourself get consumed with papers and books when you need to be cleaning the rest of the room.
2. Carry cleaning supplies with you. Having a bucket full of your cleaning products is a great idea if you want to minimize your spring cleaning time. Make sure your bucket has gloves, assorted cleaners for different materials, and air freshener to leave the room smelling fresh once you're done.
Tip: You may want to create a bathroom cleaning kit, and keep it under the sink or in the closet. Since this room needs special cleaning items (toilet brush, shower and tub cleaner, etc), having this kit on hand will reduce your cleaning time throughout the year!
3. Pace yourself. You may feel like you need to get through your entire Spring cleaning to-do list in one day to be fast. However, this usually results in poor tidying, and increases the chances that you'll need to clean again. Instead, limit yourself to a certain time for cleaning each day. Spreading it out lets you take breaks, recharging yourself for faster cleaning. Also, you won't get too overwhelmed with all that needs to be done.
4. Work from top to bottom. Cleaning from the ceiling to the floor keeps you from having to do the same tasks over and over. Always dust first, and start with the fans, shelving, and photos on the wall. Bring all the dirt down to the floor before your vacuum.
5. Finish one room before starting another. You may feel the need to work on several rooms at once, but this can be less time efficient. It may also discourage you from finishing your Spring cleaning as you may not notice much is done with all your energy spread in multiple places. The only time you should work on multiple rooms is when you are sweeping, mopping, or vacuuming. You can do these tasks in bulk for a faster finish to your spring cleaning!
For more cleaning tips, check out my posts about How to Keep Your Toilet Clean All Week Long, 4 Ways to Make Your Home Smell Amazing, Daily Cleaning Checklist, How to Clean Your Home in 15 Minutes and How to Clean Your Microwave Without Scrubbing or Chemicals.
How long does it normally take you to finish your Spring cleaning?