Disclosure: I was compensated for this post. All opinions expressed are my own.
Subscription boxes seem to be all the rage in recent years. I've noticed a lot more people talking about them on social media and seeing online ads for a variety of subscription box services. If you aren't familiar with the term "subscription boxes", let me explain what it is. Basically it's a themed box that you receive by mail every month featuring a variety of new products to try. If you sign up for a beauty themed subscription box, you'll receive beauty products like cosmetics, skin care, perfumes, etc. A subscription box is great for people who love to be introduced to new products that they may not have found on their own.
Sounds pretty neat right? The issue is that there are so many to choose from that a person may not know even where to start. Also, how do you find these subscription boxes? The answer is simple. You don't have to spend hours on Google searching for them. In fact, there's a new subscription box directory called Find Subscription Boxes that will help you find the best monthly subscription boxes to suit your needs.
Find Subscription Boxes was launched in July 2013 and has quickly become a go-to site for people searching for subscription boxes. It's organized into categories so you can easily find the theme you are looking for and it also features subscriber reviews so you can read firsthand experiences from others.
One important feature I want to mention is that Find Subscription Boxes is not owned by any subscription box company or its partners. I appreciate that they are a neutral third party so you can trust the information they provide.
As I was browsing their site, I was amazed at how many types of subscription boxes there are on the market! You will have no shortage of selection to choose from. The categories include subscription boxes:
For Women (Beauty, Women's Fashion, For Mom, Jewelry & Accessories, "Time of the Month")
For Men (Men's Fashion, Men's Grooming, Men's Lifestyle)
Babies, Kids & Teens (For Baby, Kid's Fashion, Kid's Crafts, Teens)
Food & Drink (Snacks, Gourmet Food, Sweets, Coffee, Tea, Beer, Spirits, Wine)
Health & Fitness (Sports & Outdoors)
Pets (Cats, Dogs, Other Pets)
Geeks, Gamers, Nerds
Eco-Friendly/Green
DIY & Craft
Local & Artisan
Celebrity Curated
For the Home
When you visit each category, you'll see the subscription boxes available and a brief summary of what's included. If you see one you like, click "Read More" and you'll see details on the subscription box including the price, frequency, items per box, where they ship to, and more.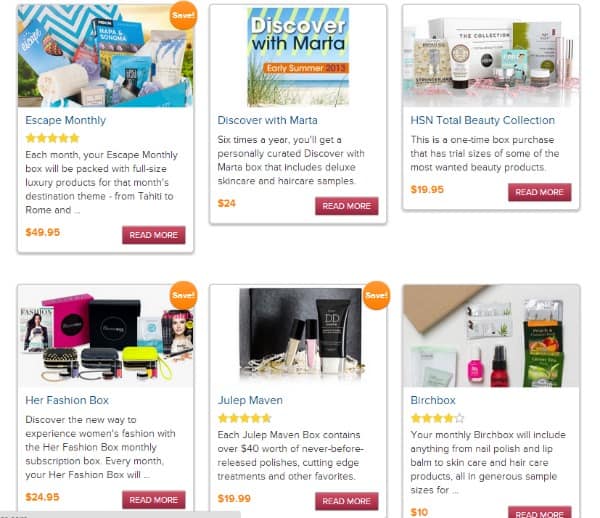 I had a look around their site and narrowed down my favourites to these five subscription boxes. Now I need to choose which one to subscribe to!
1. Wantable Makeup Box: Every month you'll receive full-size premium makeup products, hand-picked to match your style and makeup preferences. Each box is valued between $80 to $100 and you'll only pay $36 a month.
2. JewelMint: Receive the latest jewelry each month inspired by the runway, vintage jewelry and on-trend celebrity style that are selected to match your personal style. It costs $29.99.
3. MistoBox: As a huge coffee drinker, I would be in heaven receiving the MistoBox every two weeks. Each box features 4 specially curated coffees from 4 different coffee roasters, along with tasting notes and roaster bios for each coffee. The price for the MistoBox is $15 and they ship worldwide.
4. Treats & Trends: I want this subscription box for my two cats! Each Treats & Trends box has hand-picked gourmet products for owners and cats or dogs. You can tailor the boxes based on the kind of pet you have, size and age. Treats & Trends also donates 10% back to rescue organizations across the country. The price ranges from $24 to $34.
5. Tyler Florence Fancy Box: I love new kitchen gadgets and the Tyler Florence Fancy Box sounds perfect for me. It features $80 in products every month including kitchen gadgets and cooking tools handpicked by celebrity chef Tyler Florence. You know they will be good if he recommends them! It costs $39 and they ship worldwide.
One thing I noticed as I was checking out these subscription boxes is that there are often coupon codes listed so you can save $$. They also have a section called Coupons that lists all current coupons available.
If you're the type of person who doesn't like surprises, you can check out the Subscription Box Spoilers section for a sneak peek at what is going to be included in upcoming boxes. I like a good surprise so I probably wouldn't check, but it's there if you want to know what is coming your way!
I'll be checking out the Gift Ideas section closer to John's birthday. He is extremely hard to buy for and the Gift Ideas for Boyfriends and Husbands has lots of boxes that he would love. John loves getting mail and I think he would be thrilled to get his own special box of products each month.
What are your favourite subscription boxes listed in the directory?
Connect with Find Subscription Boxes on Facebook, Twitter and Pinterest. Sign-up for the Find Subscription Boxes newsletter.