Grab a bowl and spoon up this Tex-Mex taco casserole. You have the flavors of a taco, but in a casserole form. An easy taco casserole that is the perfect dish for a busy weeknight. Top with your favorite Mexican toppings and dive into your new family favorite recipe.
My beef and bean taco casserole recipe is the perfect way to dress up your Taco Tuesday this week. Skip the hard shell tacos and make a casserole that everyone will love.
This taco bake has hearty ground beef, chili, green onions, salty tortilla chips, salsa, sour cream, and cheese! What more could you ask for?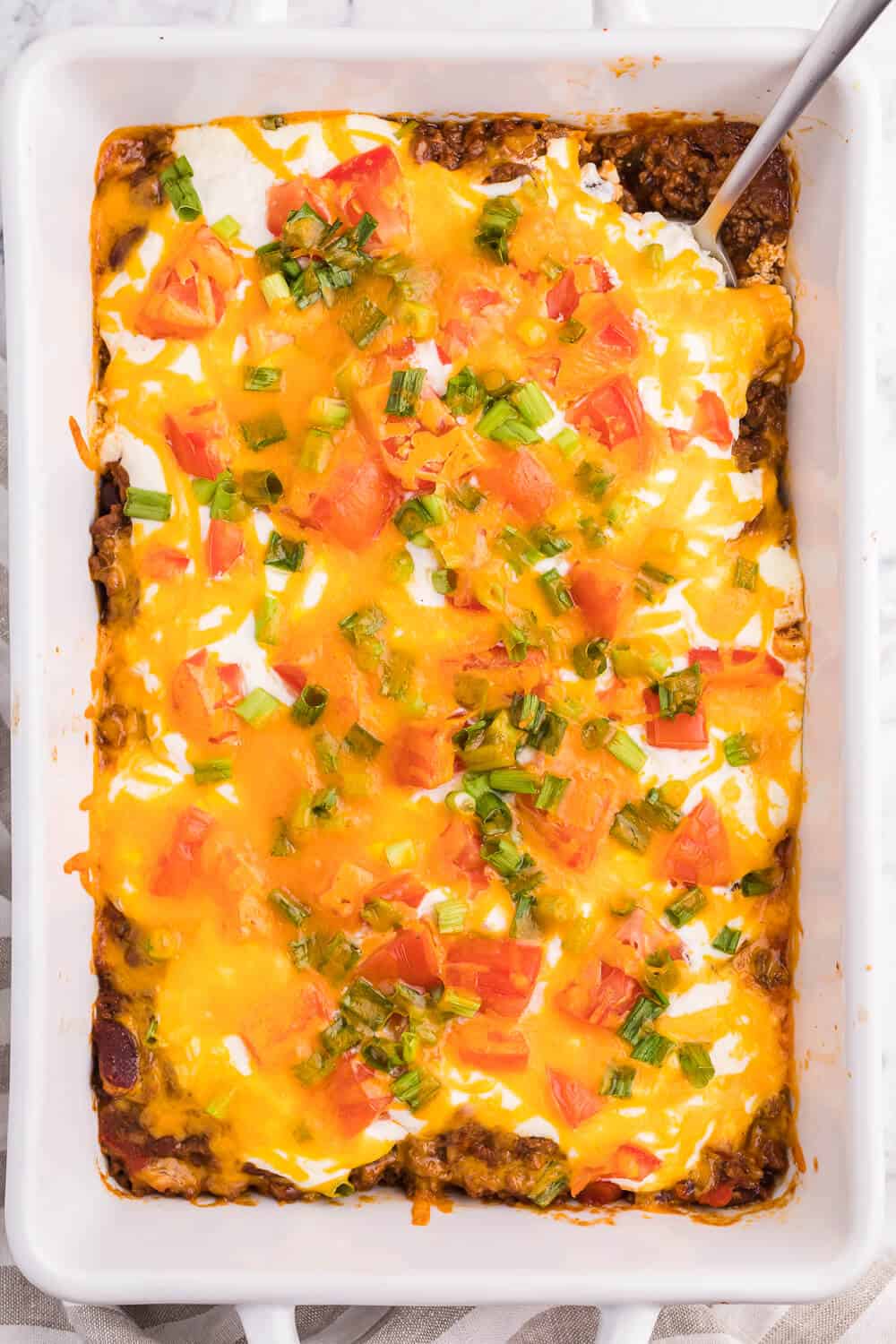 A Perfect Weeknight Dinner
When it comes to cooking, I am all about easy and wholesome dinners. The less mess I make in the kitchen, the better. This beef and bean taco casserole couldn't get much easier. With a little prep work, you transfer to the oven and allow it to bake to golden brown perfection.
During the cook time, you can kick your feet up, help kids with homework, or enjoy some quiet time.
More Easy Mexican Inspired Recipes
I do recommend playing around with toppings for your taco casserole bake. Top with some shredded lettuce, black olive, tomatoes, fresh avocado. It will give your fiesta taco casserole that feel of a "walking taco" and kids go crazy for that.
If you have never had a walking taco, it is where you get a single serve bag of chips, generally Fritos or tortilla chips, and it is then topped with taco meat, chili beans, and your favorite Tex-Mex condiments.
How to Make
The process is simple and with a little prep and around 20 minutes in the oven you can ring that dinner bell and watch the family come running.
Start by browning your ground beef until it is brown. Toss in your chili and salsa, and allow it to come to a boil. Reduce heat to low and simmer for 5 minutes.
Grab a casserole dish and cover the bottom with broken tortilla chips.
Next, pour your beef mixture over the top of the chips. Follow by spreading sour cream over the top of the ground beef mixture.
Grab some sliced green onions, tomatoes, and cheese to sprinkle on top of the sour cream.
Toss in the oven and bake uncovered for 20 minutes or until it is hot and bubbly.
Grab those bowls and serve up one hearty and satisfying dinner.
This post contains affiliate links.
Recipe adapted from Betty Crocker Cookbook: 1500 Recipes for the Way You Cook Today.
Helpful Kitchen Tools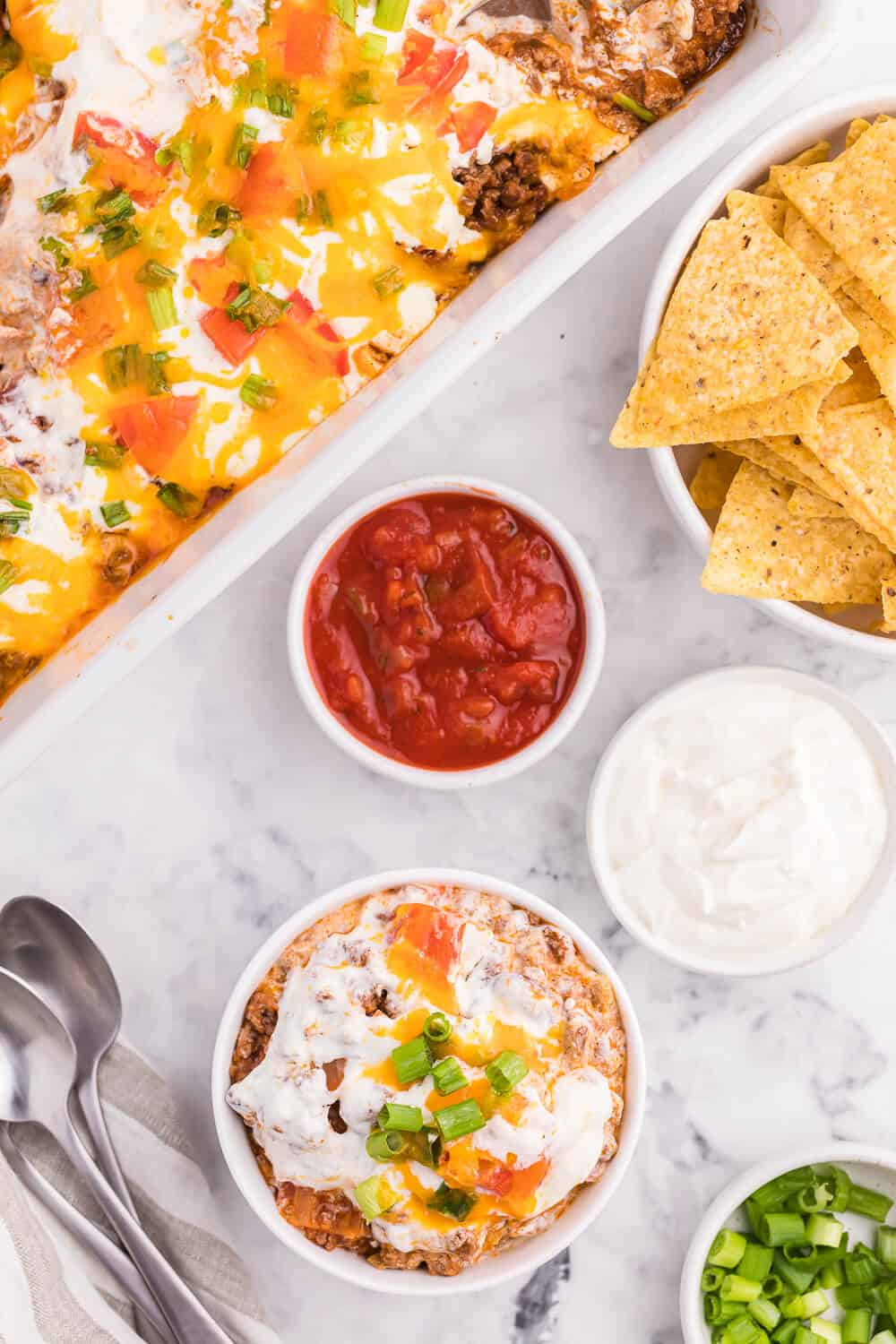 Is it Healthy
You could easily make this fiesta taco casserole healthier with a few substitutions.
I would reach for a ground turkey or ground chicken over ground beef as it would help lighten up your casserole. Then find a low sodium salsa. Followed by swapping to reduced fat cheese and sour cream. These alternatives could help make it a healthier taco salad.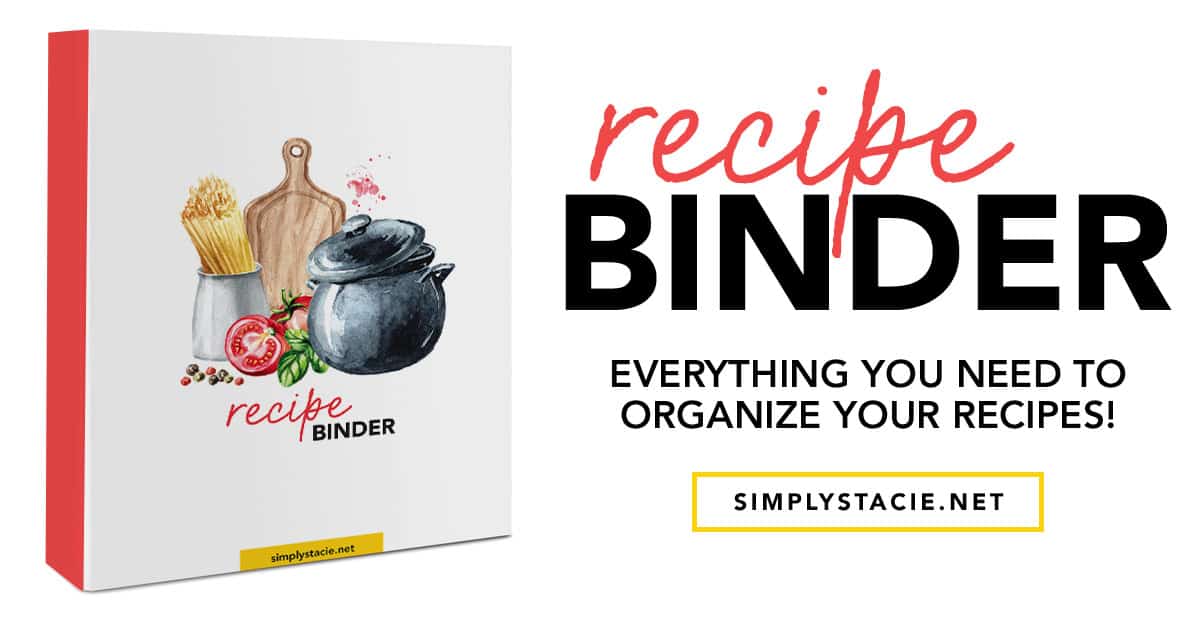 Can You Freeze
You can freeze this recipe if you would like. I would recommend leaving out the crunched up tortilla chips at the bottom layer. Why? Because they will become very soggy if they are frozen, thawed, and then reheated.
What I would do is skip the tortilla chips, and assemble as you usually would. Then freeze in an airtight container for up to 3 months.
Toss in the refrigerator the night before you want to it, to allow it to thaw thoroughly. Then bake until it is fully cooked through and golden brown on top. Once it is finished baking, you could then sprinkle crushed tortilla chips on top.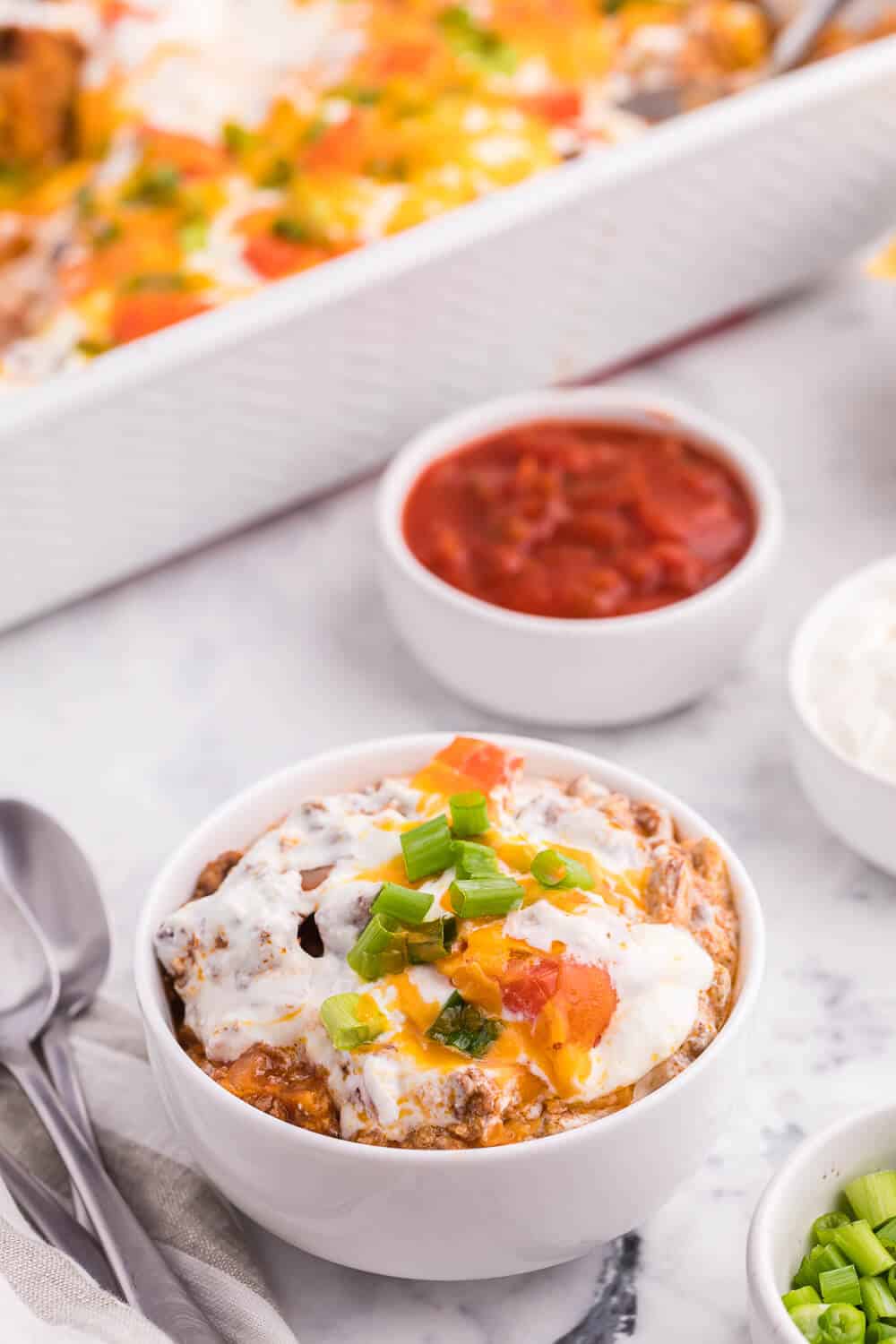 Can I Use Leftover Homemade Chili
You do not have to use canned chili if you have some homemade chili in your fridge or even freezer. Sometimes I will save back homemade chili to use in my taco beef casserole. It will change the flavor slightly from using canned chili, but both options are tasty!
My fiesta taco casserole recipe indeed is a tried and true recipe that could please a crowd. Most of the ingredients you might already have in your fridge and pantry! If not, make a quick run to the store and give this recipe a try.
We serve it up and call it a complete weeknight meal. No other sides are required for this savory and hearty taco casserole recipe. Plus, leftovers the next day, taste even better! The flavors blend even more the longer it sits, so you and your family will have no problem dishing it up for lunch the next day.
Give this Taco Casserole recipe a try and let me know what you think!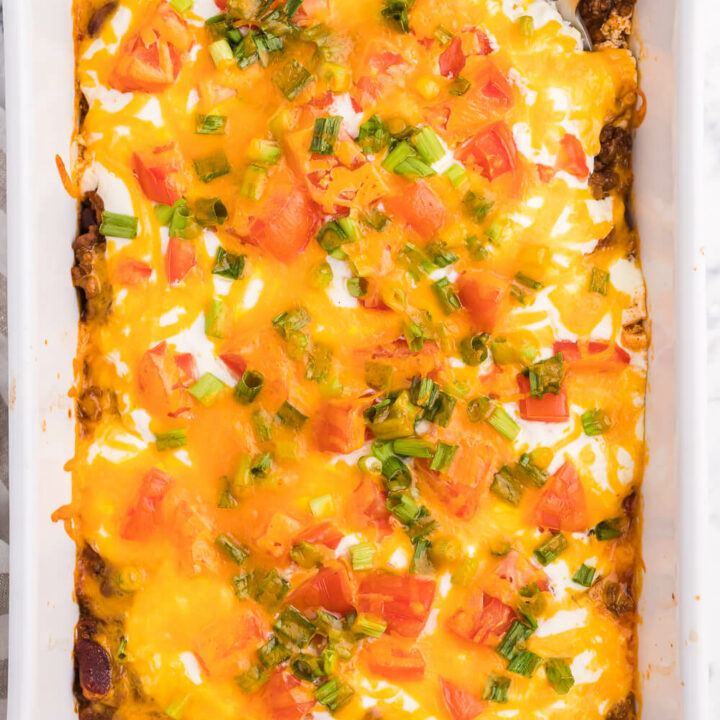 Taco Casserole Recipe
A fun twist on Taco Tuesday! This easy casserole has all the ingredients we love about tacos, baked together in one convenient baking dish – quick to make and quick to clean up!
Ingredients
1 lb lean ground beef
1 can (15oz/425g) chili
1 cup salsa
2 cups coarsely broken tortilla chips
1 3/4 cup sour cream
4 green onions, sliced
1 tomato, chopped
1 cup Cheddar cheese, shredded
Instructions
Heat oven to 350F. In a skillet, cook beef over medium heat for 10 minutes until brown. Stir in chili and salsa. Heat to boiling. Reduce heat to low. Simmer for 3 to 5 minutes, stirring occasionally.
In a 9x13 casserole dish, spread out broken tortilla chips on the bottom. Top with beef mixture. Spread sour cream on top. Sprinkle with green onions, tomato and cheese.
Bake uncovered for 20 minutes or until hot and bubbling. Serve with tortilla chips.
Recommended Products
As an Amazon Associate and member of other affiliate programs, I earn from qualifying purchases.
Nutrition Information:
Yield:

6
Serving Size:

1
Amount Per Serving:
Calories:

477
Total Fat:

29g
Saturated Fat:

12g
Trans Fat:

1g
Unsaturated Fat:

12g
Cholesterol:

121mg
Sodium:

882mg
Carbohydrates:

18g
Fiber:

2g
Sugar:

5g
Protein:

35g