I am very particular about the nutritional supplements that I take, especially those that target weight loss. I recently discovered the new Fembody Nutrition line which appeals to me because it is designed specially to meet the needs of women with naturally based formulas. I decided to try to products in the line including Slim Select 30/90 and Appetite Control 100.
Slim Select 30/90 is designed to support a weight loss program and includes natural ingredients like Green Select® Green Tea Extract, InnovaTea™ Natural Tea Extract and Raspberry Ketones. I really like that I did not have any jittery feelings despite the fact that this product does have caffeine in it. The product suggests that it has been clinically shown to "demonstrate average weight loss of 30lbs in 90 days." I have taken it as directed for one month and along with healthy eating and exercise program have steadily lost a total of 6 pounds. I would definitely continue to take this product because there were no unpleasant side effects and I did see positive results from personally using Slim Select 30/90.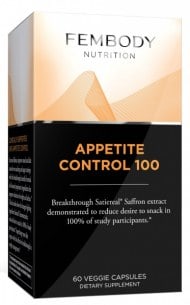 I really like the product, Appetite Control 100 because despite the fact that I eat healthy, whole foods I find myself snacking in the evening even when I am not necessarily hungry. In the end….a calorie is a calorie and if it is not needed then it turns to fat. The Appetite Control 100 was quite helpful for me because when taking this supplement, I don't even want to snack at night and instead drink hot tea or lots of water. What is the "secret" of this product? It uses Satiereal® Sa-ffron extract which is "demonstrated to reduce desire to snack in 100% of study participants." I am not an expert by any means but I do know when something works for me and I am pleasantly surprised with how well this helps me to control my desire to snack at night.
If you are looking for a natural supplement line that has been designed specifically for women then I recommend visiting the Fembody Nutrition website to learn more about it. This line is available exclusively at GNC stores or you can purchase it online now…..check out how you can receive great savings of up to 50% off by redeeming your coupon!
Giveaway
Two lucky readers will receive a bottle of Appetite Control 100!
a Rafflecopter giveawayCheck out the list of all my current giveaways!
*I did not receive any financial compensation for this review, though I did review a sample of the product for evaluation purposes. The opinions are based only on my experiences with the product.*