Shopping for someone who loves essential oils? Or maybe you are a fan yourself? I've rounded up the best essential oil gifts for any occasion!
I started using essential oils about 4 years ago and I couldn't imagine life without them. I even started selling them to friends and family. I use them for DIY projects (think soaps and bath products), cleaning supplies, health & wellness and to just make my house smell better. I have three cats and they stink. Essential oils help in so many ways.
These essential oil gifts are products that I personally would love to receive as an essential oil lover. Incorporating more essential oils into my home and life is a good thing.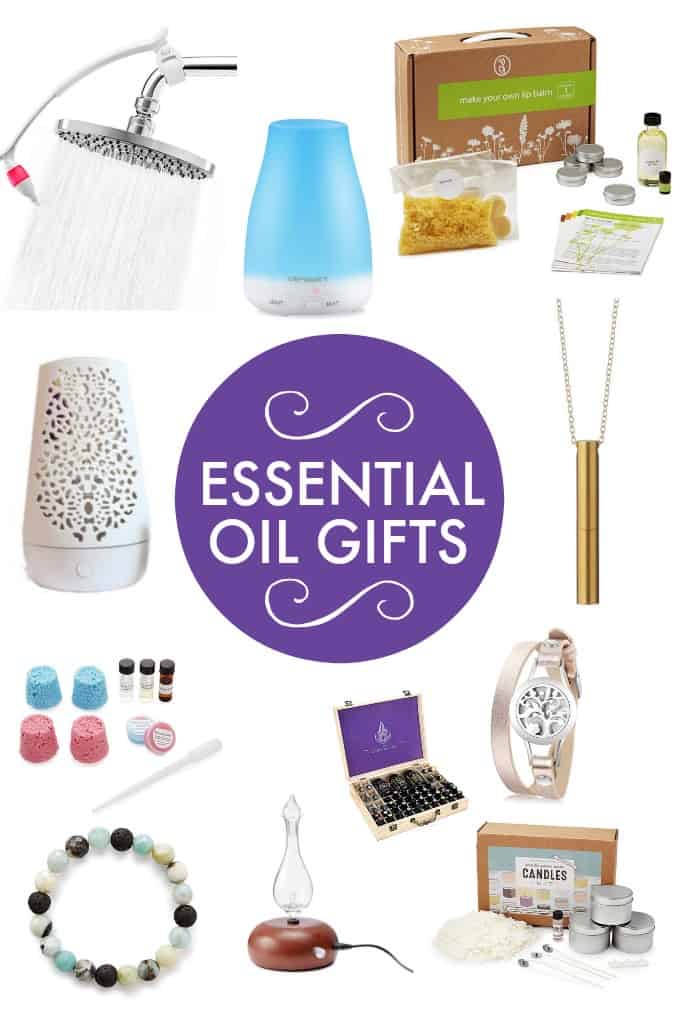 Essential Oil Gifts
This post contains affiliate links.
1. Amazonite Essential Oil Diffuser Bracelet. Add a drop of essential oil to this colourful lava rocks bracelet and breathe in your favourite scent all day long.
2. Personal Aromatherapy Pendant. This pretty gold plated pendant includes three essential oil wick blends to energize and refresh.
3. The Aromatherapy Shower Kit. Get a spa experience every time you shower. Aromatherapy does a body good.
4. Nebulizing Aromatherapy Diffuser. Add some style and scent to any space in your home.
5. DIY Lip Balm Kit. Everything you need to make your own lip balm at home! Who said DIY beauty was hard?
6. DIY Candle Making Kit. Make three lovely soy wax candles with this fun DIY kit! Who knew candle making could be so easy?!
7. Create Your Own Bath Bombs. A simple DIY kit that the kids can help you make. Bath bombs aren't the easiest thing to make, but this kit makes the process much simpler.
8. Essential Oil Recipe Box. Get four full size bottles oils plus supplies for DIY projects delivered every month. Use the coupon code STACIEVAUGHANFREE for a $40 gift card if you subscribe on the box (can be cancelled anytime) OR a free oil ($10 or less) for your first purchase. Shipping not included.
9. Lattice Air Diffuser. A beautiful decor piece that offers both function and style. It has no water reservoir to fill!
10. Essential Oil Wooden Box. I own two of these handy boxes to store my essential oils! Keep them all safe and in one place.
11. URPOWER Ultrasonic Aroma Essential Oil Diffuser. A humidifier that also doubles as a diffuser with different coloured lights.
12. Car Aromatherapy Essential Oil Diffuser. Breathe in your fave essential oils while you are driving. Stay alert and stay relaxed.
13. Essential Oil Diffuser Bracelet. A beautiful bracelet and a diffuser for your fave scents. I actually own this piece.
14. Stress Less Box. Receive relaxation items right to your doorstep. Each box includes healthy snacks, bath products, organic teas and more.
For more info about essential oils, check out How to Use Essential Oils to Clean Your Home, How to Use Essential Oils Around Your House and Headache Balm.
You might also like this unicorn gift guide, Harry Potter Gift Guide or 9 Ways to Declutter Your Mind.
Are you a fan of essential oils?