If you have ventured into the planning world at all, you have probably heard of Erin Condren planners. They are one of the most popular brands of high-end planners, notebooks, and other stationery that helps you stay organized.
This post contains affiliate links.
As you are browsing through the selection of Erin Condren planners, you may notice the high price tag. While $50+ isn't something hardcore Erin Condren fans would mind paying for their planner, a beginner may question the value and whether or not their Life Planner is worth the cost.
Let's take an in-depth look at Erin Condren planners and find out if they are right for you!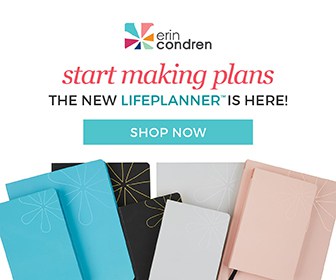 Erin Condren Life Planner
When it comes to the Erin Condren Life Planner, you have a few different options that have evolved as the need for different layouts and such has been raised.
With this planner, you have the choice of three weekly layout options. You can do a vertical or horizontal layout if you don't plan your hours precisely. However, if you do want that kind of structure, the hourly layout may work better.
The vertical layout of the Erin Condren planners provides you with a bit more room for additional notes, meal planning, fitness tracking, and more. You also have your days broken down into three sections with the vertical option.
You can also choose your colour scheme for the entire planner. Opt for a colourful theme if you don't want to decorate much. Choose the neutral theme if you prefer to start with a blank canvas and decorate your planner just the way you like it.
Erin Condren planners come in 12-month and 18-month options, depending on when you are purchasing – and when you want to start. Each month inside the planner features an extra lined page for brainstorming, lists, and other important details.
Finally, you have the opportunity to customize your cover and coil of your planner to really make it your own. There's a new hardbound option of the Life Planner available now if you want the extra protection for your plans.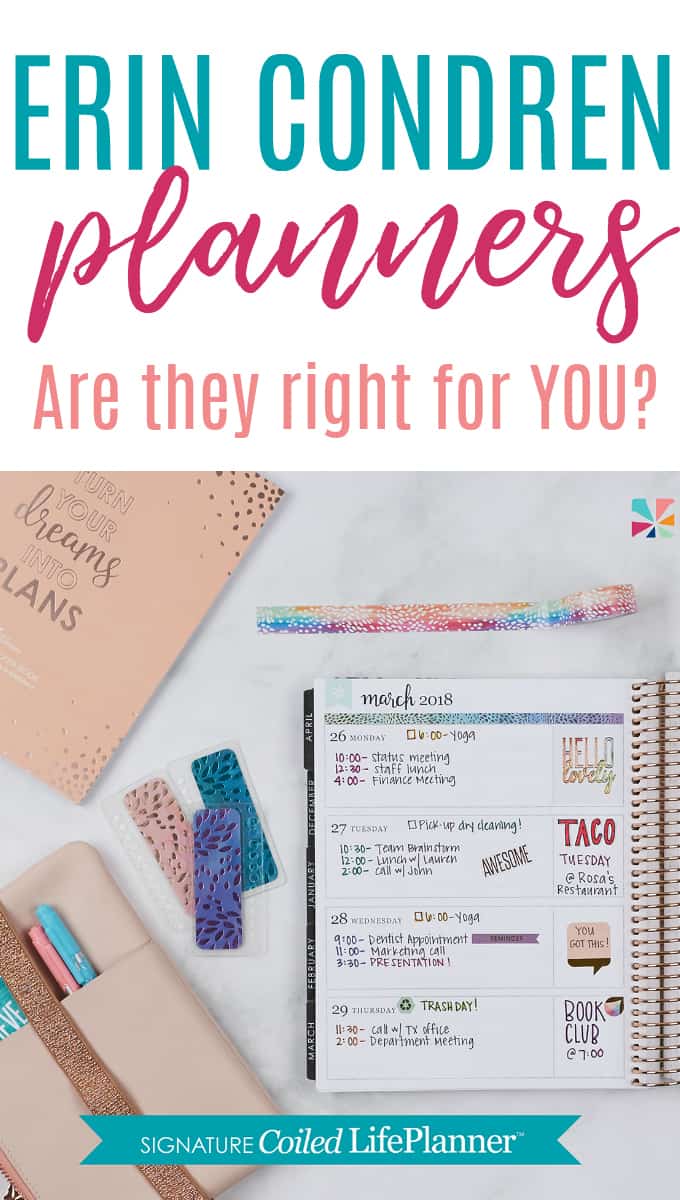 Erin Condren Planner Accessories
You can get way more than a simple planner from Erin Condren these days. They sell a number of accessories that work with your Life Planner to make staying organized and on top of things very easy for you.
Four pages of stickers are included in all Erin Condren planners, so you don't have to spend so much time writing in common tasks, including pay days, reminders, and birthdays. The stickers are all colored to match the different month color schemes throughout the planner.
There's also a pouch inside each Erin Condren Life Planner, to hold extra stickers or note cards. This has a coil side where you can place it and replace it where you want in the book. The coiled place marker is also a nice addition, so you can flip right to the current page anytime you need!
As you can see, Erin Condren planners offer you a lot of great features and stylish options. If you are really ready to invest in your planning hobby, you may want to give EC a trial run!