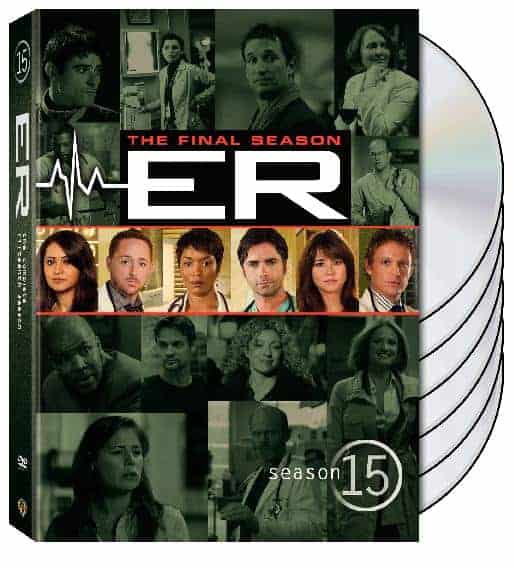 Title: ER: The Complete Fifteenth Season
Synopsis:
With sirens wailing, an ambulance pulls into the bay. Doctors coping with too little sleep and too many patients rush to help, making split-second judgments that can mean the difference between life and death. Gurneys roll. Tensions rise. Medical miracles — or heartbreaks — unfold. And the final season of ER goes out as it came in 15 seasons before — with an electrifying mix of complex characters, rich storylines, brisk pacing and kinetic style. Favorite characters from the past (some you expect, some may surprise you) return in this 22-episode valedictory season of the series that shattered the mold for medical dramas. You've come to the right place. Check in one last, momentous time at County General.
DVD Bonus Features include:
Deleted Scenes
Previously on ER: Retrospective Featurette: A look back at the last 15 years of ER.
This 22 Episode Five-Disc Collector Set is now available from Warner Home Video for $49.98 (SRP).
My Review:
ER has been on TV since as long as I can remember. I hadn't seen that many episodes, but after watching Season 15, I'm hooked. How I missed watching this amazing show is beyond me! I collect TV series so ER is now on my to-buy list.
I've really gotten into hospital TV shows as I've gotten older. I have always been interested in the medical field so watching these doctors work on trauma cases is fascinating. It's amazing the things you can learn from watching TV. In this season, there were moments that were very sad that made me cry. When someone dies I always feel for the families and even the doctors who worked so hard to help the patient.
One of my favourite episodes on this season was the one where a little girl was admitted for a fall and they immediately blamed the mother for child abuse. It turned out that the younger sister was crazy after she tried to harm her sister TWICE while she was in the hospital receiving treatment. That episode sent chills up my spine.
John Stamos plays an ER doctor and he is amazing! I also really liked Scott Grimes who plays Dr. Morris. These are just a couple of the well known actors on the cast of ER. Even Angela Bassett plays the chief of the ER and is great at playing the no nonsense boss who is hard on the exterior but does have a softer side.
Even if you haven't watched ER, you could still figure out what's going on. I can't wait to find the previous 14 seasons to complete my ER collection and watch this fast-paced and exciting show.
Buy it online at the WBshop.com!
*I did not receive any financial compensation for this review, though I did review a sample of the product for evaluation purposes. The opinions are based only on my experiences with the product.*