If you look in your pantry right now, chances are you'll find a box of Windsor Salt. I have several boxes in mine and I use them in various ways around my home. Salt is something we use in our recipes, cleaning tasks and even for health. My Grandma June always told us to gargle with salt water any time we had a sore throat.
Windsor Salt is one of Canada's oldest and most well-known brands. I bet I could walk down my street knocking on doors and my neighbours would also have a box of Windsor Salt in their home too.
At the grocery store, you may notice that Windsor Salt products look a little different. They've had a brand refresh featuring a new logo and product packaging. It still has that iconic blue castle that we associate with the brand, but it has a more modern, fresh look. Here's a peek!
I've partnered with Windsor Salt to share two recipes in the next couple weeks where salt is the star ingredient. The recipe I'm sharing today features Windsor Kosher Salt in these yummy Egg Dress-Ups.
I typically use Windsor Table Salt in my recipes so using Windsor Kosher Salt was a new experience for me. It's more coarse than regular salt, but can also be used to enhance the flavour of your food. You can also use it in brining and rimming cocktail glasses.
This recipe would be great to serve at a party and create a "salt bar" to serve with hardboiled eggs. Guests can sprinkle on the salt mixture of their choice. It's a quick recipe to whip up for unexpected guests.
You'll need a box of Windsor Kosher Salt and several spices from your spice rack to prepare Chili Salt, Herb and Garlic Salt and Paprika Salt. It's so easy to make and the hardest part is boiling the eggs. You can prepare those ahead of time so everything is ready to serve.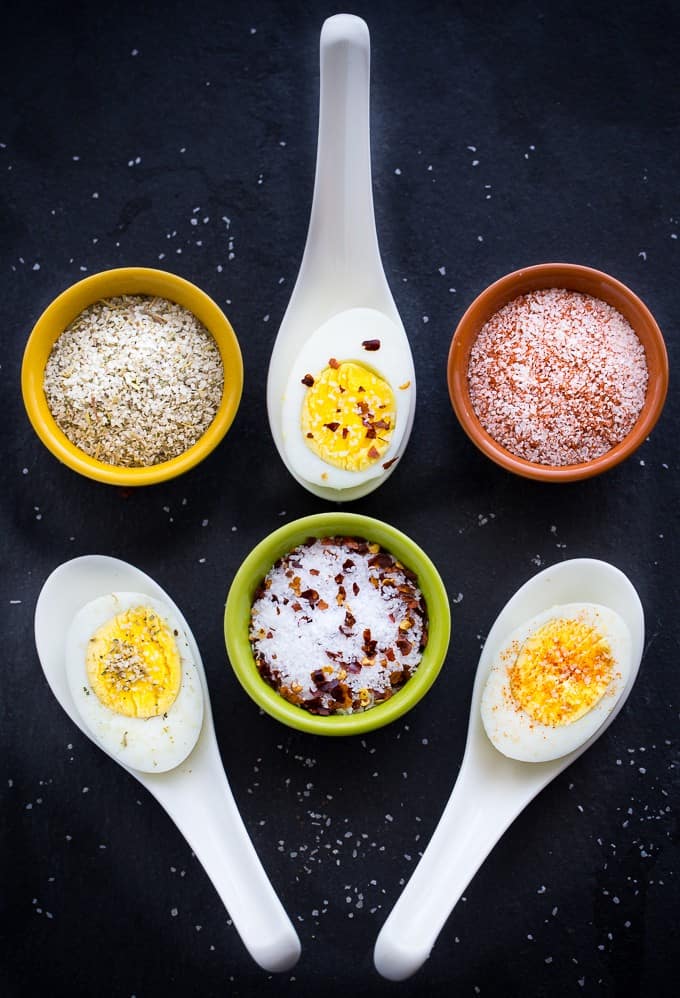 I served them for lunch this week with the salts sprinkled on top. My favourite was the Herb and Garlic Salt and John said his was the Paprika Salt. You'll have quite a bit leftover so you can use the salts in other recipes. The next day I made tuna sandwiches and added the Herb and Garlic Salt into the tuna mixture. Delish!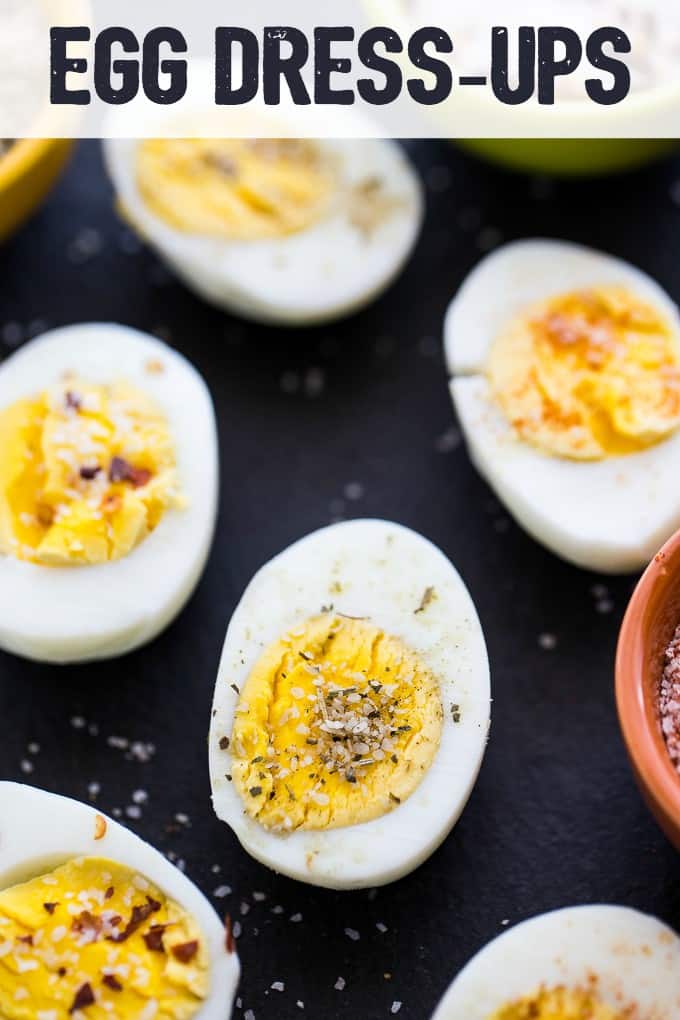 After making these flavoured salts, my mind is brimming with other combinations to try. How about a citrus salt with Windsor Kosher salt and lemon zest? Yum!
With Mother's Day coming up, make mom a batch of homemade flavoured salt in a decorated mason jar. Add some stickers and ribbon to pretty it up.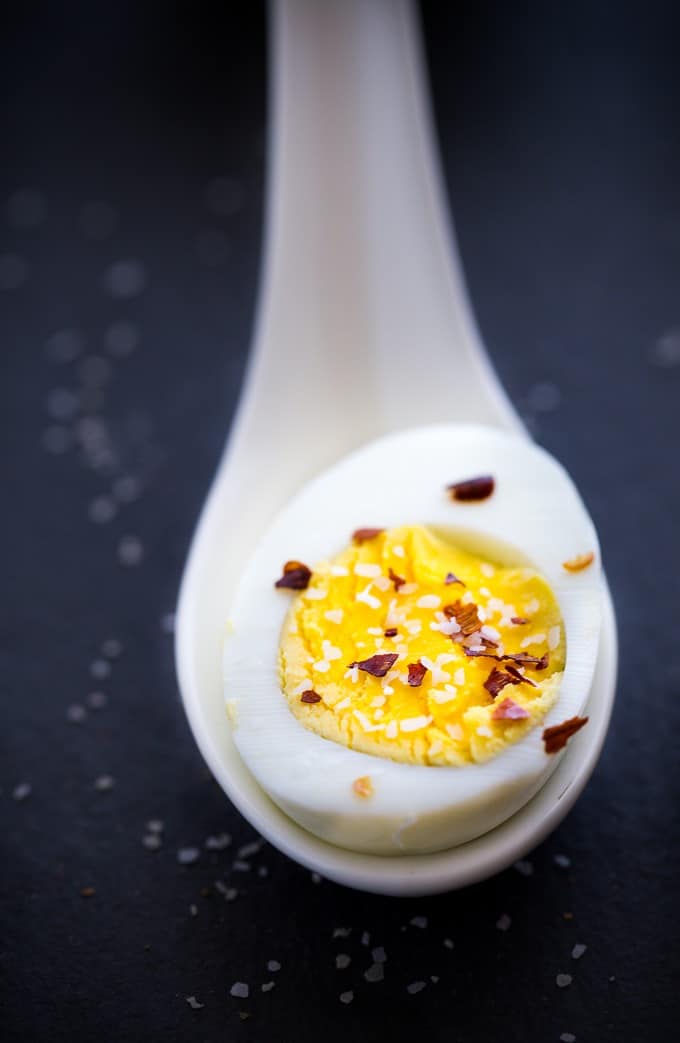 For more ways to use Windsor Salt in your meals, check out these delicious recipes. Keep an eye on my blog over the next week because I've a scrumptious dessert recipe coming up. You will not want to miss it!
You'll also want to try this Egg Salad Sandwich or Bacon Ranch Deviled Eggs.
How do you use Windsor Salt in your recipes?
Connect with Windsor Salt on Facebook and Twitter.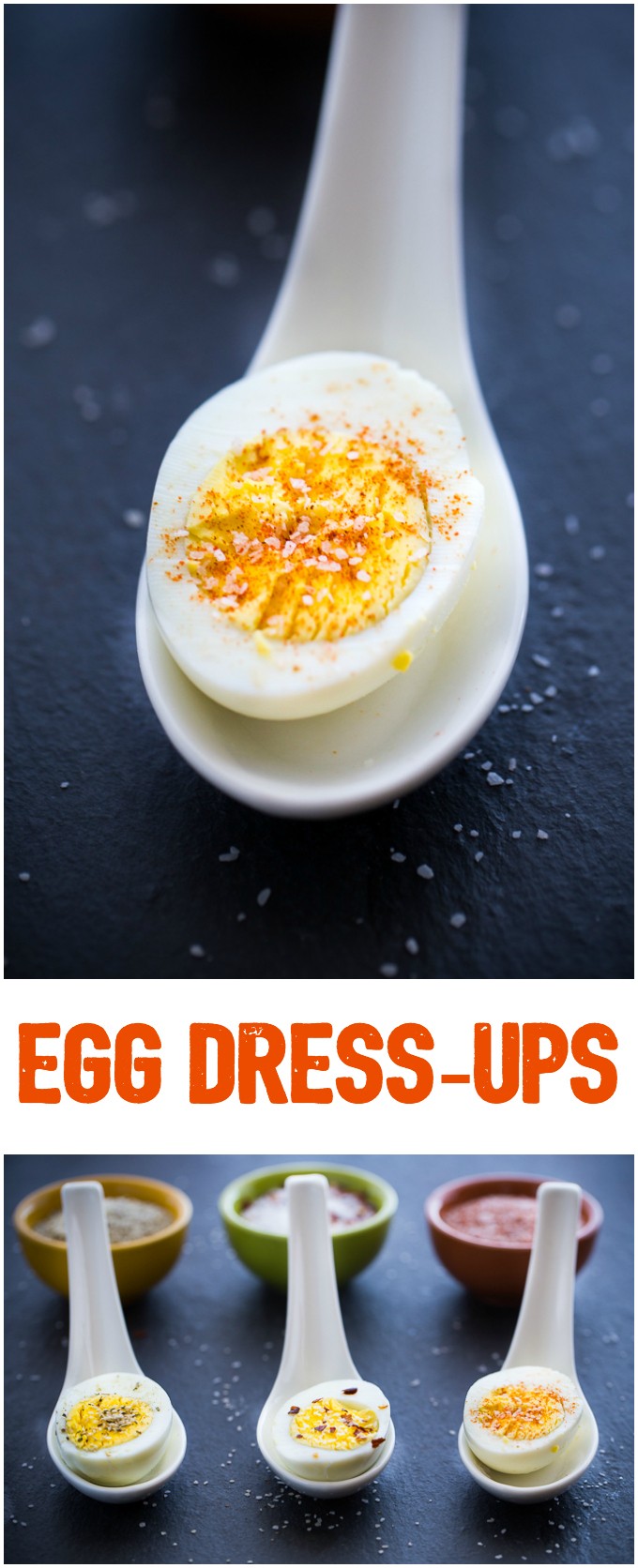 Egg Dress-Ups
Add an extra punch of flavour to your next batch of hardboiled eggs. Chili Salt, Herb and Garlic Salt and Paprika Salt makes this dish POP!
Ingredients
8 large eggs, hard cooked, cooled and peeled
Chili Salt
1/4 cup Windsor® Coarse Kosher Salt
1/2 tbsp red pepper flakes*
pinch granulated sugar
Herb and Garlic Salt
1/4 cup Windsor® Coarse Kosher Salt
1 tsp dried rosemary, crushed
1 tsp dried thyme, crushed
1 tsp dried basil, crushed
1/2 tsp garlic powder **
Paprika Salt
1/4 cup Windsor® Coarse Kosher Salt
1 tbsp paprika***
Instructions
Cut eggs in half lengthwise just before serving. Assemble the eggs on a serving platter or in individual spoons or cups.
Prepare the three flavoured salts combining the ingredients as listed.
Serve eggs with salt for either sprinkling or dipping. Store leftover flavoured salts in air-tight containers for later use.
Notes
*For increased heat, toast in frying pan briefly before adding to salt
**If desired, substitute garlic powder with onion powder
***Or Spanish hot smoked paprika
Recommended Products
As an Amazon Associate and member of other affiliate programs, I earn from qualifying purchases.
Nutrition Information:
Yield:

8
Serving Size:

1
Amount Per Serving:
Calories:

77
Total Fat:

5g
Saturated Fat:

2g
Trans Fat:

0g
Unsaturated Fat:

3g
Cholesterol:

186mg
Sodium:

10682mg
Carbohydrates:

1g
Fiber:

1g
Sugar:

0g
Protein:

7g
Disclosure: I was compensated for this post. All opinions expressed are my own.