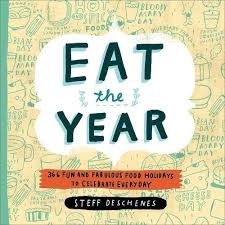 *I received a copy of this book for review, but was not compensated financially in any way. The opinions expressed are my own and are based solely on my experiences while reading this book.*
Title: Eat the Year: 366 Fun and Fabulous Food Holidays to Celebrate Every Day
Author: Steff Deschenes
About the Book
Based on the popular blog Almanac of Eats, EAT THE YEAR is a tribute to food-lovers everywhere and a fun calendar cookbook that introduces a national food or drink holiday for every day of the year. From National Baklava Day to National Cheese Lover's Day, and from National Whipped Cream Day to National Bloody Mary Day, author Steff Deschenes includes an array of food holidays that are as diverse as they are delicious.
EAT THE YEAR includes 366 food-related quotes from pop culture (one for each day of the year – even Leap Day), fun food facts and trivia, cute commentary, a little bit of food history, 50 recipes, and whimsical two-color line drawings all packed into one fascinating culinary journey.
My Review
I've often been inspired to share a recipe based on a food holiday. You must have heard of some of them and there are A LOT of food holidays. Just about every food you can think of is celebrated at least one day a year…or so it seems! Steff Deschenes took the concept of food holidays and started a blog on the topic. Every day she would eat recipes from whatever food holiday it was that day. This fun idea grew in popularity as readers started following her blog and now she has written a book on her area of expertise.
Eat the Year is a fun, easy read full of interesting commentary, recipes, trivia and more. It includes 366 food-related quotes from pop culture, 50 recipes to try and even some food history. Keep it on your bedside table and read a chapter a day starting with the current day or indulge a little and read it in one sitting.
Today, October 14th, is National Dessert Day. Steff notes that it is also National Chocolate Covered Insect Day. Who knew there would be a day for that??? I'll stick with desserts thank you very much.
It's an engaging read and Steff's personality shines through in her commentary on each day. I marked down a few of the recipes to try including Shepherdess Pie for National Clean Out Your Refrigerator day on November 15th. I also liked the random food facts being the trivia buff that I am. Impress your friends with your knowledge of when the first Yorkshire pudding recipe was ever recorded – it was 1737! I also learned that eating almonds increases sperm count…..that I did not know!
Eat the Year would also make a nice gift for a foodie in your life. I'm keeping my copy handy so I can use it for inspiration when I'm stuck in a dinner rut. I don't know if I'd have the energy to do a food holiday every day for a year, but I do plan to try a couple!