Easter desserts are such a fun way to dress up your table. Bright colorful desserts that scream Easter fun.
I've been bookmarking Easter desserts to try! I've got a bunch pinned on my Easter board on Pinterest. There's so many to choose from so I need to narrow it down since a person can only bake (and eat) so much.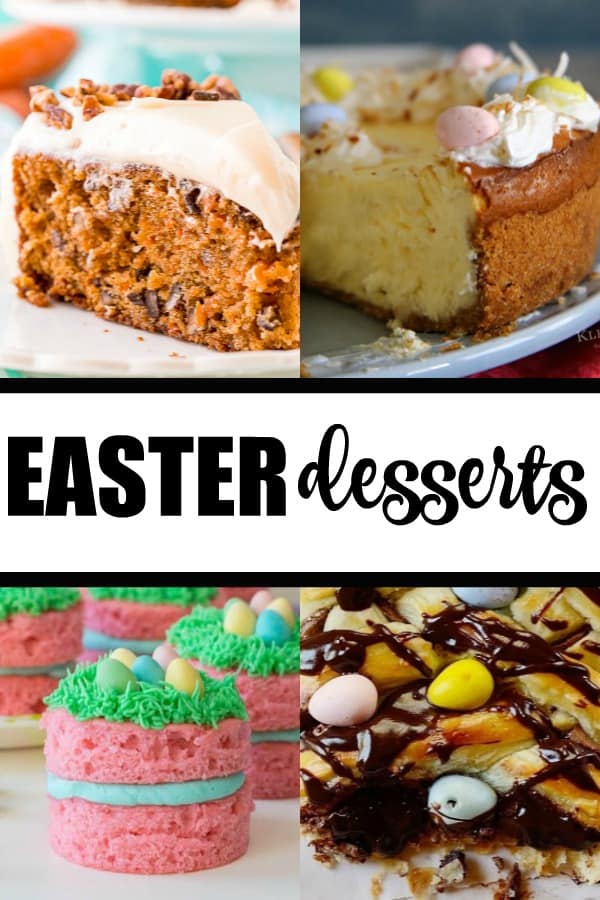 Easter Desserts
Whether you are looking for a creamy cookie dip, stunning Easter cake, or a classic cupcake recipe, I got you covered.
I wanted to create a list of top recipes that will win over anyone who takes one single bite of these rich and decadent treats.
These desserts are almost too cute to eat, but I can never turn down a dessert. The perfect way to end your Easter feast.
If you want even more Easter inspiration, check out my side dishes, salads, and more. I have tons of recipes to compliment your main feast that will be satisfying.
Making Desserts in Advance
One thing to always remember is that most desserts can be made in advance. Make sure to of course reference the recipe, but in general most recipes you can do in advance.
Whether it is making cookies in advance, doing a no-bake dessert, or even a cake or cupcakes. That way the day of Easter you can focus more on the main course and sides.
Just store your desserts properly and then get ready to serve.
What are Classic Easter Desserts to Serve
Cookies
Bird's Nest Cupcakes
Stunning Easter Cake
Bunny shaped cupcakes or even cake
Cheesecakes
Carrot Cakes
There are so many classic recipes you could make. I wanted to give you a nice mix of variety. I hope within this list you can find tons of recipes that might be the perfect fit.
Check out all these desserts below and let me know what your favorite one is!
Easter Desserts
It's time for Easter so why not celebrate the occasion with some scrumptious and sweet Easter desserts.