I never thought I'd say this, but I'm ready to ditch my corded vacuum.
Corded vacuums can be a pain to deal with because I was always tripping over the cord and it seemed to be always in the way. It was heavy to lug around. I hated going up and down the stairs with it and sometimes would skip over vacuuming the basement because I just didn't want to deal with it. However, I figured they still got the job done and that was what mattered.
Disclosure: I received a vacuum for review purposes. All opinions on this post are my own. This post contains affiliate links.
Little did I realize that there was a new vacuum out there that would take away all my vacuuming pain points and still do an awesome job cleaning my floors.
The new Dyson Cyclone V10 Absolute cordless vacuum has convinced me to change my ways. It's a cord-free vacuum with amazing suction power. It cleans even better than my corded vacuum. I'm not even kidding.
About the Dyson Cyclone V10 Absolute
Normally, corded vacuums are associated with strong suction and power. The Dyson Cyclone V10 Absolute works so well that James Dyson has announced that he will no longer be investing in the development of new corded vacuums! When I heard the news, I couldn't believe it. No more corded vacuums? After testing out the new Dyson vacuum in my home, I can totally see why he would make this decision.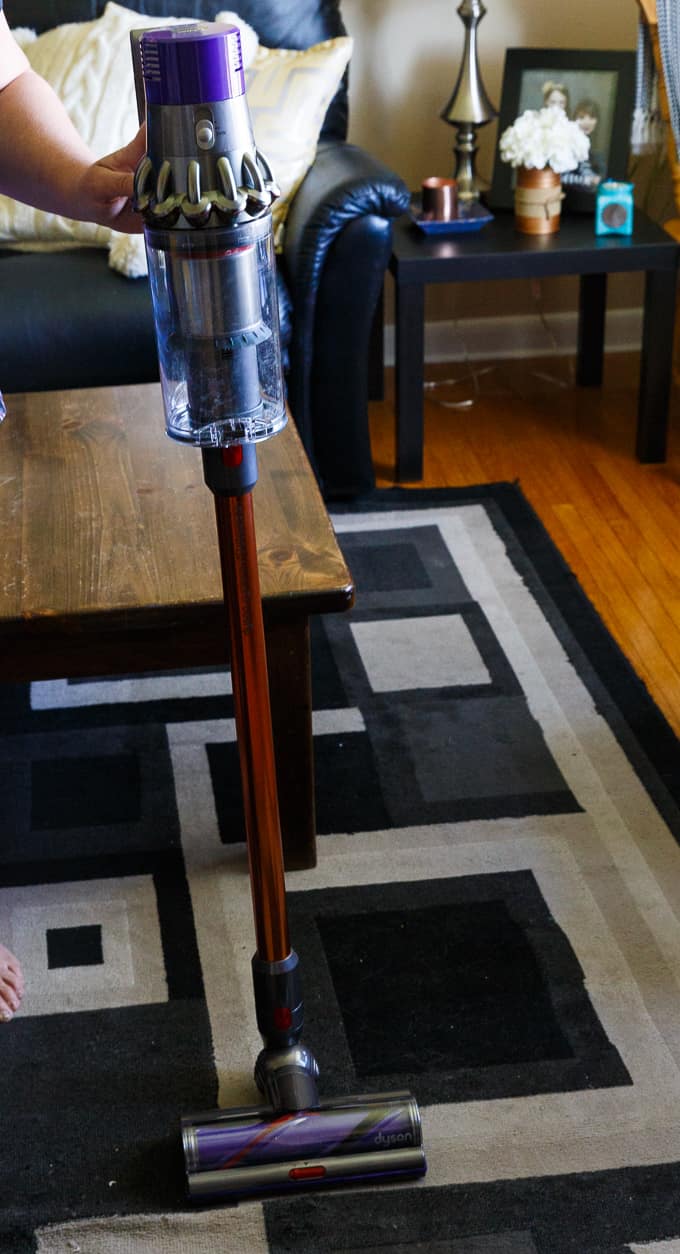 The Dyson Cyclone V10 Absolute has been redesigned to be smaller, but more powerful with its V10 digital motor. It has the suction power you'd expect from a corded vacuum, but with the versatility and convenience of a cordless vacuum. The best of both worlds in one handy tool!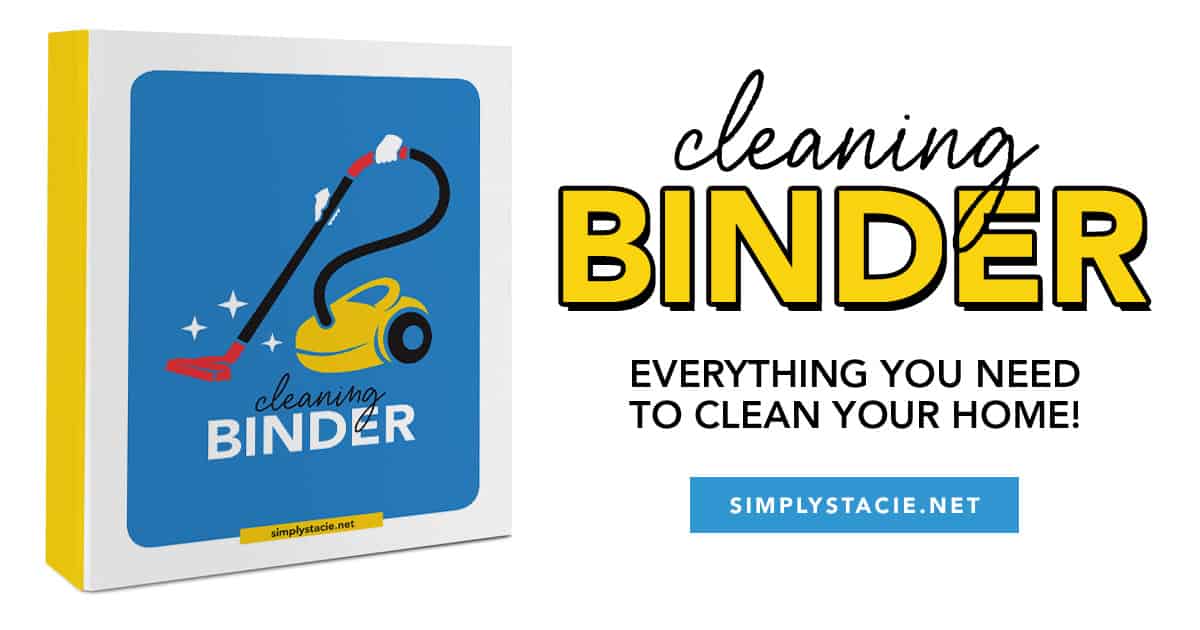 It's battery operated so there is no cord to contend with. Yipee! The battery pack will give you up to 60 minutes of run time. It also has a 40% larger bin so you can collect more dirt and debris. I have three cats so a larger bin is appreciated. I'm shocked at how much cat hair accumulates into seemingly clean carpets.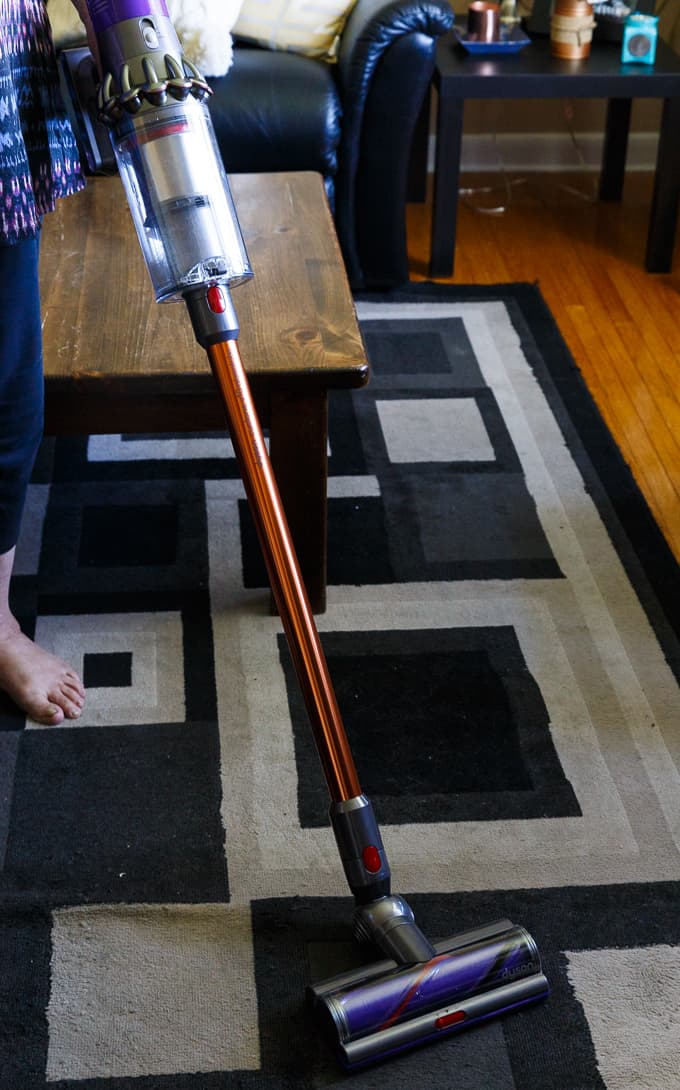 The torque-drive cleaner head is newly designed, too. It removes 25% more dust from carpets and digs deep to clean ground-in dirt and pet hair. My carpet looked cleaned, but I thought I'd run the vacuum over it anyways. I was sooooo shocked at how much dirt and hair it pulled out. I was grossed out thinking about how long the dirt/hair had been stuck in there and I didn't even realize it!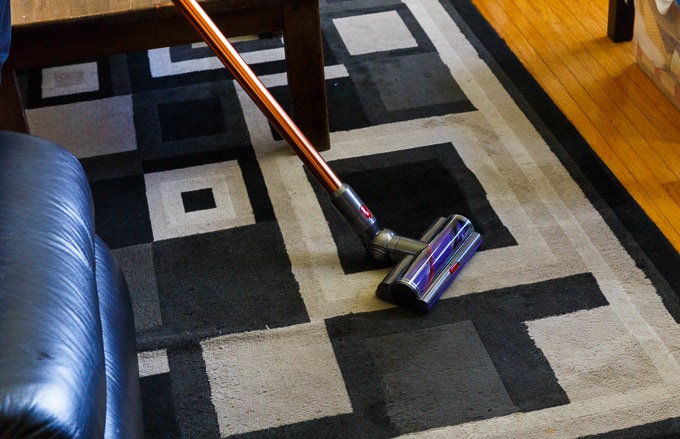 It also comes with a soft-roller cleaner you can use on your hard flooring to pick up both large visible debris and fine dust. I have an area rug in my living room, but the rest of my upstairs is porcelain tile and hardwood. It makes cleaning the floors a million times faster than simply sweeping.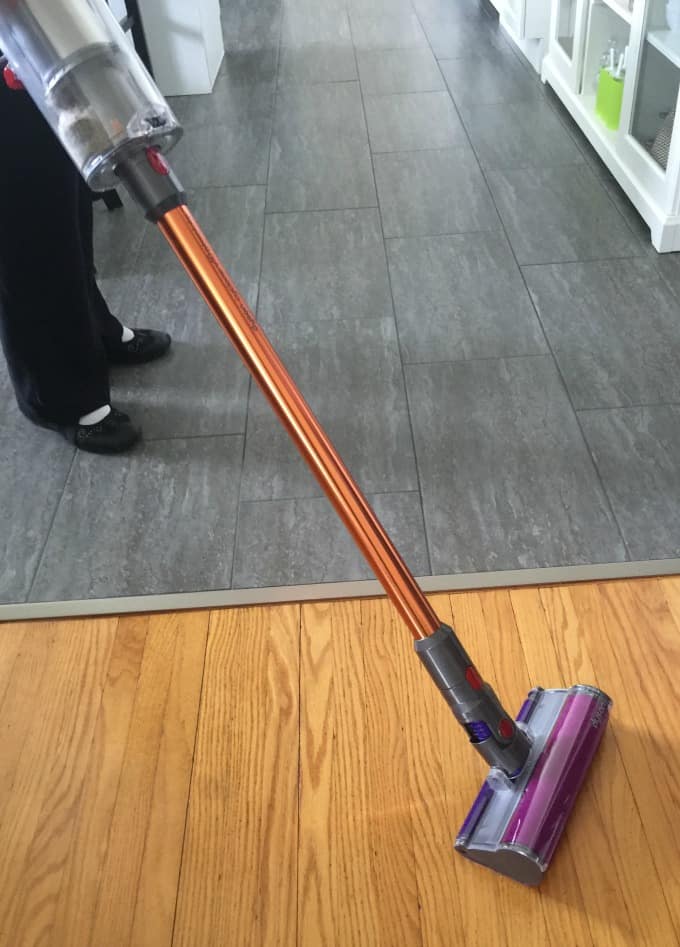 The Dyson Cyclone V10 Absolute has shortened the amount of time I spend cleaning the floors in my home. I can quickly vacuum the carpets, both up and downstairs, and then do the hard floors in a matter of minutes. I think it's cut my cleaning time in half!
I use it to clean my stairs which are always full of cat hair. My cats like to sleep on the stairs so it's always a bed of hair waiting for me. I can clean easily clean my furniture and get underneath, clean the baseboards and get into tiny nooks and crannies with ease.
Dare I say, I'm actually enjoying vacuuming? It's so simple now with it being lightweight to carry around my home. I think my favourite thing about this vacuum is the suction power. You can feel how powerful it is when you are vacuuming. I like knowing that it's getting all the dirt so we aren't breathing it in. This vacuum made me a believer in cordless vacuums.
Want to try it for yourself? You can buy the Dyson Cyclone V10 cord-free vacuum at DysonCanada.ca for $799.99. It is worth every penny, in my opinion!
Are you ready to make the switch to a cordless vacuum?