One recipe that is never missing from our summer BBQs is potato salad. Whenever I visit my parent's house, I can always count on a big bowl ready to serve with our hotdogs and hamburgers. Though there are many varieties of potato salad online with a diverse array of ingredients, this Dutch Potato Salad recipe is one of my favourites. It's flavourful, creamy and delicious.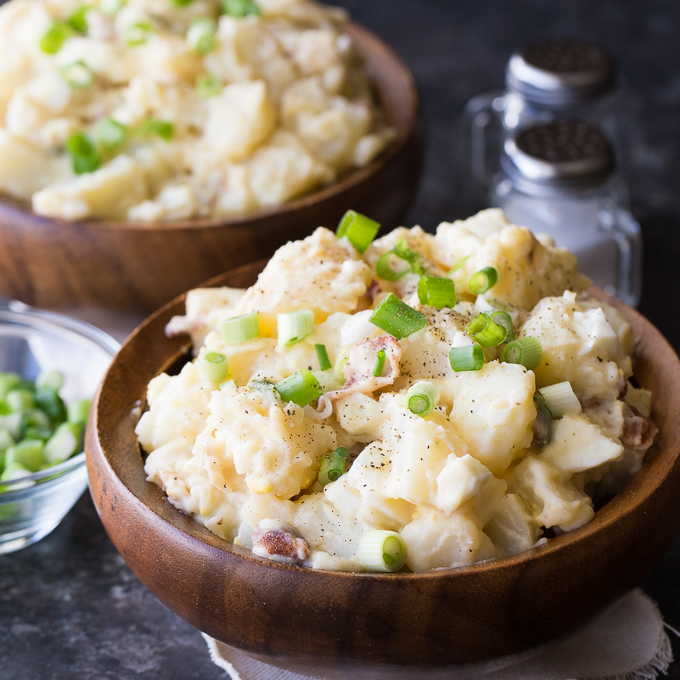 Dutch Potato Salad
I got this recipe from one of my mom's old church cookbooks. She's been making this Potato Salad for years and once you try it, you'll see why it's so well loved in our family. No, we are not Dutch or don't live in the Pennsylvania Dutch vicinity. I know that potato salad is huge among the Pennsylvania Dutch people, hence the name of this salad.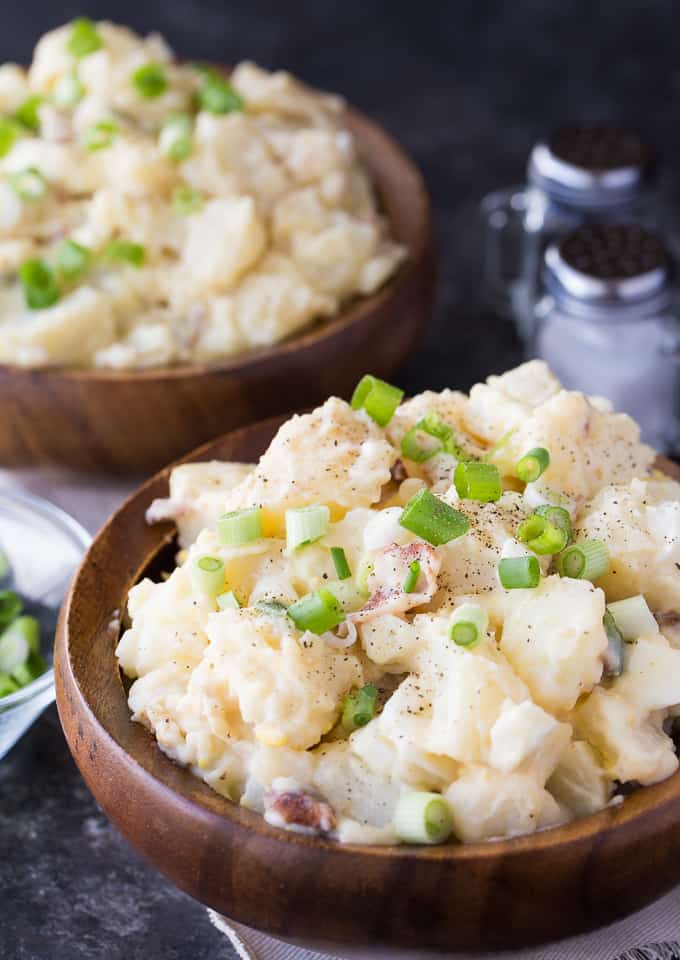 This potato salad recipe has potatoes (duh!), bacon, eggs and onions. I love eggs in my potato salad. What about you?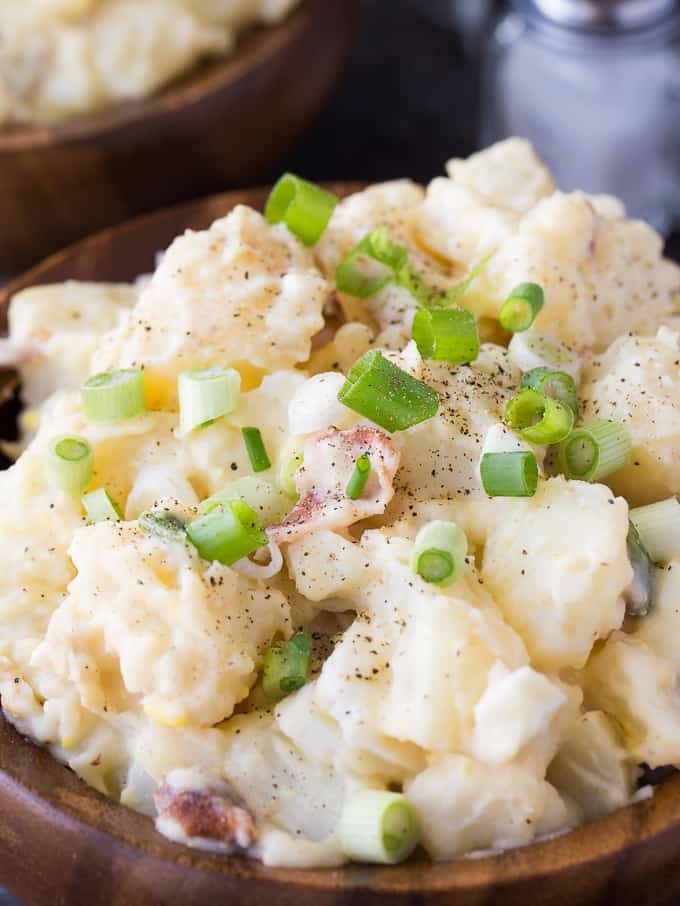 How to Make Dutch Potato Salad
The first step is to cook the potatoes. I simply boil mine on the stove until they are fork tender. I used regular white potatoes.
Next, you'll prepare the dressing on the stovetop. In a small saucepan, add the flour, brown sugar, water and vinegar. Whisk in the Miracle Whip and then stir until it slightly thickens. Remove it from the heat.
In a large bowl, combine the cubed, cooked potatoes, cooked bacon, chopped hardboiled eggs and green onions. Pour the dressing over top. You can enjoy this salad warm or cold. It tastes yummy either way.
If you have a while till you serve the salad, put it in the fridge to chill. Food safety matters.
Helpful Kitchen Tools
This post contains affiliate links.
Can you freeze potato salad?
It's not recommended because the Miracle Whip will separate once it thaws. It also might be mushy. Make it fresh if you can or prepare it ahead of time and keep it in the fridge up to 3 days.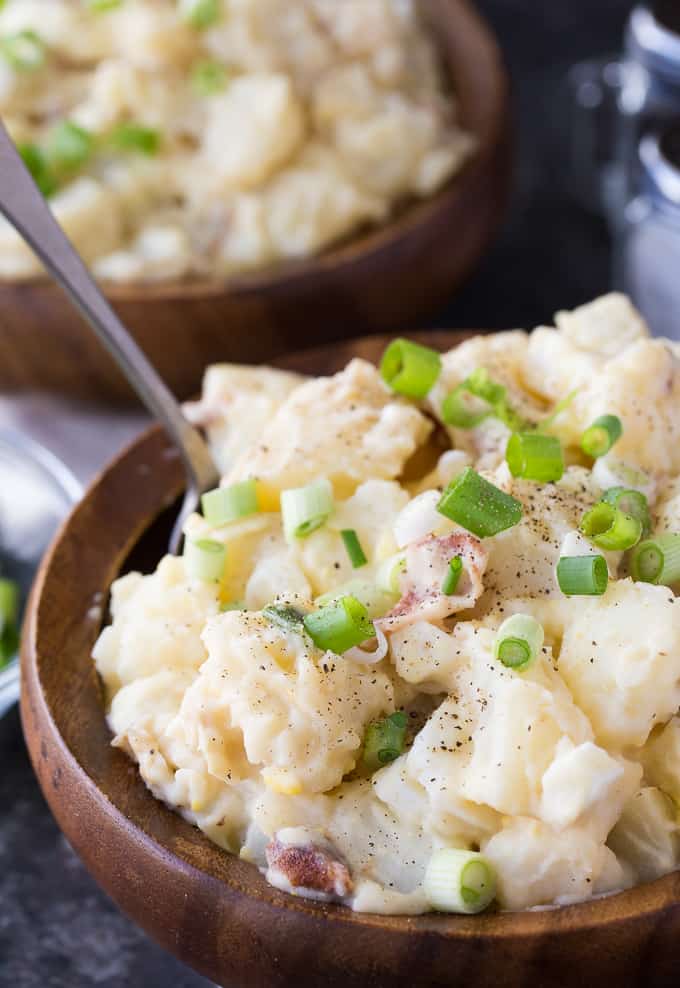 What to Serve with Dutch Potato Salad
Potato salad is considered a side dish and it's not something you'd typically eat as the main dish. Although I have done it in the past….
Normally, you'd serve hotdogs or hamburgers with a heaping dollop on the side. It also pairs nicely with steak and grilled chicken.
I find potato salad very filling so I never eat a huge bowl of it. Just a nice sized scoop for me is all I ask.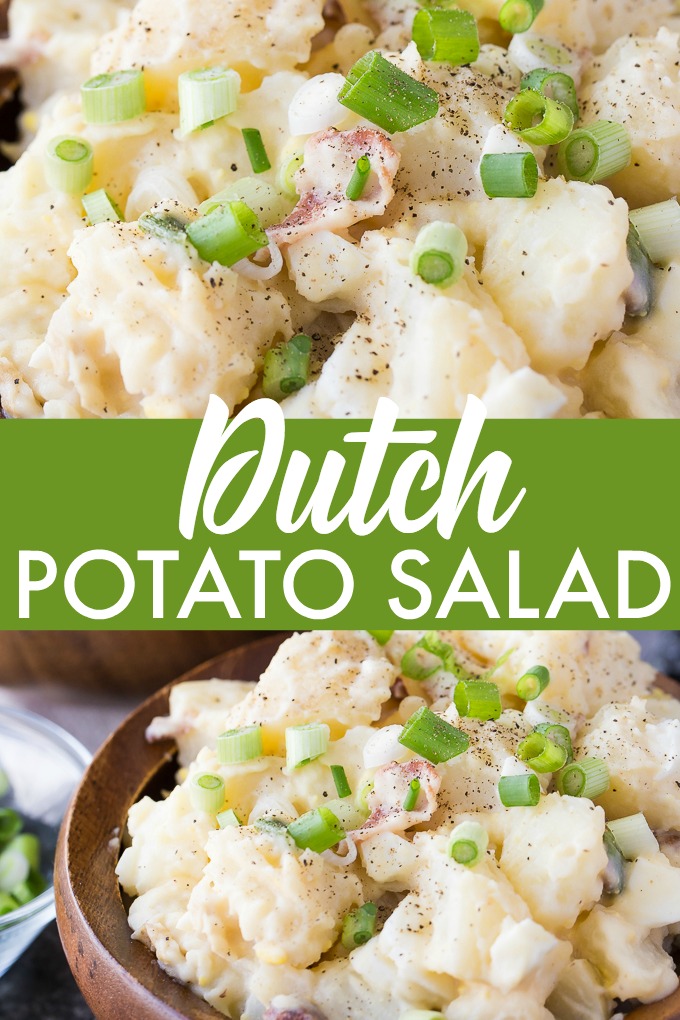 Even my picky girls like it! I think the fact that it has their fave breakfast of bacon and eggs in it helps just a tad.
I also have a Herb Potato Salad, Ranch Potato Salad, Warm Caesar Potato Salad, Cheese Potato Salad and German Sausage & Potato Salad that you might like. Other summer side salads that are good are Beet Salad, Italian Pasta Salad and Mustard Chicken Salad.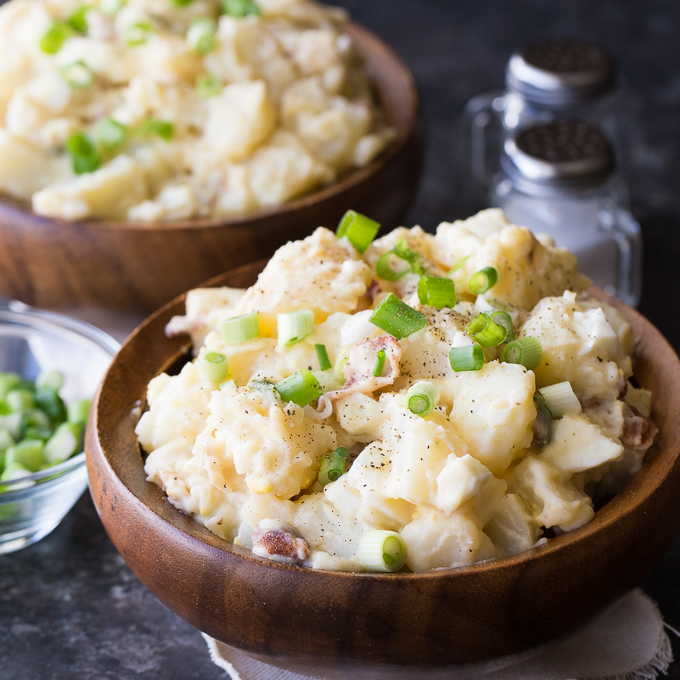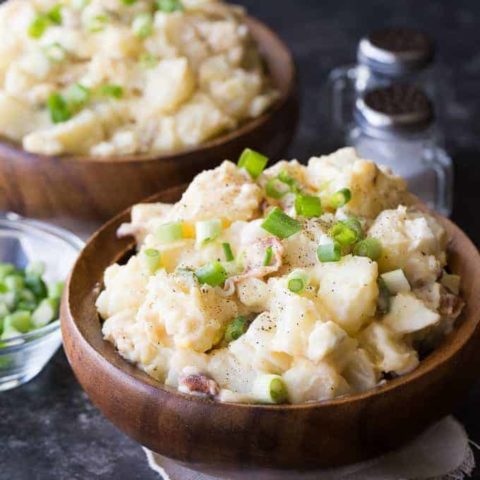 Dutch Potato Salad
My favorite side dish! Add hard boiled eggs, bacon and green onions to this tangy and super creamy potato salad.
Ingredients
1 tsp flour
2 tbsp brown sugar
1/2 cup water
1/4 cup vinegar
1 cup Miracle Whip
8 potatoes, cubed and cooked
4 strips bacon, cooked and crumbled
3 eggs, hardboiled, chopped
3 green onions, sliced
Instructions
In a small saucepan over low heat, add flour, brown sugar, water and vinegar. Whisk in Miracle Whip and stir until slightly thickened. Remove from heat.
Add potatoes, bacon, eggs and green onions to a large bowl. Pour dressing over top and mix to combine. Serve warm or cold.
Recommended Products
As an Amazon Associate and member of other affiliate programs, I earn from qualifying purchases.
Nutrition Information:
Yield:

6
Serving Size:

1 bowl
Amount Per Serving:
Calories:

362
Total Fat:

11.3g
Saturated Fat:

3.6g
Unsaturated Fat:

6g
Cholesterol:

109.2mg
Sodium:

543.5mg
Carbohydrates:

55.2g
Fiber:

7.8g
Sugar:

11.1g
Protein:

10.5g