My youngest daughter Bridget's favorite subject is art. She loves drawing, making crafts and doing anything where she can be creative. She comes by that naturally as my mom has an artistic flair as well. With the advent of technology, Bridget now has another artistic outlet to let her creativity shine through.
Sony and Intel recently provided me with my very own VAIO Tap 20 All-in-One PC, powered by the Intel® Core™ processor. It's a PC that is kid-friendly, but also perfect for busy moms to help run a busy household. It launched in Fall 2012 as the first of its kind Next Generation Family PC. Not only can you use it as a desktop computer, but it's also portable! The 20 inch IPS LCD Touch Screen has a built-in stand that can be viewed at desktop style at a 15ºangle or laid flat at a 90º angle (or any angle in between you find most comfortable!). With a built-in battery, you can easily carry it from room to room for the family to enjoy.
My 8 year old's favorite features are definitely the apps! They are optimized for responsive 10-point multi-touch operation and also have the ability for multi-users. This way the entire family can play games together on the large touch screen.
Family Paint is one of the apps included on the Sony VAIO Tap 20 All-in-One PC. Your children can create beautiful works of art using either the touchscreen or wireless mouse and keyboard. Two kids can also use it at the same time! If you select two-person mode, the screen will divide into two and each child will have their own canvas on either side of the screen. Plus, you can share the artwork on Facebook and Twitter for all to enjoy. Bridget wanted to make sure that Grandma saw her drawings!
Bridget had fun experimenting with the Family Paint app and we decided this past weekend to use it to create a Summer Journal.
On a blank canvas, we added our text and a variety of stickers related to summer. There's a large selection of stickers to choose from and Bridget really enjoyed selecting the ones that she thought best related to her favorite season.
We also made another canvas full of just summer themed stickers that we planned to use to decorate her journal.
This DIY Summer Journal is simple to make, but does require adult supervision when using the needle and thread. Other than that, Bridget was proud to have made it almost all on her own!

Tools & Supplies
Coloured Cardstock Paper
Glue
Decorative Duck Tape
Scissors
Heavy Duty Sewing Needle
Dental Floss or Thread
Lined pad of paper
White Printer Paper
Printer
Family Paint program on Sony VAIO Tap 20 All-in-One PC
Cereal Box
Pen or Pencil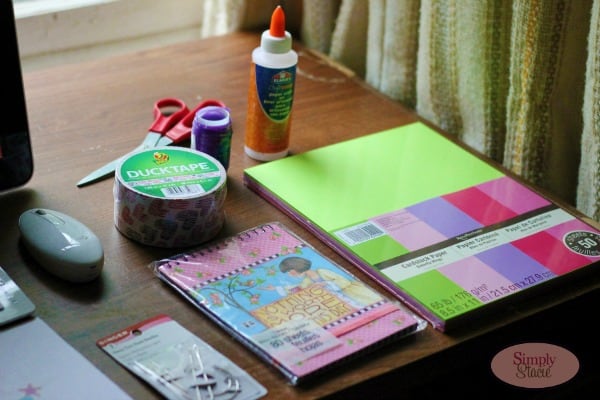 Step One: Fold sheets of Cardstock neatly in half.
Step Two: Group cardstock sheets together into sets of three.
Step Three: Thread your heavy duty needle with dental floss (or thread). Poke a hole with the needle about an inch from the top and bottom of each set of cardstock papers. Thread your needle starting out the outside of the first set through the three sheets of cardstock. Then thread through the next hole at the bottom and come out again on the outside of the set.
Take your next group of three cardstock sheets and repeat the process of puncturing the two holes down the crease. You'll go in from the outside of the set again and thread your needle through the two holes. This will combine the two sets together to make your book. Repeat this process for each set of cardstock.
Step Four: When you have all your cardstock sets threaded together, tie a knot at the end of the thread.
Step Five: Take a strip of your duck tape and fix it securely on the spine to hold everything together.
Step Six: To create the outside of your journal, take a cereal box and cut around your journal leaving about 1/2 inch extra room. Your front and back cover will be bigger than the pages of the journal.
Step Seven: Cut cardstock to fit the cereal box front and back covers. Glue the cardstock on the front and back cover.
Step Eight: Place your front and back cover on your journal. Place another strip of duck tape down the spine to hold it securely together.
Step Nine: Then comes my daughter's favorite part- the decorating! Cut out your sticker images that you printed from Family Paint and decorate the cover.
Step 10: Glue sheets of lined paper in your journal.
Step 11: Glue the sticker images that you printed from Family Paint throughout the book.
Step 12: Place a heavy book on top of the journal to flatten it out. I left mine on overnight and the next day it was perfectly flat like a journal should be!
The Summer Journal is now ready for your little one to get creative and share all his or her summer adventures!
I think Bridget's Summer Journal turned out beautifully and she was very excited when it was completed. She can't wait to bring it to Grandma and Poppa's over the summer vacation. It has room for her to write and draw pictures. It's also something special that she can treasure when she is older.
Connect with Sony on Facebook, Twitter, Pinterest, YouTube, Instagram and their blog.
I participated in this Sony/Intel sponsored post with Burst Media, all thoughts and opinions are my own.