Headaches and me are old friends. We've been on and off my whole adult life. Some years we are tighter than others. In the past several years, my headaches seem to only hit hard around my cycle. Hormonal headaches suck! This is one "friend" I don't want to have.
My go-to headache pain medicine used to be Tylenol or Advil. I would alternate taking one and then the other. Some days it wouldn't even touch the pain. Those headaches were likely migraines. Thankfully, they only hit a few times a year – knock on wood! Since late last year, I've changed my routine and instead of first reaching for analgesics to relieve the pain, I instead turn to natural pain relief – essential oils. At first, I doubted they would work. I was skeptical, but also willing to try it out and see if it made a difference.
To my surprise, I discovered essentials did help and, in fact, took the pain away altogether for some of my headaches. It was a light bulb kind of moment. I thought wow these things really do work! You have to see it for yourself to believe it and I saw them work for me.
I started experimenting with blending oils and the first DIY item I made was this Headache Helper Roll-On. It is super easy to make and will last you a long time!
This post contains affiliate links.
You'll need some Fractionated Coconut Oil, Lavender Essential Oil, Peppermint Essential Oil, Frankincense Essential Oil, a 10 ml roller bottle and a dropper. I also bought labels from Staples to identify what is in the bottle.
Fractionated Coconut Oil is a carrier oil for diluting the potency of essential oils. It goes on light and easily absorbs into the skin. I have sensitive skin and it doesn't bother me to use topically. It's very light in colour and looks almost clear when you add it to your roller bottle. It doesn't smell and won't stain your clothes. I've been using it to make most of my essential oil roll-on treatments!
I find these three essential oils very helpful for headaches: Lavender, Peppermint and Frankincense. Lavender is very soothing and promotes relaxation by helping to relieve tension. Peppermint has a cooling sensation which I find numbs the pain or at least take the edge off it. Frankincense is good for inflammation and helps relieve stress.
Add your essential oils to your roller bottle. Then fill up the roller bottle with fractionated coconut oil. I used a dropper to add in the oil so I wouldn't spill it. The essential oils come out slowly a drop at a time so you can just tip the bottle over the opening and count your drops as they go in. Put the roller ball back in and add the cap. Give it a few shakes and you are done!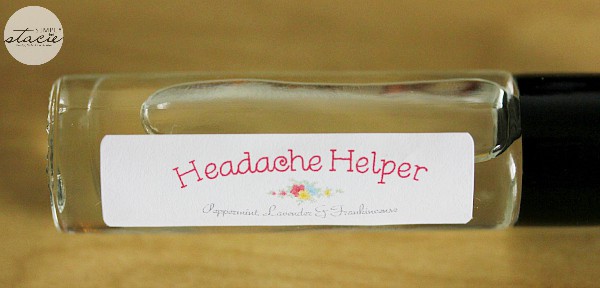 Every time you feel a headache coming on, apply your Headache Helper where it hurts. For me, it's normally above my eyebrows and at the base of the neck. I notice it starts to numb the pain almost right away. For mild headaches, I'll only need to apply it once and I'll be good for the rest of the day. For more severe headaches, I have to apply it a few times a day to take the edge off the pain. Those hormonal headaches are tough to tackle! It does help and allows me at least have a little bit of a productive day.
You might also like: How to use essential oils to clean your home.
How do you treat your headaches?
Disclaimer: Products, information, and descriptions presented here are for educational purposes and are not intended to diagnose, treat, cure, or prevent any disease. This information should not be used as a substitute for medical counseling with a health care professional. Individuals with serious illnesses should consult a qualified health care professional.
Instructions
Add essential oils to the roller bottle.

Fill the bottle up with fractionated coconut oil.
Kitchen Tools
The information shown is an estimate provided by an online nutrition calculator. It should not be considered a substitute for a professional nutritionist's advice.
Love Recipes? Join our Free Facebook Group!
Join Mom's Best Recipes to find more delicious family recipes.
Save
Saved!