My mom always made our Halloween costumes every year. She would start planning a couple months in advance and ask us what we wanted to be that year. As the oldest, I was the trend setter. My younger sisters would inherit my old costumes so it was exciting for me to come up with something creative.
My favourite was the year I was half man and half woman. We went to the local thrift store to pick up some men and women's clothes. My mom literally cut them in half and sewed them together. I was so proud of my costume that year. Everyone at school thought it was so neat.
Sadly, I didn't inherit my mom's sewing talent so my kids have worn the costumes at the department store. They were never as nice as the ones you can make yourself. If you are like me and prefer homemade, you'll want to check out these 25 DIY Halloween Costumes for Kids. Not only are they cute (and spooky in some cases), but many of them aren't that difficult to make yourself. If you're sewing challenged like me, your child can still have an awesome Halloween costume – one that both of you can be proud of!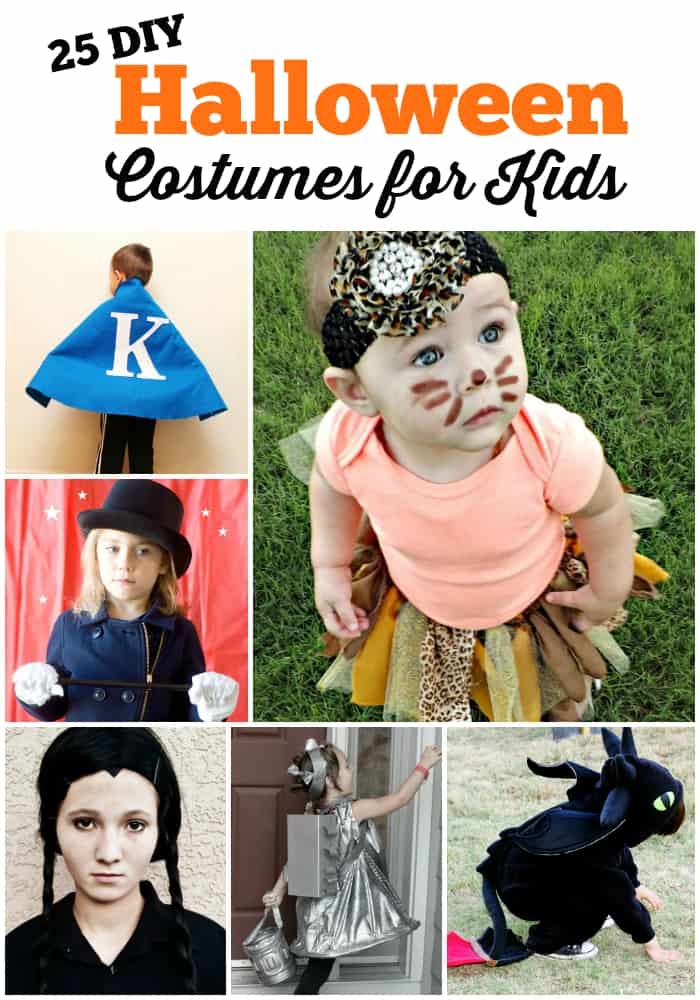 DIY Halloween Costumes for Kids
1. Space Girl
8. Mail Man
11. Easy Pinata
12. Scuba Diver
13. Clark Kent
14. Fairy Princess
17. Little Artist
18. Dinosaur Hoodie Costume
19. Cotton Candy
20. Little Lion DIY Fabric Tutu
21. Buzz Lightyear
22. Winter Soldier
25. Where's Waldo?
I have a few more years left for Halloween costumes with my youngest daughter. It's time to start planning what she will be this year. We are going to sit down together and look at this list and see what she wants to be! As for my 17 year old, I doubt she'll want mom to be making her costume this year.
Do you ever make your child's Halloween costume?