I think we've made at least 5 or 6 trips to the dump since our renovations went full-force in the fall. Most of the things we pitched were broken or really old and worn out. We had an old dresser that was in the spare room that had seen better days. At first, I thought let's bring this to the dump, but then I'd have to go and get a new dresser to use for storage. I figured why not try and salvage it and see what happens? I had some paint and primer left over from when I revamped my spice rack so it wasn't going to cost me much extra.
The dresser was covered in stickers and was just a hot mess. I scraped and sanded off the stickers as best as I could. I think that was the hardest part of the entire thing.
After sanding, the next step was a coat of gray tinted primer. I was using black paint so that's why I had them add a gray tint to the primer at the paint store.
It took 3 coats of paint to get it to the colour I wanted. I used Beauti-Tone Acrylic Latex Paint in Semi-Gloss and the colour is called "Kalamata". We picked up a small can at our local Home Hardware store awhile back.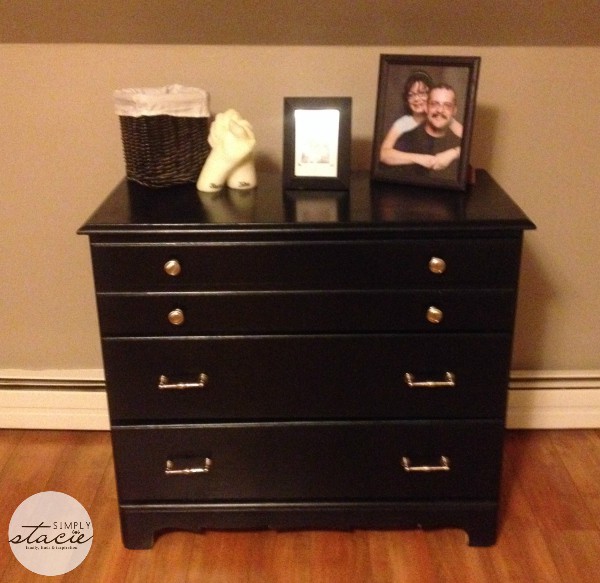 The hardware I bought in two spots: Walmart and Bargain Harley's. I picked up these 3″ Satin Nickel Traditional Pulls at Walmart. I didn't even know they sold drawer pulls there and it was a lot cheaper than the hardware store. The knobs were purchased during Bargain Harley's boxing day sale and cost me under $7.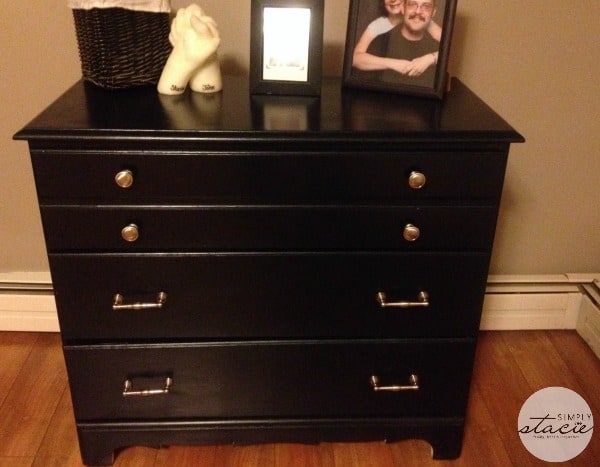 Really this project only cost me the drawer pulls since I already had the paint from previous projects. Good thing I like black furniture!
I think it looks a million times better than before. I was ready to take the dresser to the dump and am glad I gave it a chance. It now looks like a completely different piece of furniture.
What do you think? Was this project a "Paint or no?"