Death By Chocolate Cupcakes is a chocolate lover's dream. A homemade chocolate cupcake that is moist and rich in flavor topped with dark cocoa inspired frosting and drizzled with chocolate.
A good friend of mine insists chocolate is the best dessert EVER. She will never turn away anything chocolate. Though I enjoy chocolate, it's usually not my first choice when I'm choosing a dessert. I'm more of a caramel gal. However, I know there many, many people out there crazy for chocolate so this recipe is for YOU!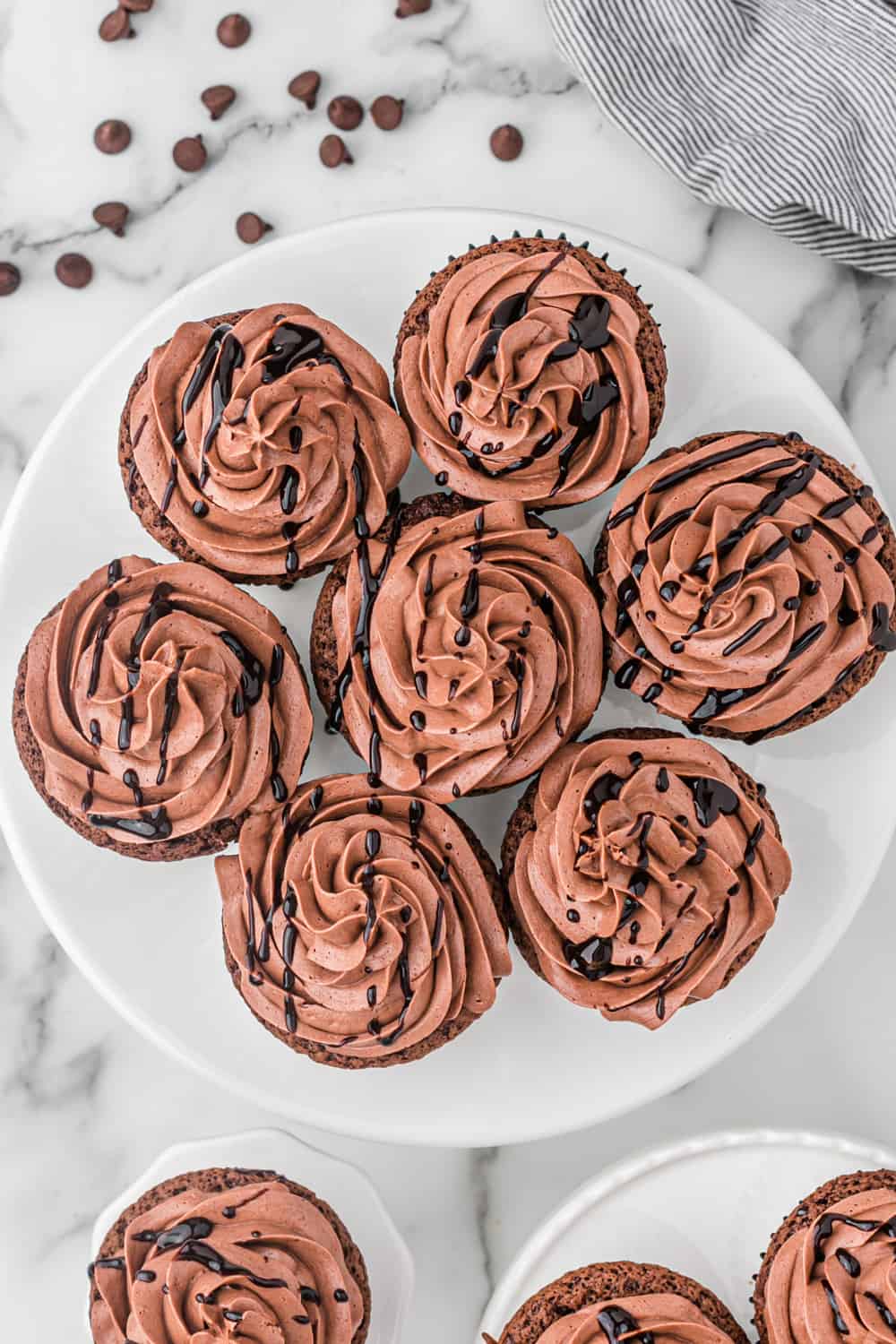 I call these guys Death by Chocolate Cupcakes. They have chocolate added in every step of the recipe. The dry ingredients have cocoa. The wet ingredients use melted chocolate chips. The frosting is made with dark cocoa. Then as an added bonus, chocolate sauce is drizzled over the top. It is VERY chocolatey as my hubby says!
These cupcakes are sweet and rich. One cupcake will likely satisfy your chocolate craving because it has so much of it packed in one small package.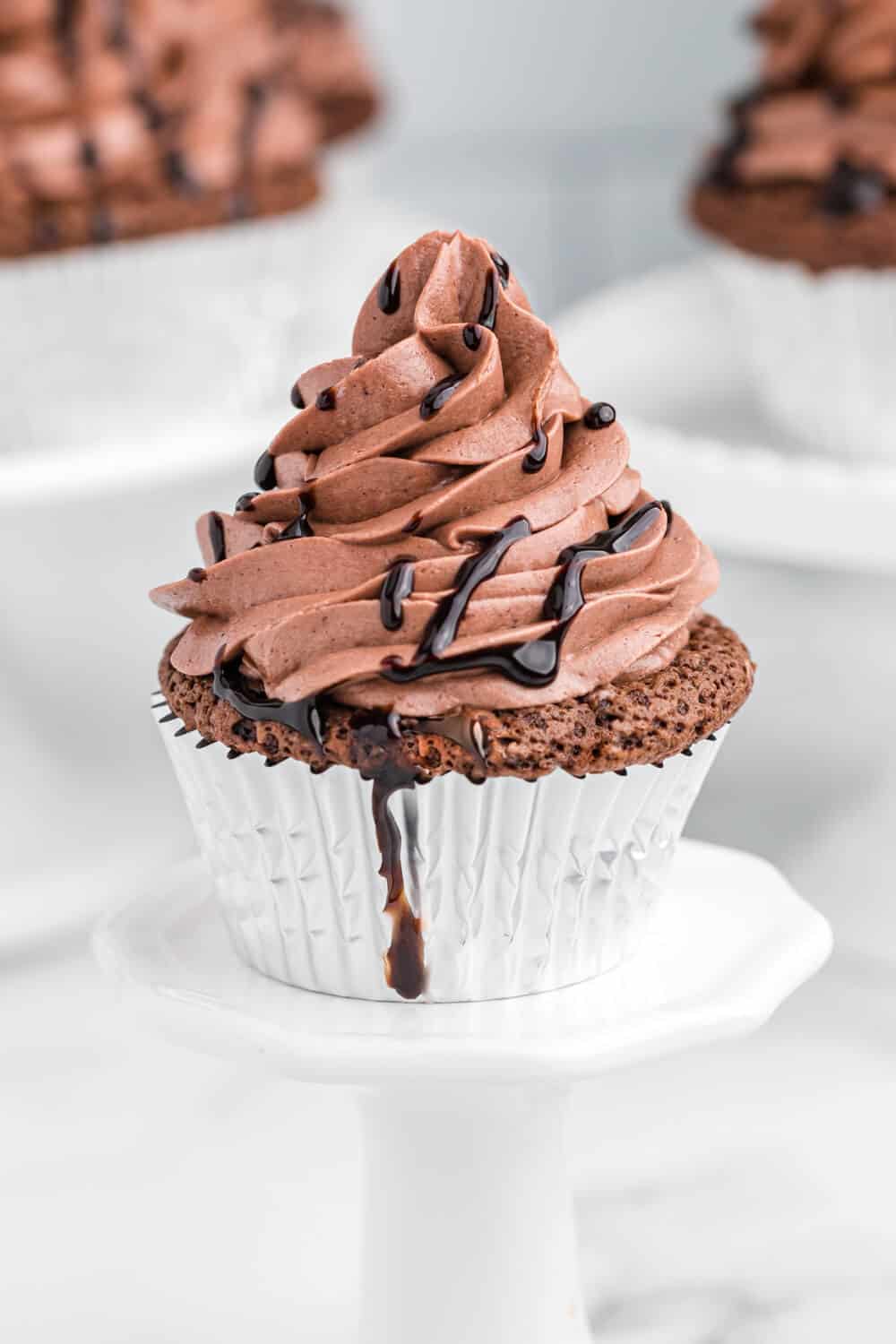 This post contains affiliate links.
I recently started frosting my cupcakes using Wilton tips. It's made a huge difference in presentation! However, you don't have to use one. The recipe will still work even if you frost with a butter knife! If you're curious, this is the set I have. And this is how I used to frost cupcakes. Yikes. Not the nicest looking for pictures, right?
Ingredients
For the cupcakes, you'll need these ingredients.
Butter
Sugar
Semi-sweet chocolate chips
Eggs
Egg yolks
Vegetable oil
Vanilla extract
Sour cream
All-purpose flour
Salt
Baking powder
Cocoa powder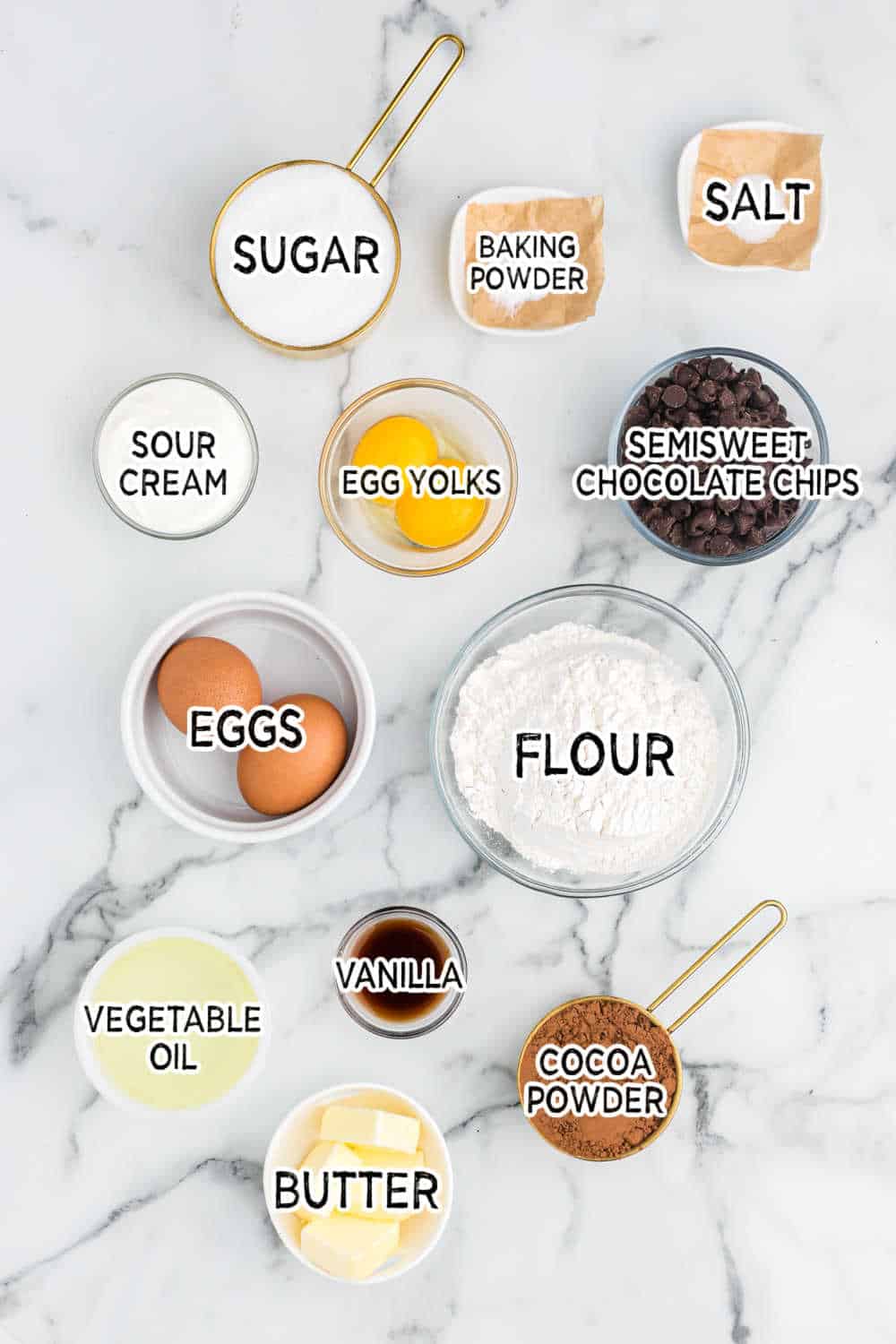 For the frosting, you'll need these ingredients.
Dark cocoa powder
Butter
Half and half
Vanilla extract
Powdered sugar
Chocolate sauce
How Can I Make My Chocolate Cupcake More Moist
Oil! This is the key to getting a super moist cupcake. I added butter for added flavor but also oil for that super light and moist texture you want in a cupcake. A bakery cupcake doesn't have stand a chance next to this recipe.
If you don't have vegetable oil you could easily swap with canola oil as well, as it won't change much flavor.
Why Are My Cupcakes Dry
The biggest key to making any baked good is measuring properly. If you add too much dry ingredients from improper measuring it could lead to a dry cupcake. Also, make sure that you don't overcook your cupcakes or they will turn dry.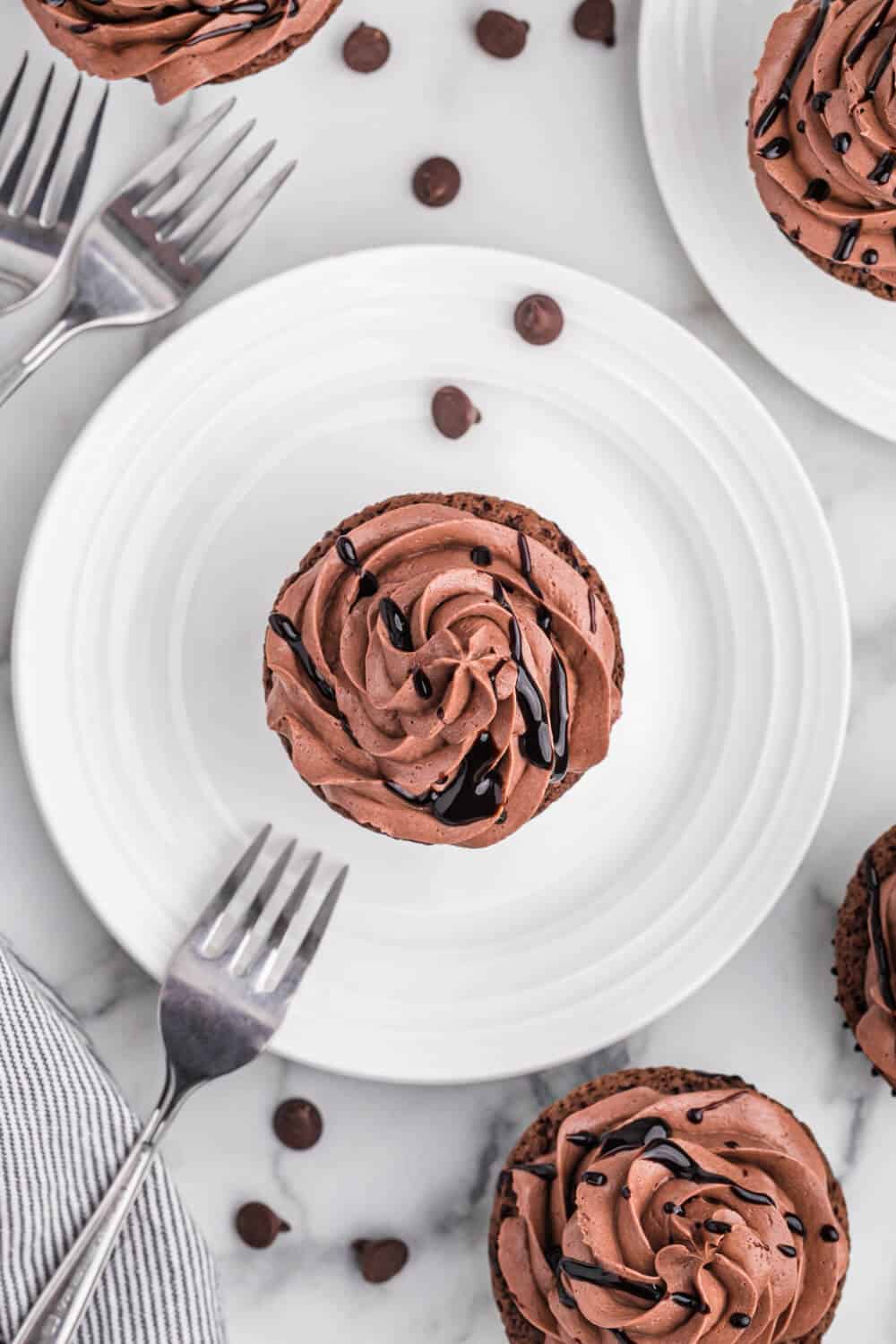 Tips for Making the Perfect Cupcake
Take time to preheat your oven so when you put your cupcakes in they bake in a hot oven
Measure your ingredients properly
Don't overmix your cupcakes
Watch the cupcakes as they bake, so you don't overcook them
Allow cupcakes to fully cool before you frost, or your frosting will melt
Can I Make Mini Cupcakes with this Chocolate Cupcake Recipe
Absolutely! Just bake your cupcakes for less time. Then frost as you would and enjoy. These are great as regular cupcakes, jumbo or minis.
Can I Make These Death By Chocolate Cupcakes Ahead of Time
You can bake these cupcakes ahead of time if you would like. Due to the delicate frosting, you will want to store the cupcakes in the refrigerator until you are ready to serve these cupcakes. Just place in an airtight container and then remove and serve. If you want them to be served at room temperature let them warm up on the counter for 30 minutes before serving.
Do Chocolate Lovers Cupcakes Freeze Well
They sure do. You can easily freeze these cupcakes as the cupcakes alone or add in the frosting if you want as well. Place in a container that is freezer friendly.
Do You Need Eggs for Cupcakes
I use whole eggs and egg yolks in this recipe. I find that it offers incredible texture and creates a stunning textured cupcake. If you can't have eggs you could use an egg replacement and this should work just fine.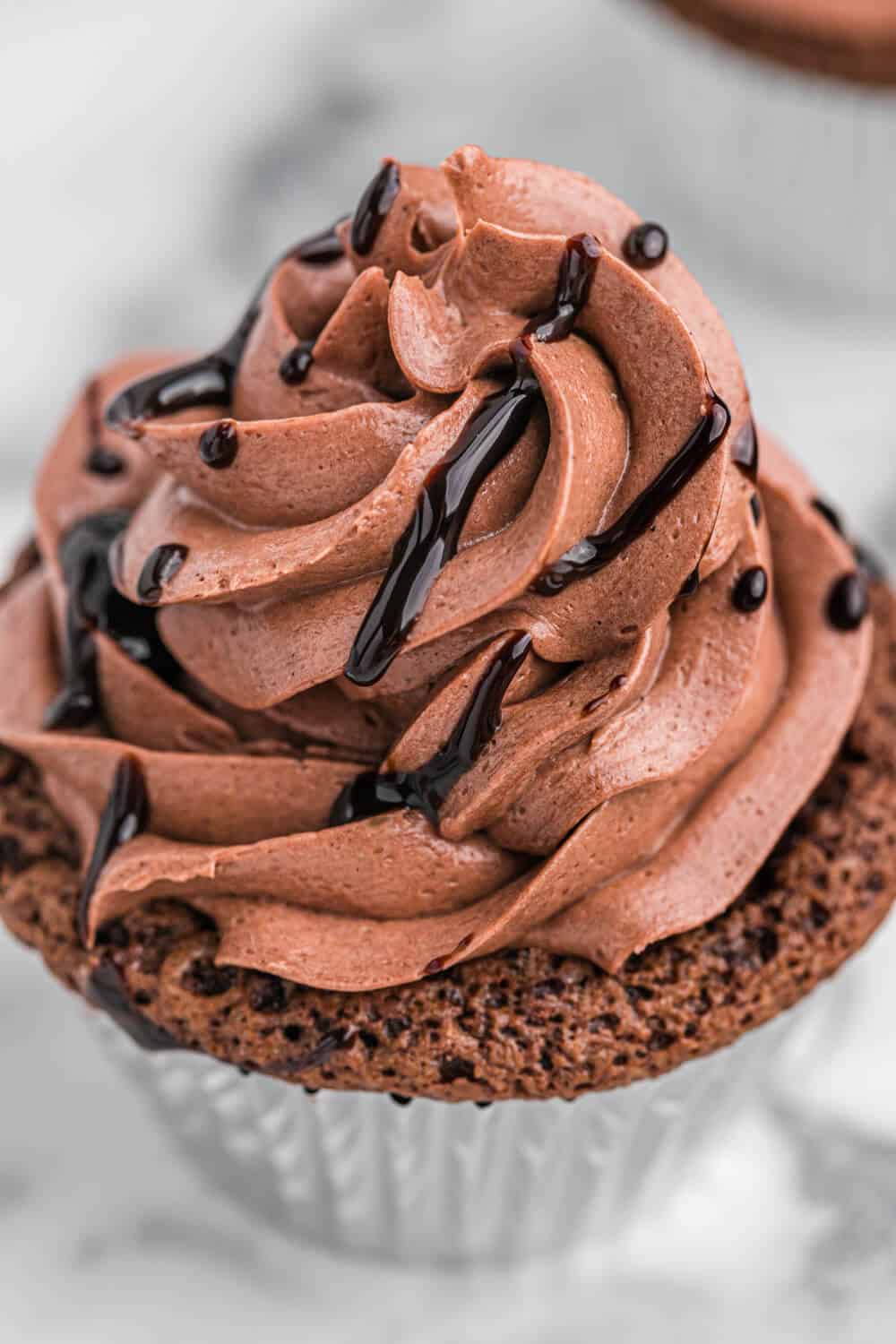 Ways to Decorate Your Chocolate Cupcakes
Add a drizzle of chocolate syrup
Top with chocolate sprinkles
Shave pieces of chocolate and sprinkle over the top
Use mini chocolate chips to top your cupcakes
You can find so many ways to dress up these chocolate cupcakes. Go simple or extravagant, the choice is yours!
Craving more chocolate recipes
No-Fail Chocolate Fudge | This is my tried and true chocolate fudge that turns out perfect every single time. I share my classic fudge recipe that is so simple to whip up.
Chocolate Surprise Bars | These bars are such a dense and decadent dessert. If you want a dessert to knock your socks off, I highly suggest this recipe.
No-Churn Chocolate Cake Ice Cream | Who said homemade ice cream has to be hard. These are a must make ice cream that has bits of chocolate cake throughout.
Birthdays, holidays, after school treat, and so many more options are the perfect reason to make these desserts.
You'll also like these Oreo Cupcakes.
What is your favourite flavour of cupcake?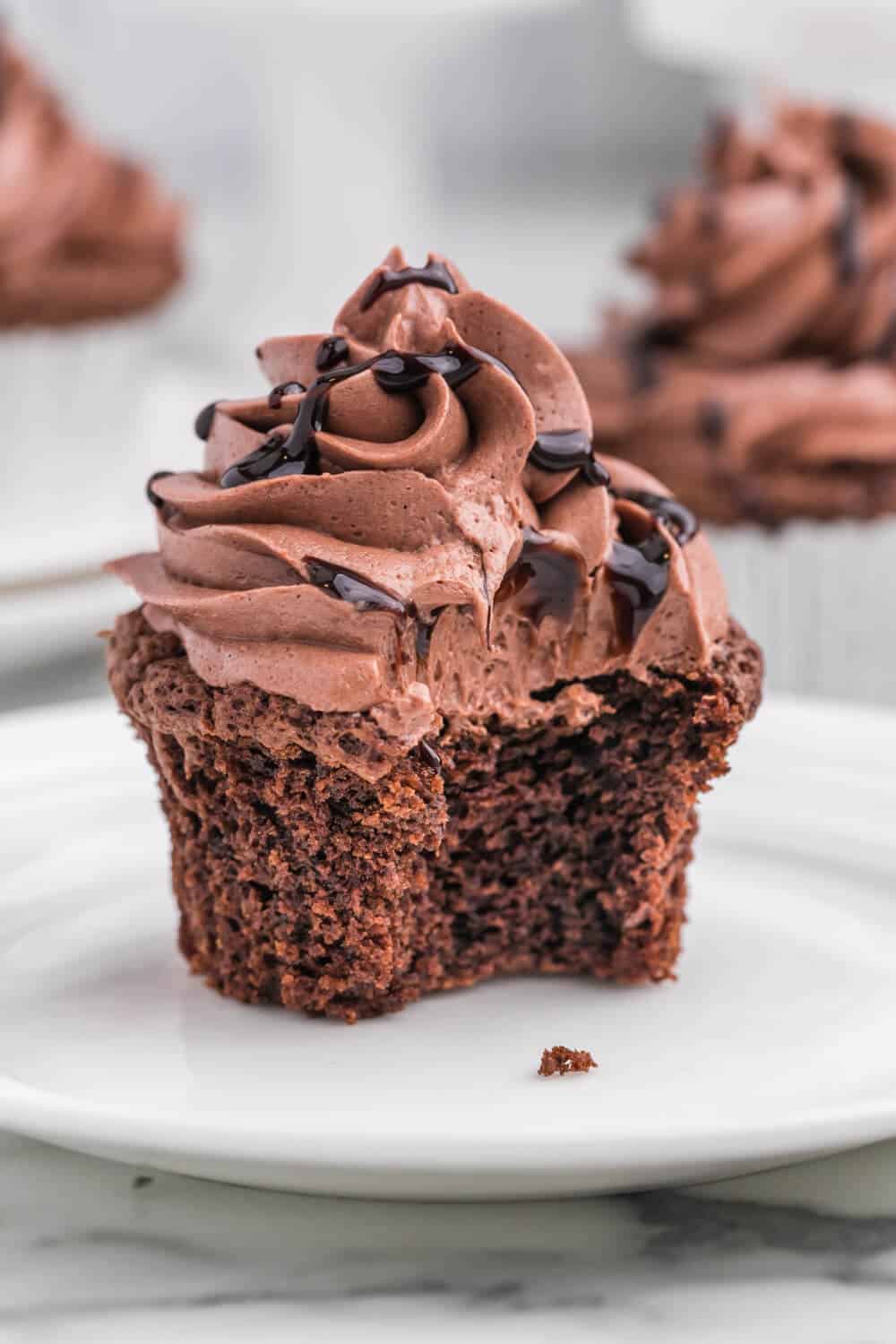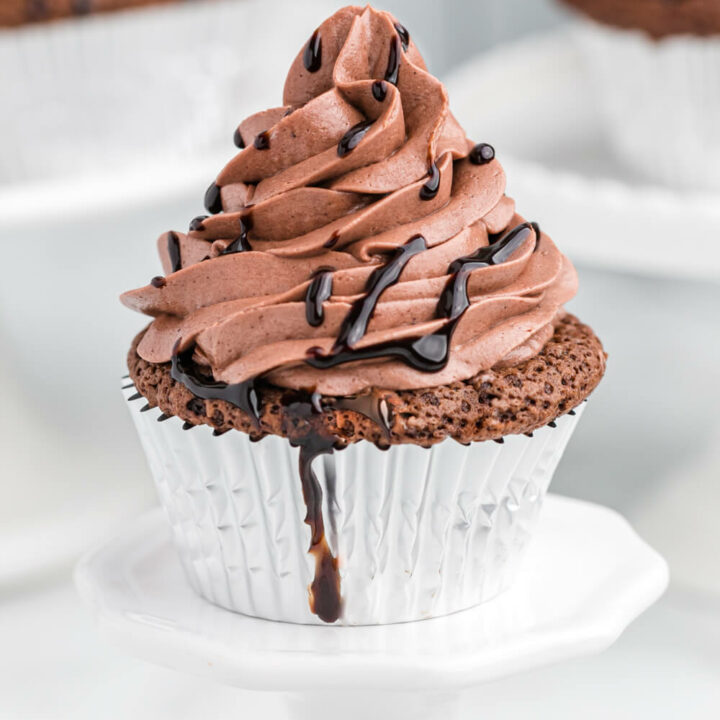 Death by Chocolate Cupcakes
Chocolate on chocolate on chocolate! This rich and decadent cupcake won't kill you, but it will tame that sweet tooth.
Ingredients
Cupcakes
1/2 cup butter, softened
1 cup sugar
1 cup semi-sweet chocolate chips
2 eggs
2 egg yolks
1/2 cup vegetable oil
2 tsp vanilla extract
1/3 cup sour cream
1 cup all-purpose flour
1/2 teaspoon salt
1 teaspoon baking powder
1/2 cup cocoa powder
Frosting
1/4 cup dark cocoa
2 cups butter, softened
1/4 cup half and half
1 teaspoon vanilla extract
3 cups powdered sugar
Chocolate sauce for drizzle, if desired
Instructions
Preheat oven to 350F. Add cupcake liners to a muffin pan and set aside.
In a large bowl, stir together flour, salt, baking powder and cocoa powder.
In another bowl, cream butter and sugar with an electric mixer on medium speed.
Melt the chocolate chips in the microwave for about 40 seconds. Stir. Put back in for 20 second increments stirring in between until melted. Pour chocolate into butter/sugar mixture and mix on medium speed.
Add in eggs and egg yolks one at a time while continuing to mix.
Add in oil, vanilla and sour cream and continue to mix on medium.
Add wet ingredients to dry ingredients and stir to combine.
Fill each cupcake liner about 3/4 full.
Bake 23 to 25 minutes or until a toothpick comes out of the center of a cupcake clean. Cool in pan for 15 minutes before removing to a baking rack. Cool completely before frosting.
To make the frosting, add butter to a mixing bowl and beat until smooth. Add in half and half and vanilla extract and continue to beat with an electric mixer on medium.
Add in icing sugar and dark cocoa and beat until well blended.
Frost cupcakes and drizzle chocolate sauce over top, if desired.
Notes
If you use DUTCH processed cocoa powder, use baking powder in the recipe.
If you use NATURAL cocoa powder, use baking soda in the recipe and omit the baking powder.
You can learn more about cocoa powders and baking here.
Recommended Products
As an Amazon Associate and member of other affiliate programs, I earn from qualifying purchases.
Nutrition Information:
Yield:

12
Serving Size:

1
Amount Per Serving:
Calories:

737
Total Fat:

52g
Saturated Fat:

27g
Trans Fat:

2g
Unsaturated Fat:

21g
Cholesterol:

159mg
Sodium:

446mg
Carbohydrates:

67g
Fiber:

2g
Sugar:

54g
Protein:

5g