I've said before that I enjoy the cleaning process and it's true. What I enjoy more, though, is a clean and organized home. It was much more challenging to keep the house tidy when the kids were little. Between them and my ex-husband, I was fighting an uphill battle picking up after them. Now that they are older and in school, it is much easier to keep the house in order. However, it is still something I work on every day! It's an ongoing job.
I've been meaning to make a household binder for awhile. 2015 is the year I will finally make one and I'll share it with you! My first entry is a Daily Cleaning Checklist printable. It lists out the tasks to do each day to keep your home running smoothly. These are the items I do in my home, but I have spots where you can fill in some extra tasks that you do that I don't have listed.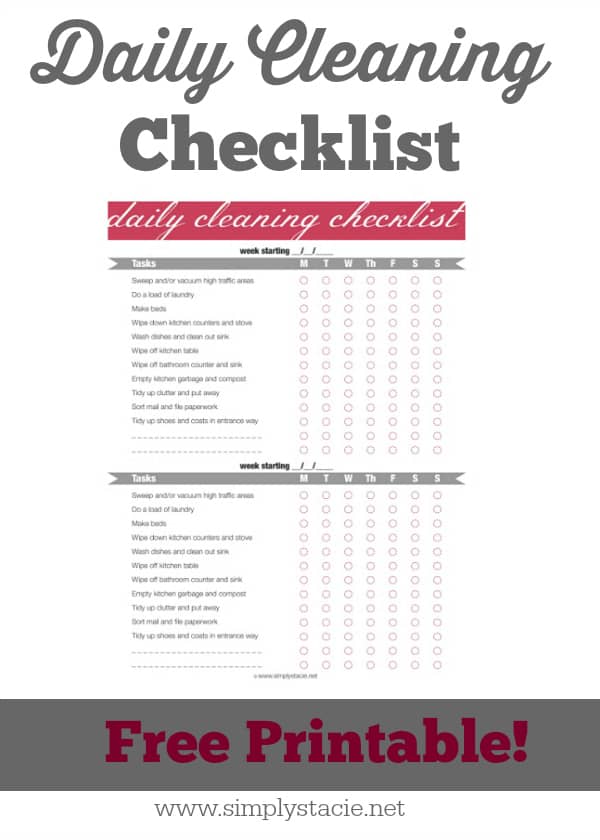 The checklist covers all the rooms in my home including the bedrooms, front entrance, bathroom and kitchen. It isn't deep cleaning – more like a light tidy. I don't do the deep cleaning stuff every day!
The free printable is in pdf form. Keep it on your fridge or in a household binder. You can print them off whenever you like or just keep one to use a reference if you don't want to use up paper and ink!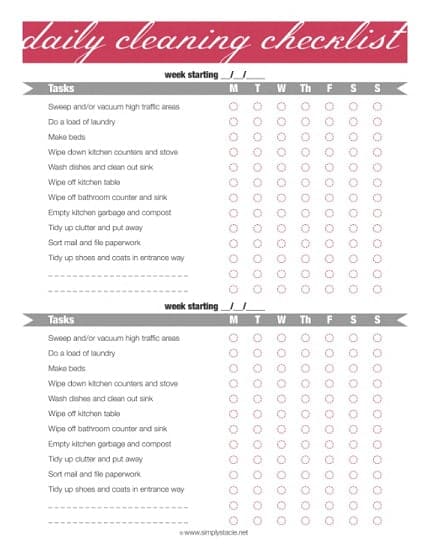 I usually get most of these chores done in the morning while Bridget is getting ready for school. After I make her breakfast, I clean up the main areas – kitchen and living room. It doesn't take me long and by the time I have to take her to the bus stop, I'm halfway done.
Watch for more printables as I continue to create my Household Binder.
Fill out the form below to get your Daily Cleaning Checklist delivered to your inbox.

What are some of your daily cleaning tasks?