This post contains affiliate links. I received a copy of this cookbook for review.
Title: Curry Cuisine: Fragrant Dishes from India, Thailand, Malaysia and Indonesia
About the Book:
Top chefs and experts share their secrets for the best curries ever- authentic, taste-tingling dishes that are easy to create at home. Learn how to make exotic dishes like Thai Jungle Curry, Chicken Makhani from Old Delhi, and Perfumed Passanda from Pakistan. Discover which ingredients make each dish special and follow key techniques, step-by-step. Make the best accompaniments and side dishes to complete the perfect meal.
My Review:
John has been asking me to make him Indian food for years. When he lived in Edmonton, he had an Indian friend that introduced him to Indian food and since then he's been hooked. I've never cooked Indian food so I really was lost as to where to even start! I saw that DK Canada had published the cookbook, Curry Cuisine, and knew that I had to get it and try my hand at making curry.
The book is organized into the various region's dishes and is written by experts from that area. You can find dishes from North India, South India, Pakistan, Myanmar & Maritime SE Asia, Thailand, Mainland SE Asia, and Outposts (Africa, Caribbean, Britain and Japan). Each section goes into background on the area in terms of its cuisine, the various spices and ingredients that are common in the dishes and then the recipes! There's also lots of pictures so you can see what most of the dishes are supposed to look like.
I had no idea what some of the ingredients were so I was glad that they had that reference section at the beginning of each chapter to explain exactly what they were. However, I live in a very small area and the access to exotic ingredients is seriously lacking. I would need to go to an Indian grocery store to find some of them. If I were in a big city, this wouldn't be an issue, but I'm hours away from the city so I had to really look for a dish I could make.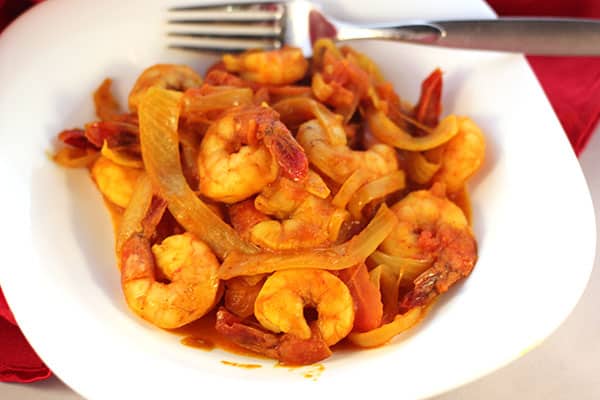 I settled on a dish from South India called Koyilandi Konju Masala otherwise known as Boatman's Shrimp Masala. It's a jumbo shrimp dish that is popular in local bars in this region. I had to substitute a few ingredients though. I substituted cumin for the cumin seeds and curry powder for the curry leaves. Otherwise all the ingredients were available including the fresh ginger root. It was fragrant and not as hot as I expected it to be which was good! I was nervous it would be too spicy for me.
John was in heaven though. He loved the dish and asked for seconds. Now that I have all the spices at home, I can easily make it again for him. You can serve it with some white rice, but I just ate mine on it's own.
Now I'm itching to try more of the recipes in the book. On our next trip to the city, I'm going to stop at an Indian store and see what ingredients I can pick up. I hope to further impress John with more curry cuisine!
You can also find Curry Cuisine on Amazon.ca.